Dan Sylvester and Greg Wells co-founded the London Craft Beer Festival in 2012 and since then, the annual event has been drawing in crowds of beer lovers at each sell-out event.
"Working with breweries, we felt there was something missing in the beer scene and set off to organise out first beer festival in the space of six months. Since the first London Craft Beer Festival, we feel that we have always taken the beer festival up a notch every year and expect Edinburgh Craft Beer Festival to be no different," they explain.
Last year saw the festival venture outside London for the first time to Bristol and in 2017 decided to take the festival north to Scotland's capital, Edinburgh. "It seemed like a natural place to host our beer festival as it is a festival city and has strong craft beer culture," they tell us.
The team has put together a diverse lineup of respected breweries from across the globe but with a wealth of quality, it makes picking a potential highlight difficult.
"There are so many great breweries coming to the festival that it is hard to pick out favourites.  Obviously, we're excited about the breweries who are coming from far away and particularly excited about the Scandi beer invasion – Mikkeller, Dugges, Lervig, Amundsen, Aegir and Beerbliotek.
"The beer line-up is truly a global gathering of craft beer and there are some real gems in there for people to discover," says Sylvester.  "We are pretty confident there will be beers from breweries that people haven't tried before especially from some of these Scandinavian breweries."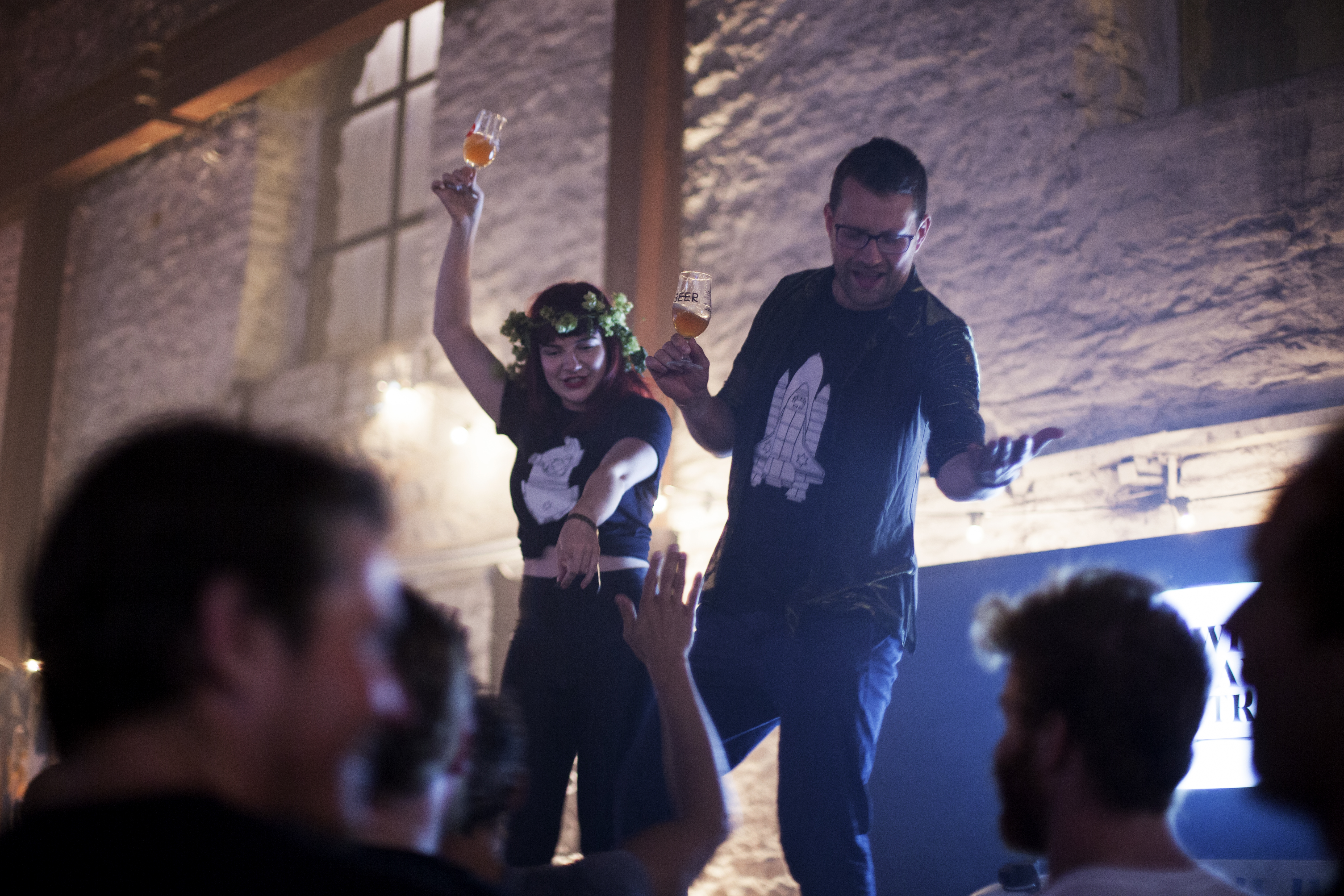 Complementing the broad spectrum of beer is an equally diverse food line-up. Pizza Geeks, Umami, The Buffalo Truck and The Pitt, among others will be on hand serving up an excellent array of street food throughout the three days.
In addition, the organisers have booked a strong music offering too. Edinburgh Craft Beer Festival will have DJ sets from Young Fathers, Bombay Bicycle Club (Jamie MacColl), Idlewild, Belle & Sebastian and Metronomy (Olugbenga).
Sylvester and Wells conclude: The world class beer festival that Edinburgh deserves is here; a celebration of passion, creativity and quality in brewing. Over the last May Bank Holiday weekend, we're bringing together a specially curated, global gathering of the world's finest breweries in a one-off festival. The Biscuit Factory – a vast, impressive warehouse –  will play host to this gathering, and we'll be filling its cavernous industrial spaces with only the most sought after beers and brewers."

---
Breweries Pouring At The Festival
Fallen Brewing
Who are Fallen?
Based in the foothills of the South West Highlands, Fallen are one of the leading craft breweries in Scotland. Fallen, brewing out of an old railway building, have sustainability at their heart as a business – minimising impact in their rural surrounds. When it comes to brewing, it's all about classic styles but driving forward by modern brewing techniques and new world hops.
Why were Fallen invited?
Definitely one of the leading lights in Scottish brewing, and a brewery that seems to be going from strength to strength. The flavour they get in their blonde (not one of the most flavoursome styles) is just great, but we're excited to see what specials they bring cause when pushed, these guys make some fantastic beer.
NZ Beer Collective
Who are the NZ Beer Collective?
A provider of some of the world's fruitiest hops and finest breweries, New Zealand is a fine beer nation. We're working with NZ Beer Collective to bring you Yeastie Boys and Tuatara – we may get a few other breweries involved too.
Why we invited NZ Beer Collective?
New Zealand are known for their high quality hops so it's only natural that there is some amazing beer coming from down south as well. We can't wait to get our hands on some.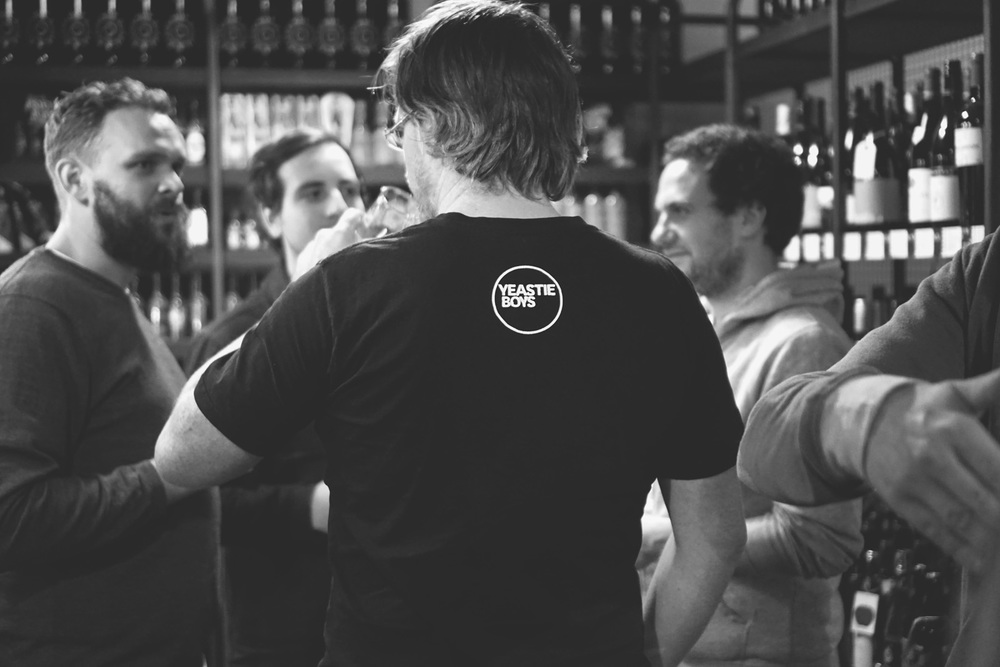 Yeastie Boys
Who are the Yeastie Boys?
One of New Zealand's most popular craft breweries, Yeastie Boy's are two mates, Sam and Stu, doing big things in beer. The Yeastie Boys are a creative force in New Zealand brewing, and while quality is the core of the offering, a healthy sense of humour is pretty central too.
Why we invited the Yeastie's?
We've always enjoyed the beers they make and the energy they bring. They are big fans of the UK beer scene, so much so that they've set up business over here too – brewing around the country. A beer from these guys, always has a twist, and that's why we love them.
Beerbliotek
Who are Beerbliotek?
Beerbliotek are a Swedish brewery who began brewing and selling their beers in Gothenburg in 2013. Aided by the thriving Gothenburg scene, Beerbliotek experienced quick success and have undergone a few capacity upgrades in the last few years. They have a creative philosophy, never repeating a recipe or beer.
Why we invited Beerbliotek?
They are a brewery that have only recently come onto the radar in the UK, and in that short time, have grabbed our attention. Their beers are vibrant and packed with flavour; whether it's a tropically fruity pale, or sour, funky gose – these guys make delicious beer.
Firestone Walker
Who are Firestone Walker?
Founded in 1996 by brothers-in-law Adam Firestone and David Walker, the brewery has received numerous accolades over the years for their big beers. Based in the wonderful Paso Robles, California, a stone's throw from Big Sur, they're very well known for their amazing ales and extensive Barrel Works program.
Why we invited Firestone Walker?
We're honoured to bring this brewery to Edinburgh. Firestone Walker have had an immense impact on the brewing scene, world wide. They have been around for 20 years now and have some world leading examples of classic styles, and are still moving forward, brewing beers that continue to excite.
Siren Craft Brew
Who are Siren?
Siren Craft Brew are easily one of the best producers of beer in the UK. Siren began in 2012 when Darron decided the world needed better and more interesting beer. Siren brew a vast array of styles, never letting time, process or costs effect the way in which they craft their ales. It's an inspriring ethos and it has produced some of the worlds best beers.
Why did we invite Siren?
Siren are consistently producing incredible, different and challenging beers. Last year as part of Brewdog's Collabfest, they brewed $10 Shake. A fruit smoothie IPA which was one of out favourite beers of the year. Their curiosity and expertise make them an awesome addition to any beer festival lineup and we're ever so stoked to have them to our first ECBF.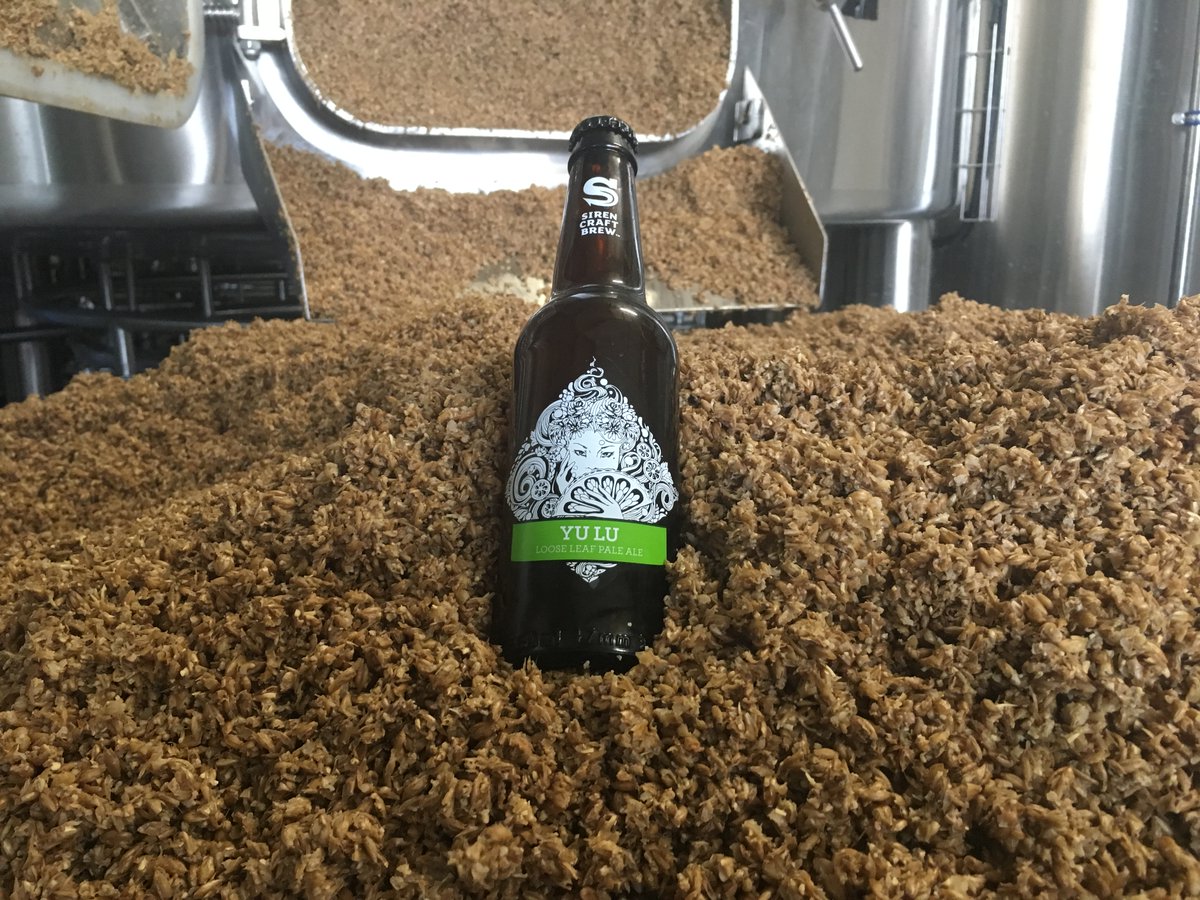 Aegir
Who are Aegir?
Aegir are located in the hills of Flåm, in the central mountains of Norway. They began as a brewpub in 2007 and are now one of the most recognised craft breweries in Norway. Last year their new can artwork won them numerous accolades, which they surely deserved.
Why did we invite them?
Known for a variety of styles, brewing with seasons at the their brewpub. Beyond their very well executed, deliciously fresh pales, packed with hoppy goodness, their summer saisons and strong, hearty winter beers are packed with character and heart.
Lervig
Who are Lervig?
Lervig are a Norwegian brewery located in Stavanger and run by one of the most skilled brewers in Europe, Mike Murphy. Mike and his team work hard to brew some amazing beers from American Pales to Imperial Stouts. Last year we were lucky enough to visit the brewery. Up there with the best in the whole world, we feel.
Why did we invite them?
We love working with the guys from Lervig. Hardworking, humble and highly talented. Last year their collaboration with Hoppin' Frog, Sippin' into Darkness was a truly awesome stout. Their fruity sour ales are also something to behold, and they're going to bring them to Edinburgh for you.
Dugges
Who are Dugges?
Dugges are another of the Swedish breweries we have invited this year. Located in Gothenburg, Dugges started brewing beers in 2007. They brew beer styles all across the board and have worked on some amazing collaborations in that past. Their sour ale collaborations with Stillwater Artisanal are a thing of beauty. If you haven't had a Tropic Thunder yet, do yourself a favour and go and find one.
Why did we invite them?
The sneak peak they've given us on their beer lineup is the stuff dreams are made of. We're particularly interested in their stouts – think about the best tiramisu you've ever had, or best coffee-liqueur, or best chocolate cake, then make it deeper, richer, boozier, and more delicious and you're still not close to how good they are.
Amundsen
Who are Amundsen?
Based in down town Oslo, Geoffrey and his team have brewed, talked and lived good beer since the brewery was founded in 2011. The team consists of a good mix of cultures and different nationalities, further giving an extra boost to their creativity and influences. It all began with a brewpub but in 2016 the first batch was brewed in their brand new, modern brew house – a playground to experiment, explore and create.
Why we invited Amundsen?
A can of their delicious Ink & Dagger made it's way to us pre Christmas, and we fell in love with this properly juicy modern IPA, brimming with mango. From what we hear, this is the tip of iceberg, so we're excited to break a brewery we think we'll be making waves over here before long. With barrel-aging and cider program to come. These guys are one to watch.
Northern Monk
Who are Northern Monk?
Located in Leeds, these brethren of brewing monks are focused on and inspired by modern design, local collaboration and giving back to both their local community and humanity in general. A pretty massive mission which is beautifully backed up by their massive range of beers. Core IPA's, seasonals, collaborations and small batch single releases. You name it, these guys will brew it and brew it really well.
Why did we invite them?
Now lets talk about Mango Lassi, Heathen, and Patron Project. All their beers do big, bold, impactful flavour. Their new passionfruit lassi we cannot wait to try. We are pumped to see what the new year brings for them in beer and even more pumped to get amongst it in August.

Magic Rock Brewing
Who are Magic Rock?
Magic Rock are one of the founding fathers of the – oh-so-recent – brewing revival in the UK. Located in Huddersfield, Rich and his team, lead by brewers Stu, Nick and Joe, have been producing hop forward, flavour rich, world class beers for the past 6 years.
Why did we invite them?
We love Magic Rock because we love the wonder of the IPA and the Pale Ale. Big piney bitterness in Cannonball, or grapefruit – tropical goodness in Highwire have long been favourites. But then all their juicy new range like Inhaler, Hypnotist and Clairvoyance are so on point too. Expect fresh, zesty, delicious.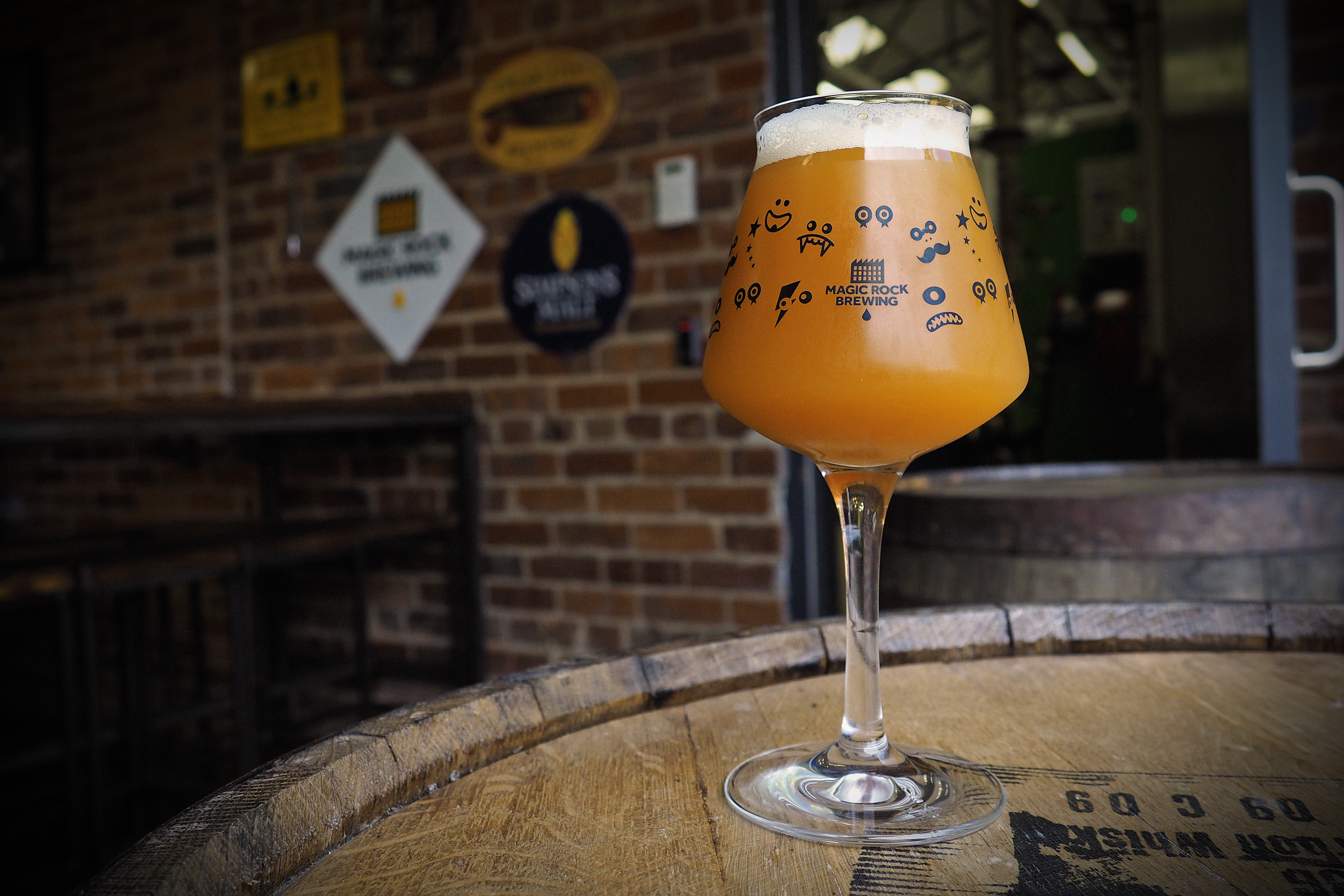 Põhjala
Who are Põhjala?
Põhjala are an Estonian brewery who reside in the city of Tallin. They released their first beers in 2013, at the time, gipsy brewing at other facilities. They soon opened their own facility which boasts an impressive amount of tanks. They also have their own venue in Tallin called Speakeasy and run a wicked festival themselves, if you fancy a trip.
Why did we invite them?
I mean, one of their beer labels has a shark on it. They make a whole range of great IPA and Gose beers, but we're bringing in a Baltic brewery for one special reason. Porters! These guys knock it out the park when it comes to one of our favourite styles of beer. Not as heavy as a stout, but packed with roasted notes of coffee, chocolate, liquorice, molasses etc, we love porters…especially when they're from Põhjala.
Left Handed Giant
Who are Left Handed Giant?
Left Handed Giant are a team that are based in Bristol co-founded by Bruce Gray, a Scot and BrewDog Alumni. Though they brew most of their beers on friends' kits, but also have a small kit of their own which they experiment brews on. We feel these guys are one to watch!
Why did we invite them?
Their beers are awesome – and their brewer, Rich, is a real talent. Their Flanders Red was one of the best beers we had in 2016 – sweet and sour in the right places – and their take on breakfast stouts – one bacon focussed the other espresso were packed with so much flavour. Perfect with vanilla Ice Cream.
Beavertown
Who are Beavertown?
One of London's finest breweries; who have gone onto become a real world beater. Famous for their fruity IPA's and immaculate American Pales, Beavertown have recently excelled at tart, zesty sours and funky barrel aged beers to really cement themselves as one of the finest breweries going.
Why did we invite them?
Last year – as their tap takeover at The Salt Horse showed – Beavertown made some really great beers. We're very excited by this year's Tempus releases (the barrel-aged beers) be they whiskey-tinged stouts, fruity sour ales, or IPAs with Brett (A funky flavour you'll find in natural wines and fine ciders too).
Brewdog
Who are Brewdog?
The guys who put a rocket under British brewing who need little to no introduction… but here goes. Starting in 2007, Brewdog have become a powerhouse of brewing in the last few years. Having expanded multiple times in Ellon, they have now set their sites on the US of A and will be opening their Columbus brewery in the near future. Add that to the sour facility on the horizon and we could be in for some great new Brewdog beers.
Why did we invite them?
Resolutely sticking to their hop-forward, viciously bitter bangers, Brewdog make some colossally great beers that remind you of why we got into craft beer. Beyond that though, they're always releasing a steady release of new beers – coconut and vanilla porter? Juicy IPA brewed with Cloudwater? Fruit smoothie collab with Omnipollo?
6° North
Who are 6° North?
6° North are another important part of the Scottish contingent. In a UK craft beer market full of IPA's and big stouts, 6° North have taken a different path with their beers. Brewing Belgian style beers and employing ancient Belgian techniques, they have a refreshing and delicious point of difference.
Why did we invite them?
Belgian beers are an extremely difficult skill to master and but offer real depth and complexity in flavour. These guys do a really great job. So much so that Cantillon send them beer for Zwanze day – bring on Belgium.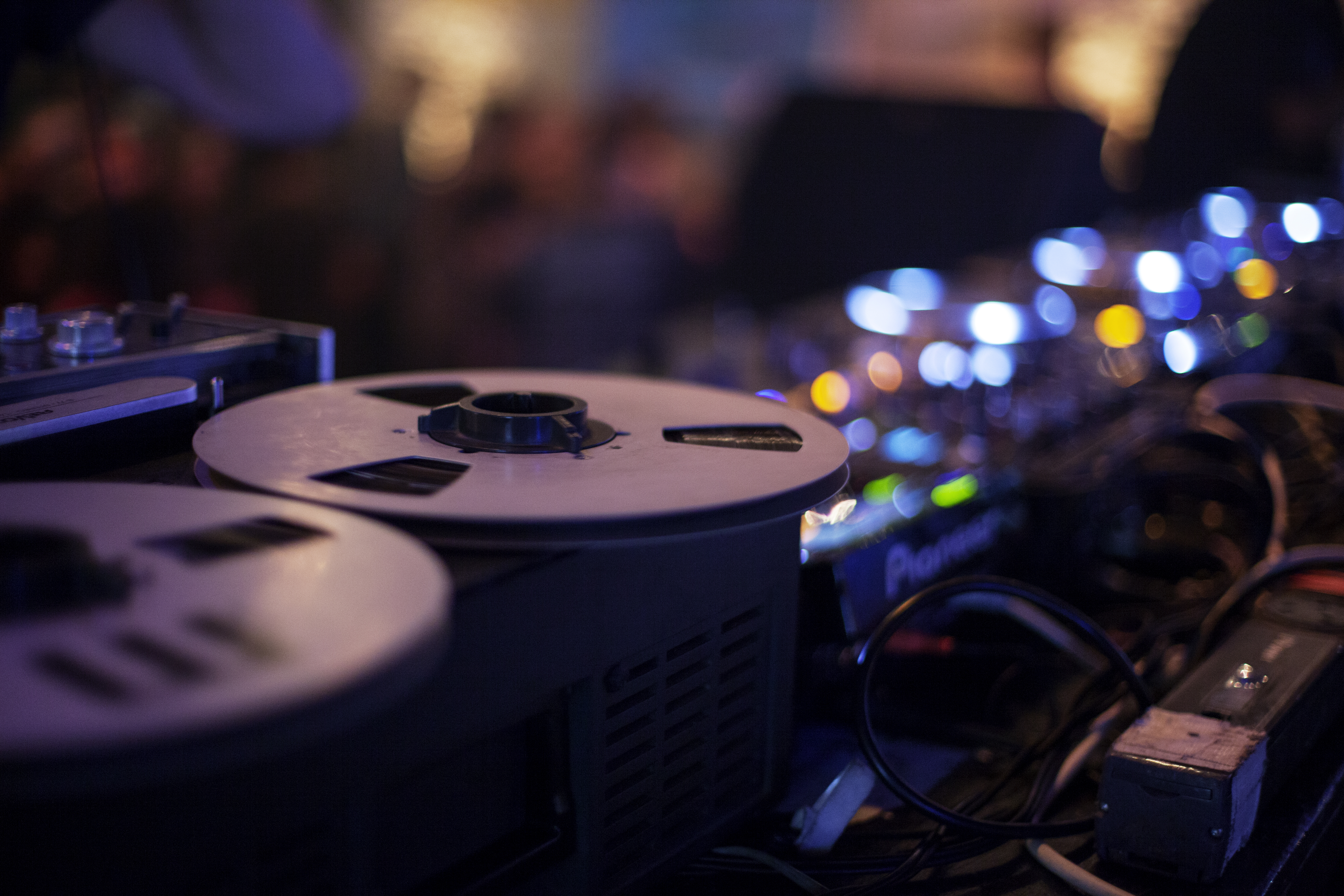 Tempest

Who are Tempest?
One of Scotland's finest breweries and a certainly one of the best in the UK. Based in Galeshiels, south of Edinburgh, the team take inspiration from the food and drink they love, then be as innovative and creative as they can to get maximum flavour from great hops, malts and yeast strains. These guys will be bringing some special beers.
Why did we invite them?
Tempest have one of the best "started from the bottom" type stories. They began brewing Long White Cloud in a garage in NZ over a decade ago. The best thing about Tempest is there is no beer style they won't tackle. Which leaves us eagerly awaiting the arrival of their beer list for this years festival.
Pilot Beer
Who are Pilot Beer?
The closest brewery to us, Pilot are making waves from their small brewery in Leith. Young, and only 3-strong at the moment, Pilot are the most exciting brewery within Edinburgh's city limits and are getting people's attention all around the UK. Expect something special from the guys for our festival.
Why did we invite them?
How could they not be? Located just down the road from our festival site, Matt, Jordan and Pat have been doing things their way from the beginning. Unrelenting brewing has produced fresh, imaginative beers. We're anticipating a big future for these guys.

Wiper and True
Who are Wiper and True?
Wiper and True are a Bristol based brewery who began brewing at home in their kitchen. They fell in love with the art and experimentation of brewing and proceeded to make commercial batches of their beer. Now with a home in the St Werburghs area of Bristol, Wiper and True continue to brew experimental styles and rarely, if ever, repeat a recipe for a particular style. As we have noted before, they also have some of the most crisp branding in all of beer.
Why did we invite them?
Their barley wine was delicious last year- sweet, treacly and rich in bourbon flavour. Their bread pudding beer with TOAST, and their Rye Saison, are illustrations of a brewery who know how to do full, comforting beers, rich with sweetness and spice. More of the same please – oh, and very excited to hear about their collaboration with Dugges.

Wild Beer Co
Who are Wild Beer Co?
Somerset provenance is what Wild Beer Co. are all about – nature, their environment, and the seasons. As their name suggests, Wild Beer predominantly use wild fermentation techniques to brew their beer. Blending their own wild yeast strains to create beers of all styles. The results are some incredibly complex, earthy and interesting beers.
Why did we invite them?
We simply love Wild Beer Co's beers. They are constantly challenging us to explore new and different flavours in beer and that's something we love. We're looking forward to the blends and other seasonal series we can expect throughout the year.
Thornbridge Brewery
Who are Thornbridge?
Thornbridge are one of the original and the best in the UK craft beer scene. They've been around since the very start and the Uk scene owes them a lot of praise for battling the new territories of fresh, full flavoured beer back in the mid 00's. This year will see Thornbridge release a series of monthly new releases, which, if you haven't seen is well worth checking out and following.
Why did we invite them?
They have real class and make some fantastic beers. This year we're excited to see what specials we'll be able to enjoy – we're hearing news of a peach pale AND we'll be pressing hard for one or two things things from their impressive collection of barrels.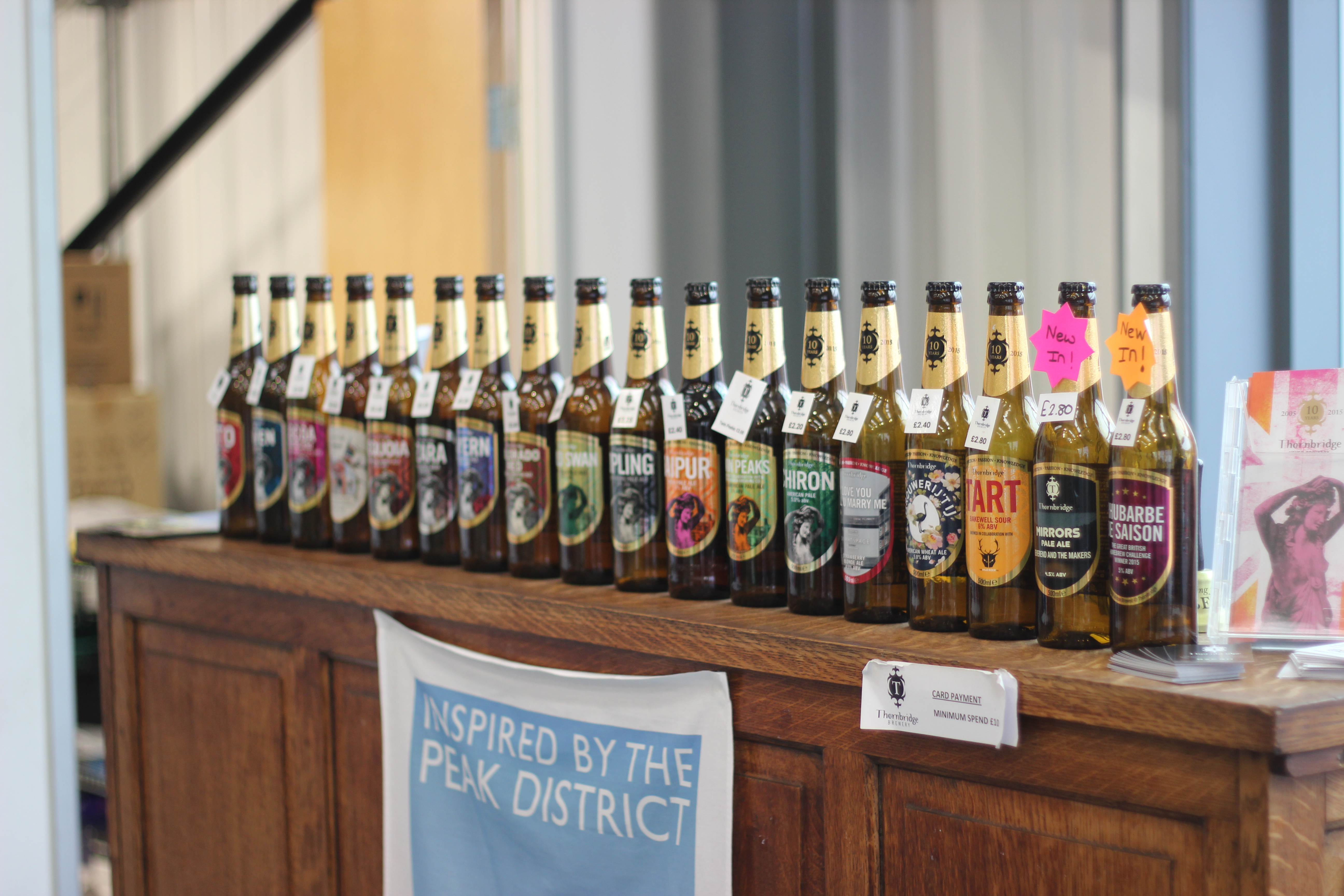 The Kernel
Who are The Kernel?
The Kernel are one of the UK's finest breweries, year in, year out. Located under an railway arch in South London, Evin and his team work together perfectly to continuously produce outstanding beer. The Kernel are ever-evolving, they brew styles with whichever hops and ingredients are the freshest.
Why did we invite them?
Their pales, IPAs and stouts are always so good. However, it's the fruity sours, blended and aged on damson or raspberry that we're loving so much at the moment, and the new hoppy saisons from their foudres (big wood fermenters) packed with dry tartness balanced with sweet and floral hops.
Sierra Nevada
Who are Sierra Nevada?
Long before Brewdog got the fire burning this side of the Atlantic, in the late 80s, Sierra Nevada were one of handful of breweries creating a craft beer revolution. We owe them a lot. These days, they continue to make amazing new beers and forge a path for all to follow on sustainability. We are forever grateful for the work they have put into this industry.
Why did we invite them?
Because they are Sierra Nevada. These guys are never too big for their boots and still have a love for the drinkers, the bars and the industry that has shown them so much love over the years. And the bottom line, they make some very, very good beers.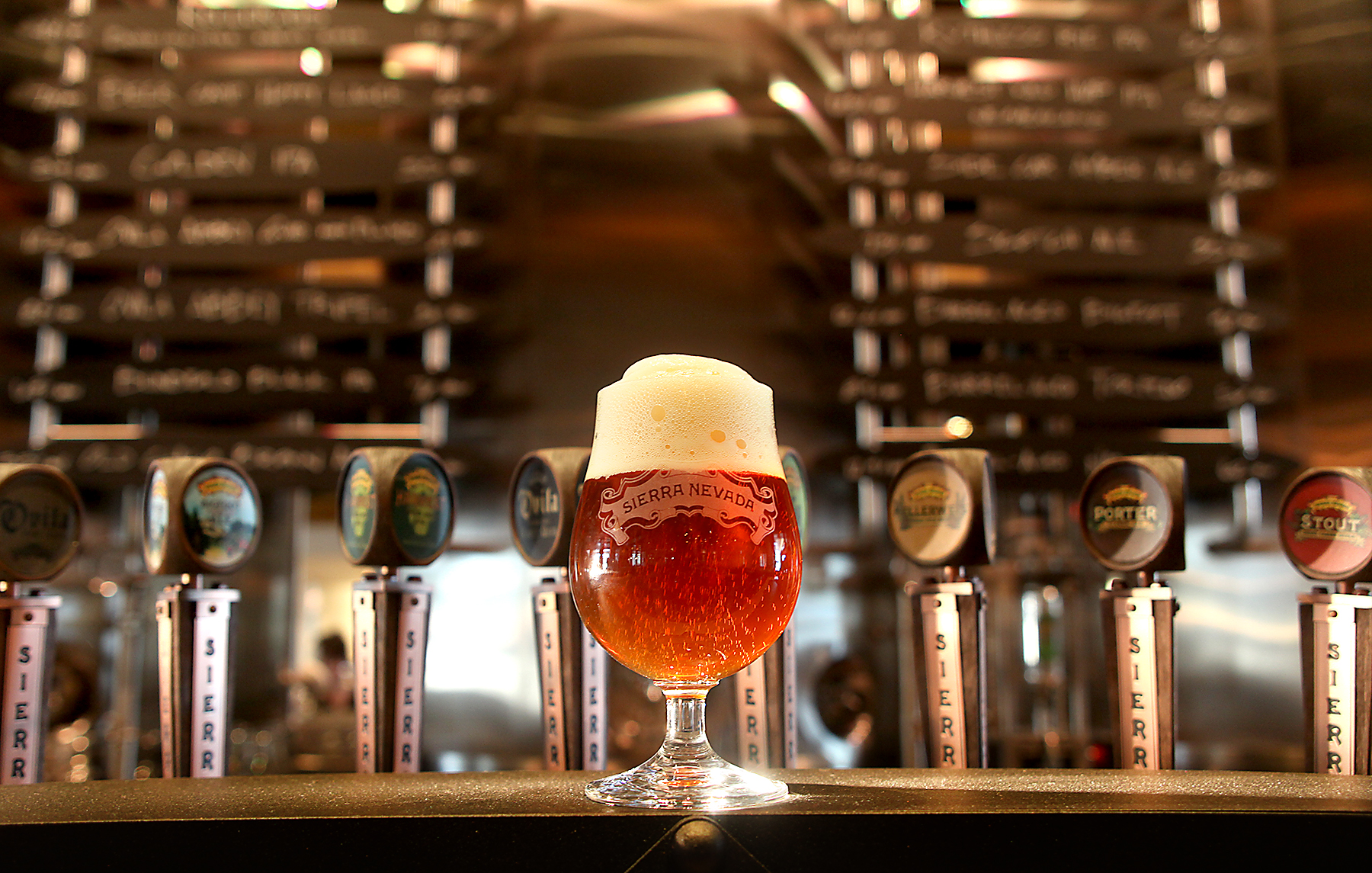 ---
Tickets
Your ticket gets you entry to the event, and access to all the beers on for the session you choose. This enables drinkers to choose and explore hundreds of very special beers in 100ml pours. Entry also gets you a glass, a festival 'zine, and access to street food and music acts. Strictly no under 18s are allowed.