"We are only as good as our last beer" is an attitude Mike Murphy, brewmaster at Norway's Lervig Aktiebryggeri, has long adopted to his craft. Responsible for some of the most well-regarded beers produced in recent years, Murphy's stock continues to rise further with each new Lervig release.
"We are constantly pushing the boundaries of brewing for both everyday people and craft beer lovers alike. Our goals are to brew the best beers in the world, we like to work outside our comfort zone as well as combine our creativity with the years of craft brewing experience that our brewers have.  Everyday we work harder to deliver the quality our customers expect from Lervig."
Mike Murphy is the brewmaster at Lervig, an independently owned and operated craft brewery located in Stavanger Norway. They produce a wide range of beers from easy-drinking pilsners and pale ales, barrel-aged barley wines and sour beers.

Here, he talks about what your brewery can do to stand out in an increasingly crowded marketplace.
View the slides here: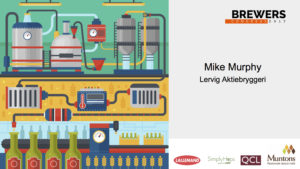 Podcast: Play in new window | Download