Dr Bill Simpson is Executive Director of Cara Technology Limited, a specialist in beer taste panel development and yeast supply to the global brewing industry.
After almost a decade with Tennent's in Glasgow, Bill joined the Brewing Research Foundation near London, where he spent almost ten years carrying out research into beer technology.
During this time he unravelled the mechanism by which bitter substances from hops inhibit growth of bacteria in beer, invented rapid techniques to assess brewery hygiene using ATP-bioluminescence, and developed the technology now used by his company to produced stabilized reference standards for training of professional beer tasters.
Since establishing Cara Technology in 1995 he has consulted for more than 500 breweries in over 70 countries and has grown the firm into a major provider of technical services to breweries throughout the world.
Here, Bill presents a series of case studies and lessons learned from product recalls of beer, and how your business can avoid the same.
View the slides here: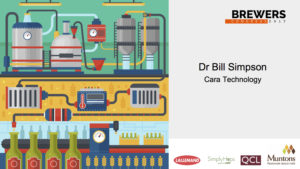 Podcast: Play in new window | Download