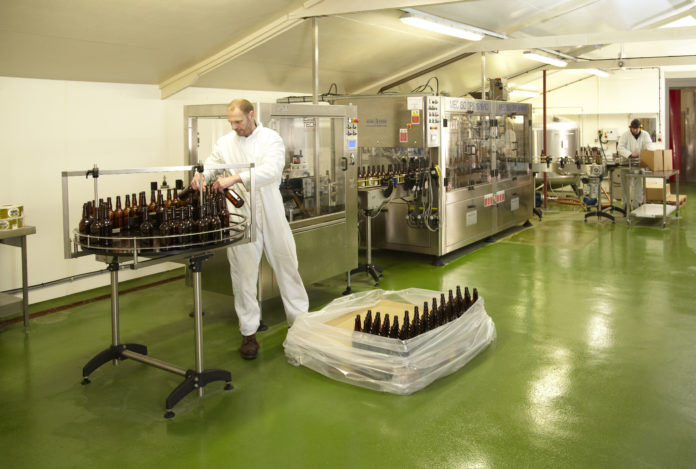 Carbonation Techniques is a UK manufacturer of Carbonating machines for the drinks industry.
Each of our systems is bespoke, individually designed for the product range required and production volumes specified; starting with a capacity of 2000 litres up to 44,000 litres per hour, the machines can be used for carbonating alchopops, beer, cider, soft drinks, water and wine;  they are used in bottling halls, canning factories and kegging plant.  With installations now spreading across the developed world and with several award winners in the 'sparkling' categories, we have an enviable reputation.
Each product is considered carefully and the benefits of using a purpose built machine will be clearly seen.  From the receiving vessel the liquid is very gentle handled by the positive displacement pump, into the carbonating vessel.
The liquid enters the tank through a specially designed spray head which forms a controlled size droplet which then fall through the carbon dioxide layer and by absorbing the C02, it de aerates at the same time. The droplet size control ensures consistent carbonation and the champagne bubble is produced. The now carbonated drink is transferred to filling station which is harmoniously programmed with the carbonator.
In the case of beer,  de aeration ensures that any life span reducing gases are effectively removed and recorded levels of nitrogen are as low as 0.0003 parts per million, giving a much longer shelf life as required by supermarkets and off licenses. It is extremely important that beer is handled gently to prevent protein damage and ensure product stability throughout carbonation, the integrity of the beer is preserved and low fobbing achieved during the filling process.
The introduction of our mixed gas units for stout production is becoming increasing popular, especially as the craft beer market increases year on year.  The request and demand for these carbonation systems is continually growing and we review our designs and carbonation functions to suit each and every product which is carbonated.
Carbonation Techniques Ltd help two Breweries to expand.
Little Valley Brewery have recently had installed a new bottle line capable of 2000 bottle per hour.
Little Valley Brewery explained: "Carbonation Techniques installed a Eurostar bottling plant MEC ISO DPS, Conveyor system and an in-line Carbonator Model Carbo2000at in June 2014.
"The installation was quick and hassle free, everything went to plan.  The new kit has made a huge difference to Little Valley.  Carbotech engineers are on hand to support if we need them and available for yearly maintenance visits."
Rye River Brewery purchase a complete line, Eurostar Rinser, filler and crowner, labelling machine, conveyor system along with the inline carbonating machine Carbo 2000.
The added: "Having our own bottling line has given us full control in house of all our beer, something we are very passionate about.  The bottling line is very intuitive and had been commissioned and installed with very few issues.  The beer quality coming out of the line is fantastic, our partnership with carbotech has allowed us expand our packaging facility very quickly and I have always found them great to work with"
For more information on Carbotech, or to get in touch visit www.carbotech.co.uk

Tel: +44 (0) 1952583901

Email: wendy@carbotech.co.uk