Northern Monk, the Leeds-based brewery, made its debut in the Top 100 rankings while Beavertown, Siren, Tempest, BrewDog, The Kernel, Fuller's, Magic Rock and Buxton also feature.
Paul Jones, managing director and co-founder of the brewery, which also scooped 11 out of the 50 best beers to be released last year, said he expected the business to have dropped out of the top ten this time around.
"I really thought the top ten would be out of sight this year. We were thrilled with last year's results but to be honest, I thought we dropped the ball a little in 2017. However that said, our standards are going up and we are being harder and harder on ourselves," he said.
Jones added: "We work really hard to make beer people are excited by and it's interesting to see that many of the beers that have been recognised this time out were also the ones that scored eight out of eight when it came to our own internal analysis.
"It's rewarding to know that the consumer, and Cloudwater, agrees that those beers were our best work."
Jones added that recognition through Ratebeer continues to be held in very high regard at Cloudwater.
He explained: "Criticism of it is short-sighted, in my opinion. Of course people could see that as convenient but I've used Ratebeer since the beginning of this brewery and my views have stayed the same throughout.
"It is a concise distillation of consumer feedback. It shows what the consumer thinks of us and how they view us.
"I'm already seeing how our accolades given to breweries like ours are helping the broader Manchester and UK beer scene. If anyone else had made that jump last year and then again this time out, I'd be thrilled.
"I'd be thrilled to be part of that wider scene. I have nothing but thanks and gratitude for the British brewers that continue to push everyone and make us work even harder.
Jones added that Cloudwater expects to celebrate its third birthday this summer with an event that will encompass the wider beer and brewing community.
"We don't want to hold a Cloudwater festival. We want inclusivity where breweries, bottle shops and other businesses can take part and benefit. We want to broaden out the positive impact good beer can have."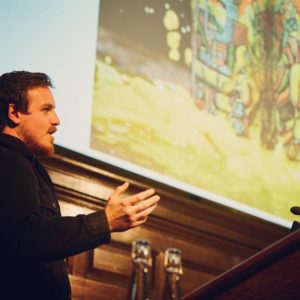 Brian Dickson, head brewer at Northern Monk Brew Co, said the reception of its Wylam collaboration I Like To Moob It Moob It was one of its highlights of 2017.
"We're really happy with the reception that beer received and it performed well on RateBeer, too," he said. "Featuring in the Top 100 is a great surprise but it's also validation of the work and commitment we put in here. It's a marker to show that what we're doing is working.
Dickson added: These accolades help improve our recognition on an international scale and will only push us to do things bigger and better."