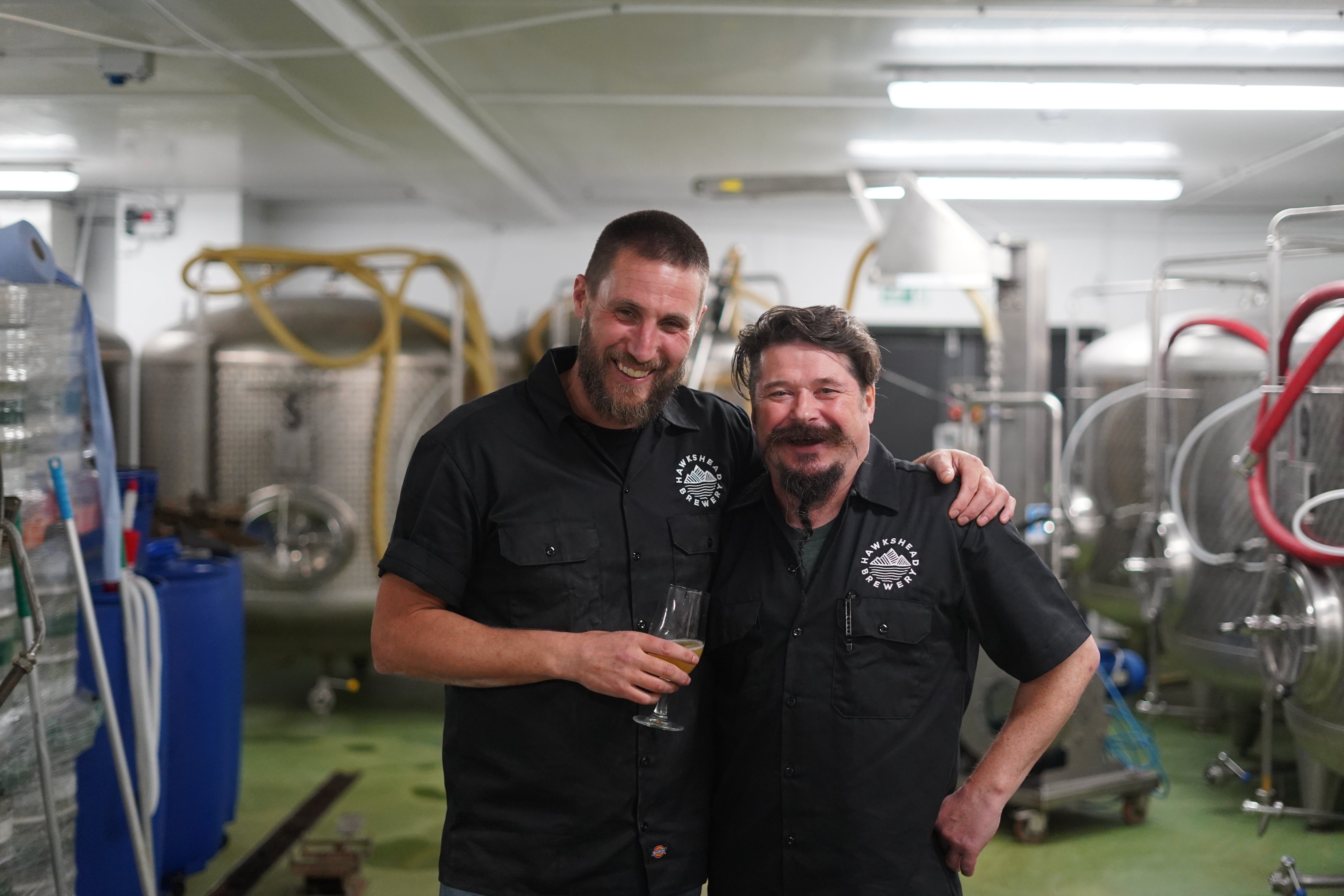 Maybe it's the way travel opens the eyes and broadens the horizons. Maybe it's something in the water. Or maybe it's the desire for a bloomin' good pint in countries where such a beverage is hard to come by. But it seems somewhat fitting that Alex Brodie, the now-retired founder of Hawkshead Brewery, started the brewing business in 2002 after calling time on his career as a BBC journalist where he covered troubles in places such as Iran, Pakistan and Jerusalem.
It's fitting because some 18 years prior, and 3,500 miles away over in Williamsburg, Brooklyn, one Steve Hindy had just returned a five and a half-year tour as the Middle East Correspondent for the Associated Press, where he had covered wars and assassinations in Iran, Iraq, Lebanon, Syria, Egypt and Sudan.
Four years later Hindy would go on to help found Brooklyn Brewery and much like Hawkshead, it's a brewery that has made it's name from creating beers with subtlety, nuance and flavour, all underpinned by consistency. But both breweries can also ramp things up when they want, and they're not afraid to throw out all the stops to make the beers they want.
The ability to tread that fine balance between session-strength cask beers and heavy-hitting kegged stouts laced with desert flavours, is an art form. 
And at Hawkshead, they have head brewer Matt Clarke to thank for that.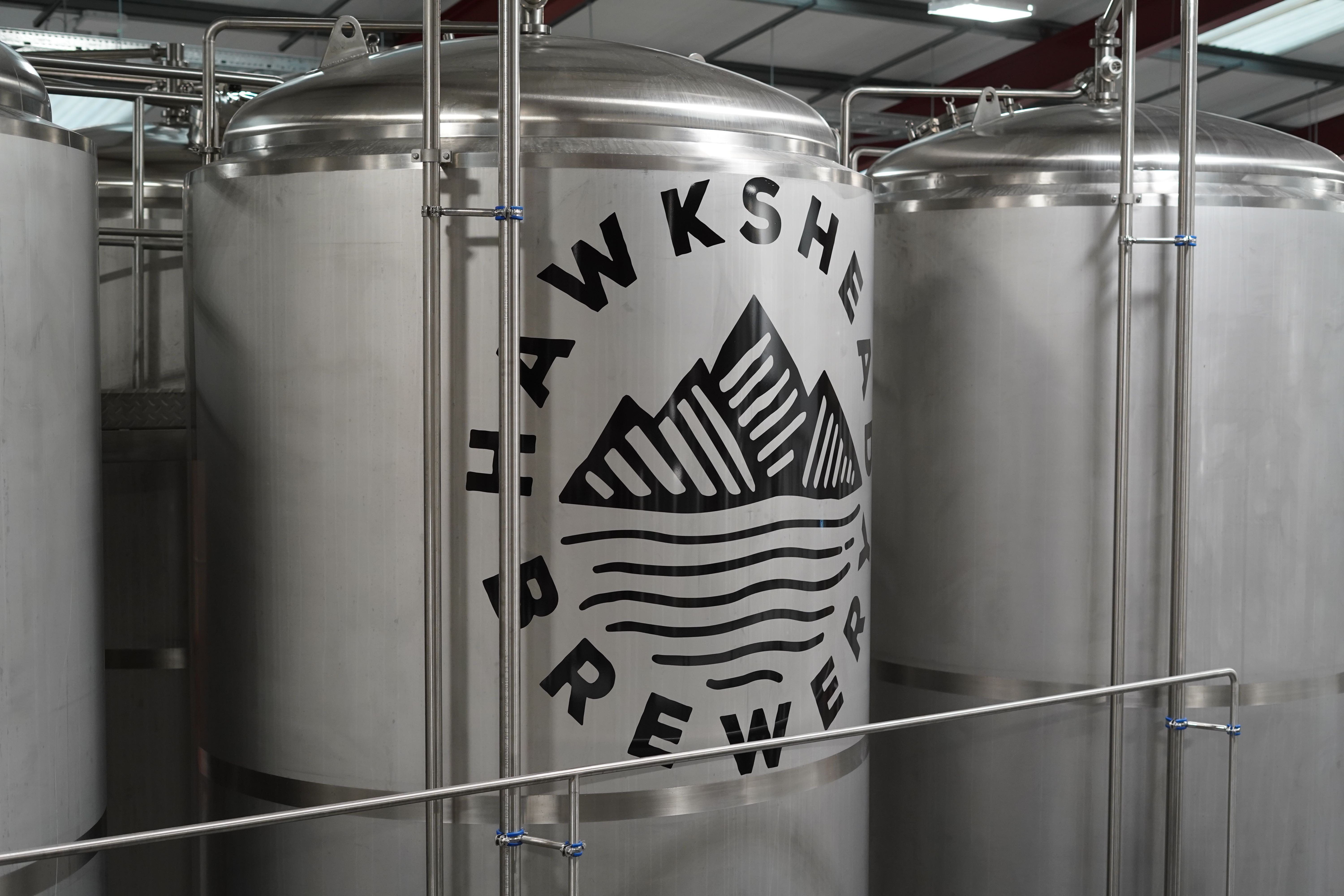 The New Zealand native who happened upon these shores some 16 years ago, has worked his way up from cask washer in the formative months and years at Hawkshead's original barn site to head brewer overseeing a new multimillion pound facility that houses a Krones rapid-batch brewhouse. And it's safe to say that he's in no mood to look back.
"We're moving fast, but we're not an overnight success!" laughs Clarke. "Regardless of how much we physically change as a brewery, the ethos we adopt to what we do remains the same. And that's to brew great beer, challenge perceptions and not be defined by one style or another."
Though he's too modest to admit it, Clarke has driven much of the growth at Hawkshead. His first recipe, Windermere Pale, is the brewery's biggest cask seller and had brewers knocking down the door for refills at the company's recent launch event for its new brewery.
The old and the new
The 3.5% Pale Ale is bursting with hop flavour from the signature hop – Citra, and is brewed with soft Lakeland water, Maris Otter malted barley and whole cone hops. It also has more awards to its name than most breweries have released beers in their lifetime.
And on one recent visit, Wayne Wambles, brewmaster at Tampa, Florida's Cigar City Brewing made a confession to Clarke.
"Matt, I've been thinking about this for a while," he told him. "You've got the old brewery, and you have the new brewery. It's my ambition to pour a Windermere Pale from each, sit down, and analyse just how far you've come with the beer from each brewhouse."
So while beers such as Windermere Pale resonate with seasoned brewers and drinkers alike, Clarke has broadened the brewery's portfolio with a diverse range of beers such as its coveted Tiramisu Imperial Stout, a 10% beer brewed with the aforementioned Cigar City.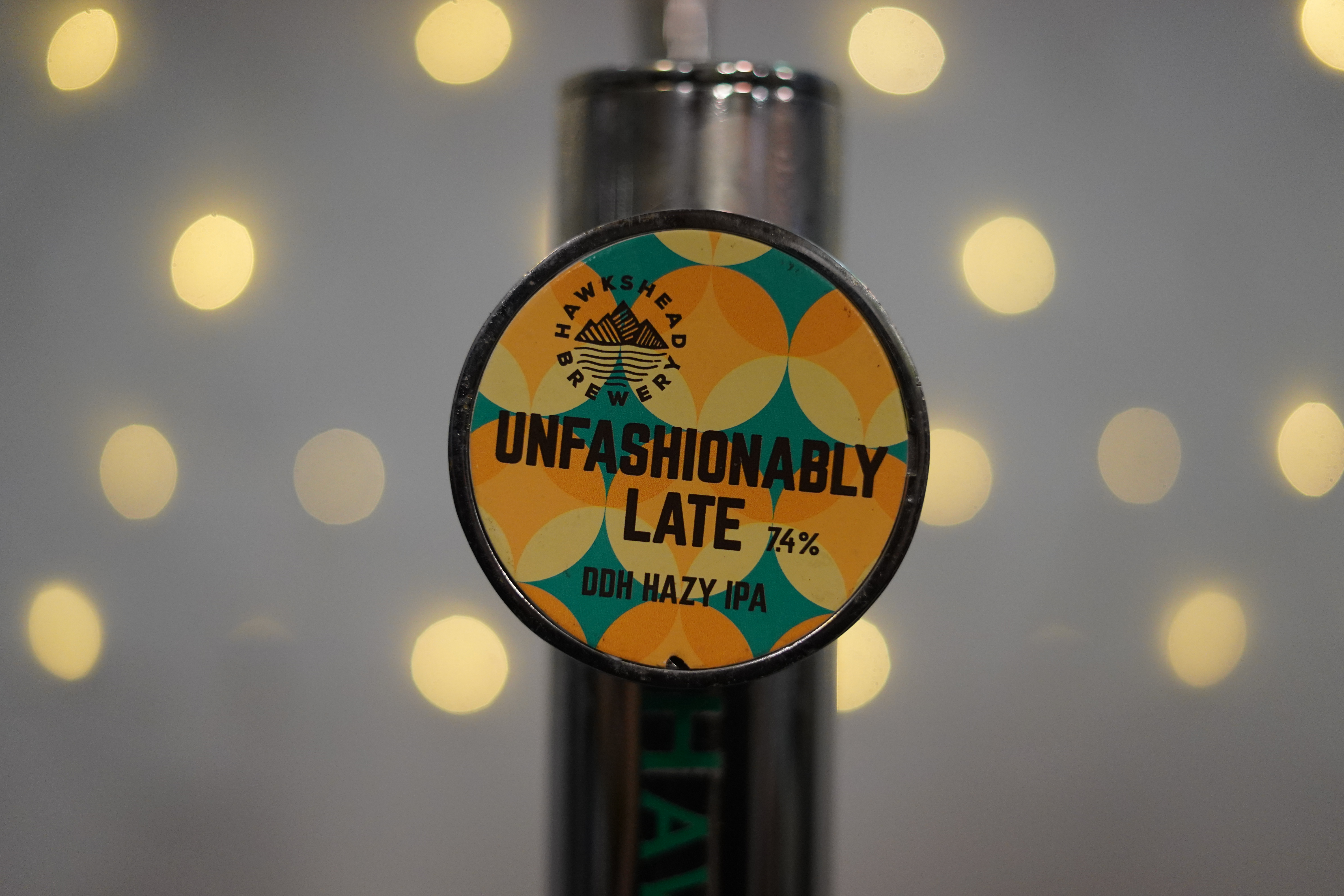 Elsewhere, Imperial Flump King is another 10% number with prominent marshmallow flavouring while Key Lime Tau has become a successful mainstay in the annual release calendar of modern beer.
First brewed in collaboration with Crooked Stave (USA) for the 2015 International Rainbow Project, it's a kettle-soured, lactose infused Golden Ale brewed with fresh lime zest and lemon grass to taste biscuity and strongly of lime.
The beer was christened Key Lime Tau because of the doubling up. A collaboration between two brewers, has been brewed on both sides of the Atlantic and mathematically Tau is 2 x Pi (3.142) or τ = 2π, which is also the strength – 6.28%. Got it?
You'd be forgiven for thinking that Clarke may have tried to turn the tides at Hawkshead, pushing modern styles to complement their popular mainstays. But it's not that simple.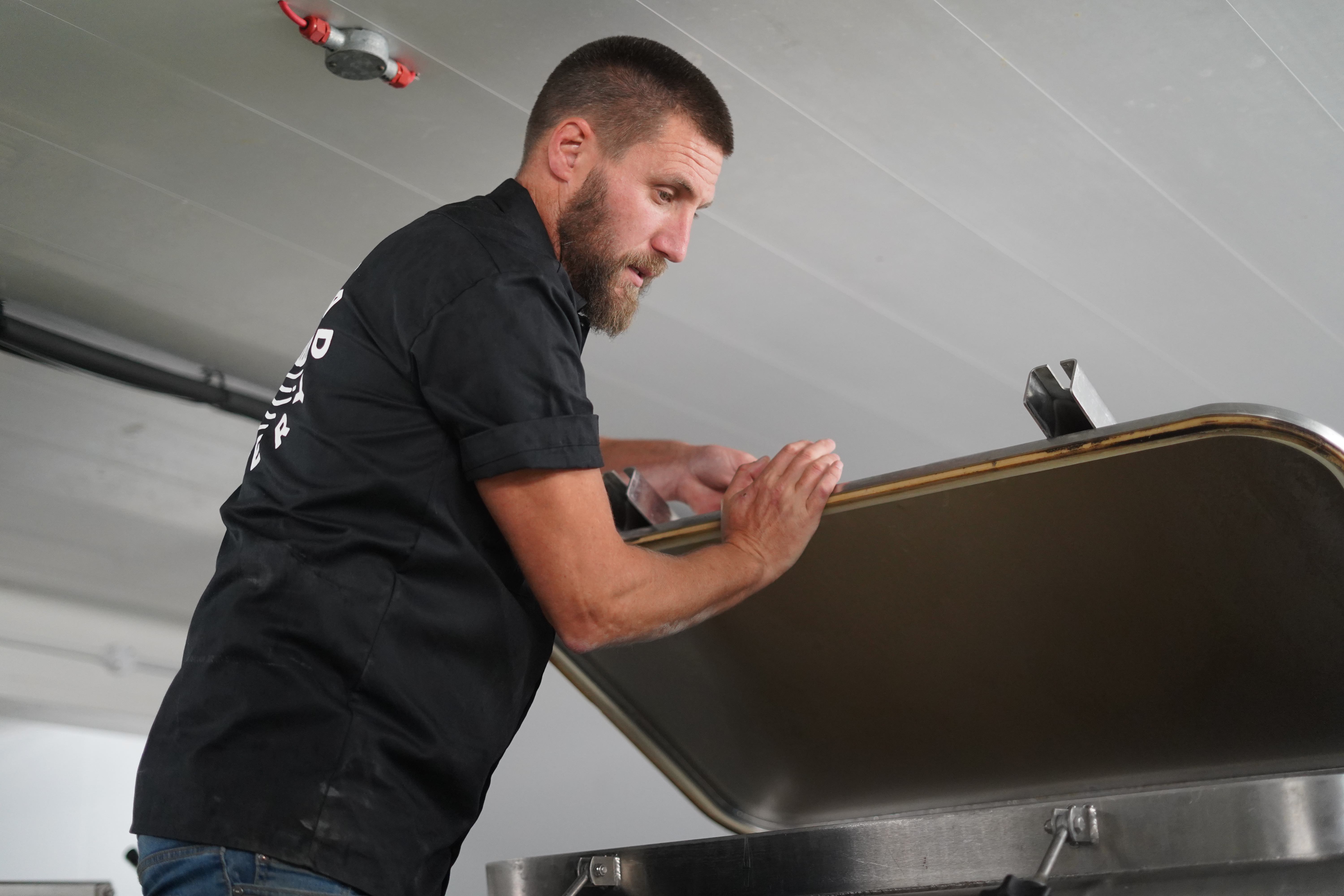 "I'll tell you what, if it was left to Alex he would have chucked out all the traditional stuff a while ago," Clarke smiles. "I like the appeal of those classic brewing styles. Those products are still in strong growth, while other people are ignoring them." 
He adds: "Sure, you won't win overnight glory with them, nor will you be the coolest Kid On The Block for banging out a session bitter but for me, that makes you very cool indeed." 
Passion for cask
Beers of all styles, destined for all dispense methods, are produced at Hawkshead, But it's cask beer where Clarke's true passion lies. And like many brewers, he's concerned with what he sees happening across the beer landscape.
"We are still 65% cask, which is somewhat unusual for a modern brewery. And it's not a case of that all being sold locally, either," he explains. "The lakes bring in a great deal of tourism, but that doesn't correlate with strong sales for our cask. We probably cost more for these pubs to buy in, so there's a reluctance to opt for Hawkshead. Especially when those pubs are catering for a lot of one-off custom, it's easier to go for the cheaper option and move on."
Clarke adds: "That aside, you need to treat cask like everything else, and that's with attention and respect. Too many people have seen cask as a low GP commodity so in turn, they've devoted less energy when it comes the time producing it and the quality of ingredients.
"Achieving consistency in cask beer is bloody hard, but not enough people are trying. Look, I can knock out Double IPAs everyday and not hear one complaint but if one batch of Windermere Pale is slightly off spec, I'll know about that within hours!"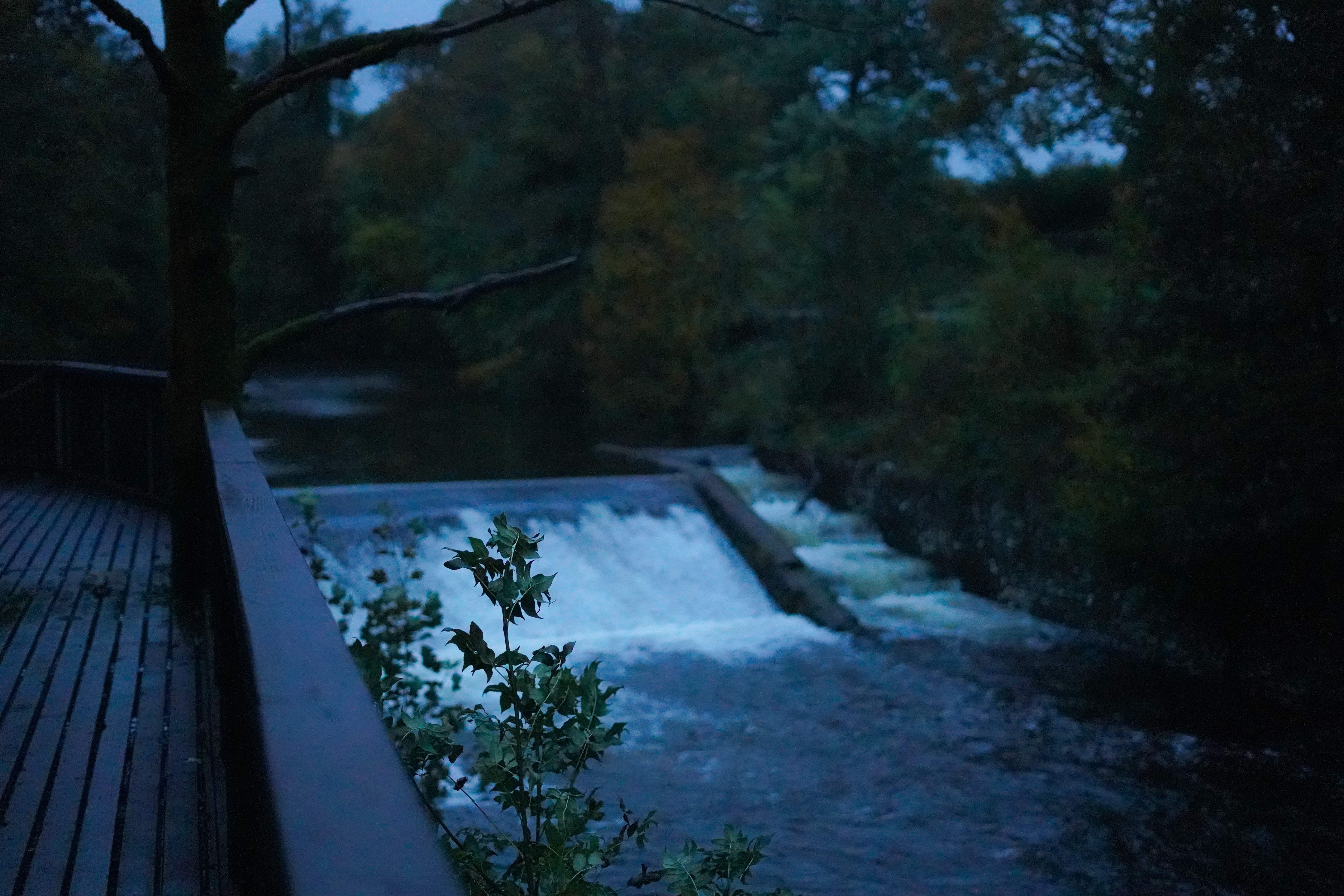 There are a number of UK breweries that command the price they want for cask. It's perhaps unsurprising then that this leads into positive consumer perception towards these beers. They're more likely to be looked after, well cellared and sold in an efficient manner. 
But those dropping their prices to push cask beer volumes out, are not helping themselves and its damaging the wider reputation of cask, Clarke believes.
"Once you drop your price you can't bring it back up," he explains. "This problem happened a long time ago and cask prices have dropped or remained stagnant, while keg beer has only increased."
He adds: "Yes, people bang on about extra processing with kegs and other associated costs. But really, in an age of one-way kegs, non filtration and turbid beer? I'm not buying it.
"Then you look at cask. Managing a cask population, washing them, reclaiming them, filling them. The cost of cask beer does not reflect the work that has gone into that beer. People dial in a processing cost to keg but not cask. That's not right."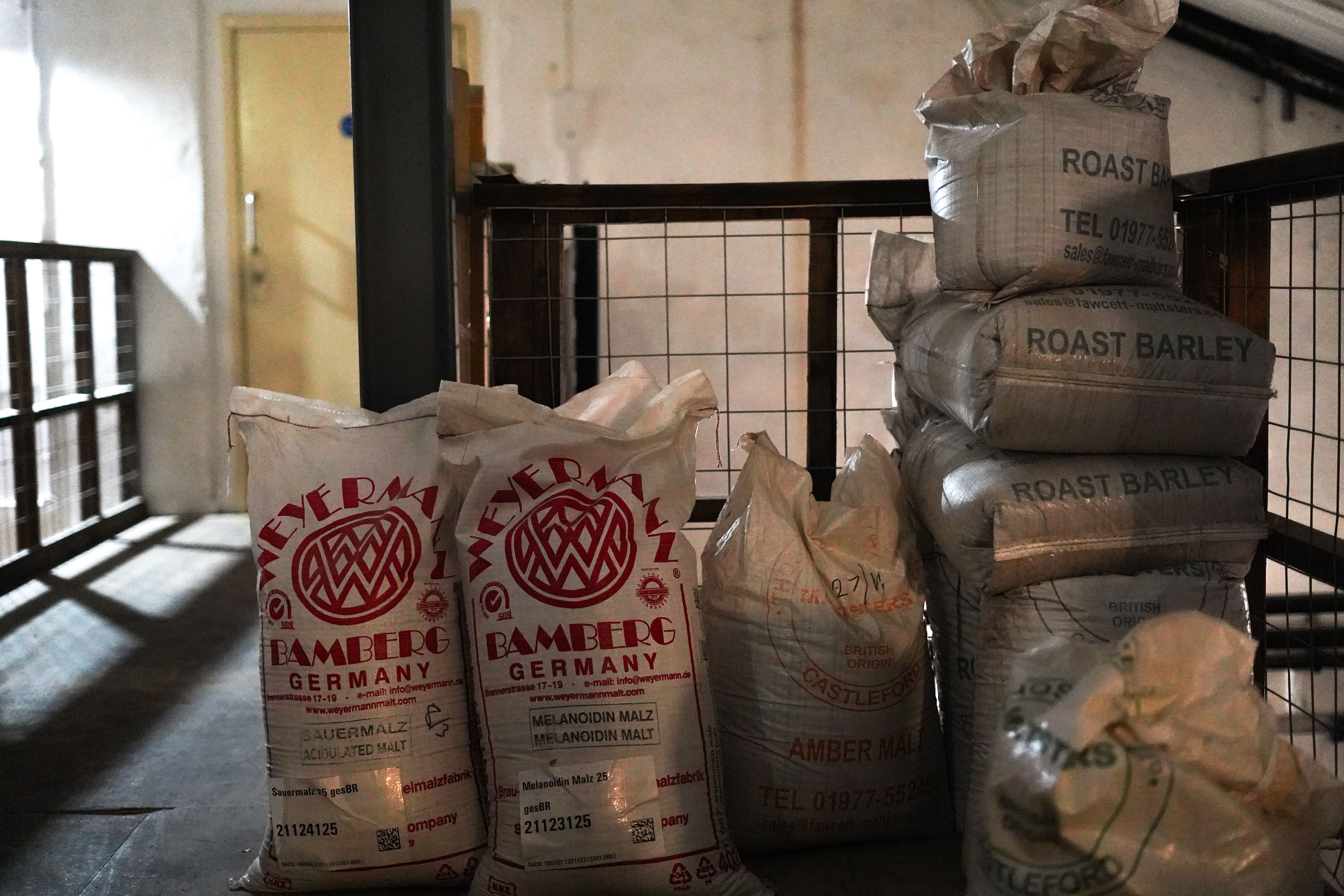 So when it comes to selling to customers such as J.D Wetherspoons, Clarke is proud that Hawkshead common the price they set. If a pub wants Windermere Pale on cask, they pay the going rate and then, only then, they sell it for price they want.
"Not everyone can, or will, do that. I hear some crazy prices being offered by breweries. It's scary," he adds.
Hawkshead is sticking to its guns, and it is paying off. While its mission statement towards the beers it produces remains the same, the environs those beers are brewed in have changed significantly since Brodie started the business back in 2002.
Steady growth
The brewery began life 16 years ago, in a barn just outside the village of Hawkshead in the English Lake District. Brewing on a 7 barrel second hand kit, it was creating highly hopped cask beers, in an unsaturated craft beer scene. Brodie was hopping his Golden Ale with Cascade and the Porter with Bramling Cross, and nobody was going to tell him otherwise. 
Brodie grew up in East Yorkshire in the 1960s drinking John Smith's cask bitter right up until the day crazed keg marketeers stripped out the hand pulls. He drank Morrells at university, and served fizzy beer in London bars in the early 70s, whilst seeking out Courage Directors.
He joyfully imbibed King and Barnes, Shepherd Neame and Harveys, in Kent, where, in 1973, he joined CAMRA. In the Midlands, the Davenports wagon delivered "beer at home". In Cardiff, even late night bars served Brains S.A. The flat in Wandsworth didn't have a sitting room – that was round the corner in the Youngs brewery tap, and in South West London, the local was Fullers' Wych Elm.
In Iran, it was Heineken from a tea pot. In Pakistan, he had to register as a Christian to get beer from the Murree Brewery. In Mexico City, Dos Equis hit the spot. The USA, meant Sam Adams Boston Lager. And when home in the UK in The Lake District, fell walks would be contrived to end with pints of session Bitter from Cumbria's first micro, Yates. It's no surprise Hawkshead would be a success when you're a true beer fan at heart.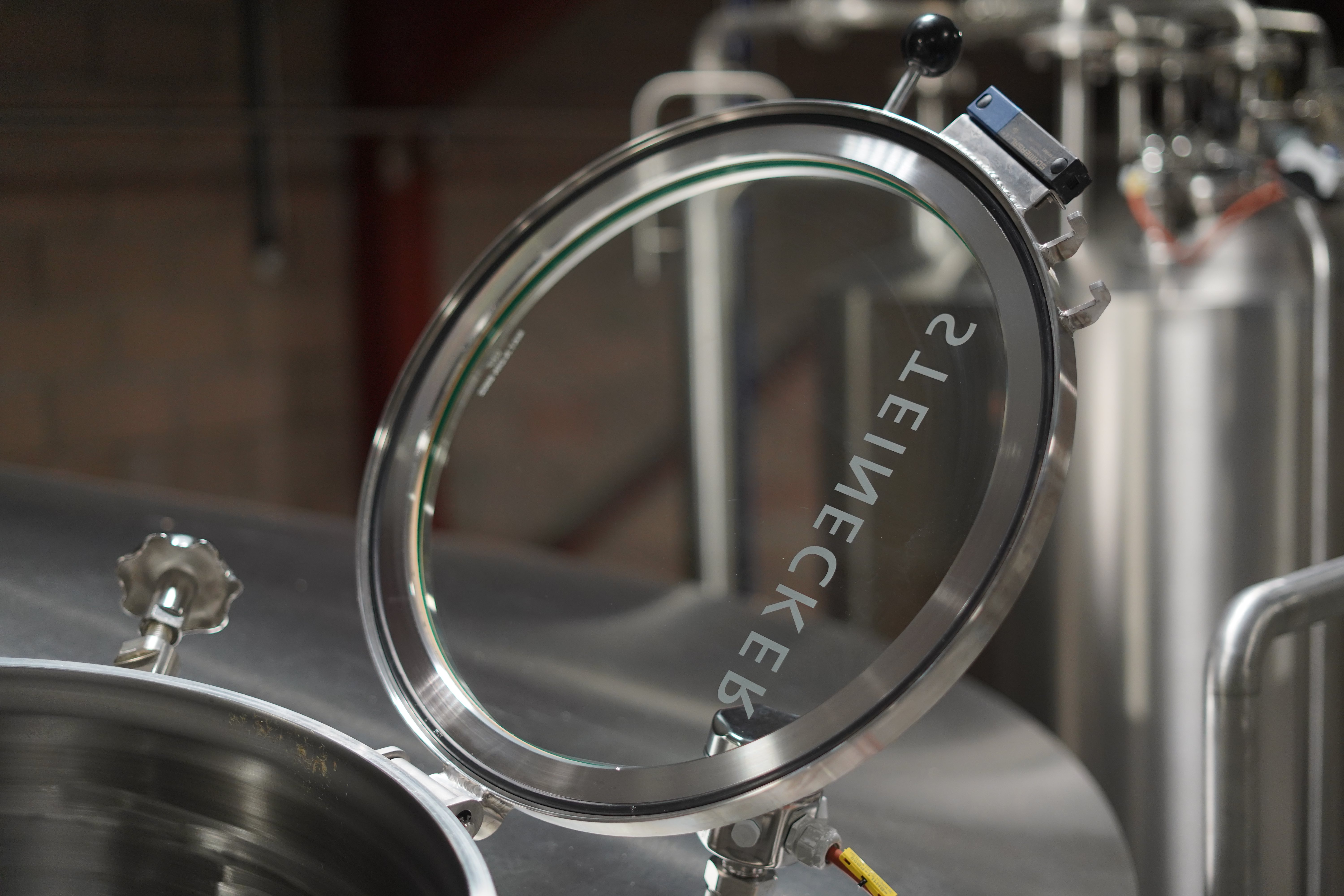 In 2006, the brewery relocated to the Mill Yard, beside the River Kent at Staveley, brewing on a new 20 barrel brewhouse and a brewery tap – The Beer Hall – was built. It was around this time that a change in brewing personnel saw Clarke thrust into the role of head brewer, picking up the pieces from where the previous brewer left off. It gave new meaning to learning on the job, but Clarke took it in his stride and running the current site is just reward for the graft put in over those years. 
However the opening of its new facility in 2018 was preceded by another milestone in the brewery's story, the acquisition of majority stake in the business by the UK's largest independent drinks company, Halewood Wines & Spirits.
The deal, announced in March 2017, enabled the build of the new brewery, increased production and the ability to gain new routes to market. Halewood also entered the UK brewing industry as a result.
Speaking at the time, Brodie said: "Demand for our beers exceeds our ability to supply. We have gone about as far as we can on our own. This partnership with Halewood will allow us to grow and fulfil our potential."
"I am convinced that Halewood share our values," he said. "We have had a long negotiation and I believe that this deal gives Hawkshead a way of getting significant investment without being absorbed into 'big beer.' Halewood sees small, craft and premium as the future. And they are Northern. I like that."
Halewood's chief executive Stewart Hainsworth also added: "Hawkshead Brewery will continue to operate independently of the Halewood Group, under Alex's leadership, with Halewood as its main distributor and investor. Hawkshead brews great beers. We are delighted to help them carry on doing what they are so passionate about."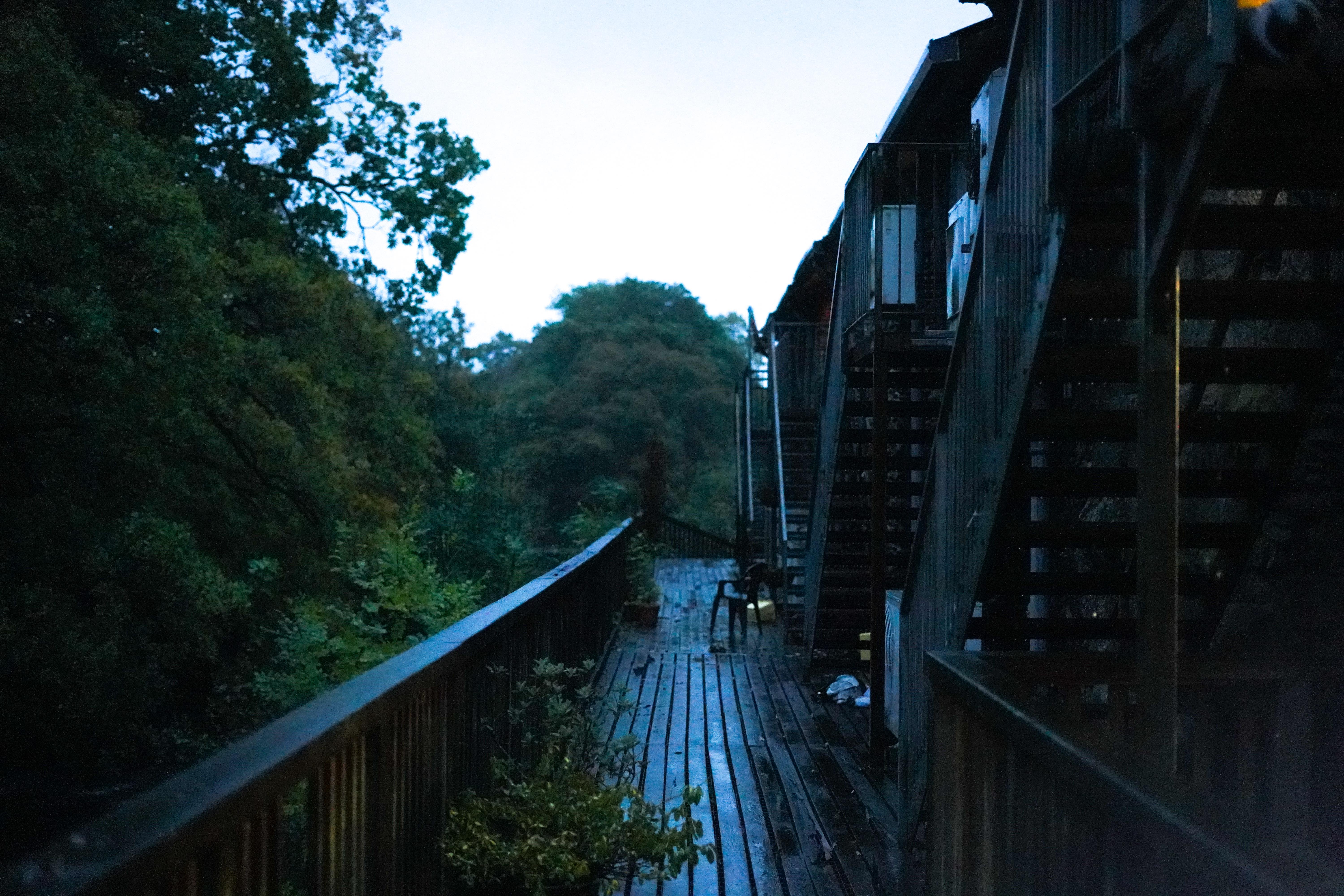 With that deal signed and sealed Hawkshead opened the new Flookburgh site in 2018, a move that trebled its annual production capacity. The centrepiece of this is a Krones turn-key 40 barrel (6,500 litre) rapid-batch brewhouse, capable of multiple brews per day. 
The kit can initially produce up to 240 beer barrels (8,640 gallons or 69,000 pints) of beer each week, with this set to increase as it gears up to export its Hawkshead Lager and Hawkshead Windermere Pale across Eastern and Western Europe, the Americas and Asia. 
The company's existing brewery at Staveley is continuing production, concentrating on small batch specialist and limited edition beers. It currently produces 7,000 barrels (11,500 Hectolitres) per year.
Going forward in to 2019 and beyond, head brewer Clarke has a lot of weapons in his armoury, and a great team to work alongside. Not bad for a New Zealander who only came over to the UK for a holiday 16 years ago. 
"I'm not one for global domination. I'm a safe person and like it that way," he explains. "I like to make people happy through beer. So whether that's a session pale on cask or an Imperial Stout on keg, if you're enjoying it, well then I'm happy too."