A stones throw, well around one and a half miles, separate Kew Brewery and the famous Kew Gardens. One of these establishments has just celebrated its second birthday while the other opened its doors way back in 1759. Granted, Kew Gardens has been going strong several centuries but even then, it can't push Kent-based brewing establishment Shepherd Neame (founded in 1698) in the history stakes.
Given Kew Brewery's proximity to the botanic gardens, it is somewhat fitting then that brewery's founder, David Scott, is incredibly passionate about the environment. It's also an outlook that has informed his approach to the brewery since it started business in 2015.
"Our beers are made using renewable energy and since the beginning, we have also used what we consider to be the finest English ingredients. Our malt and hops are all grown in England, not just because they taste and smell great, but also because this minimises our food miles," he explains. "We want to 'rehabilitate' and showcase English hops, to show they can compete with New World hops for flavour and aroma if used the right way and in the right quantities."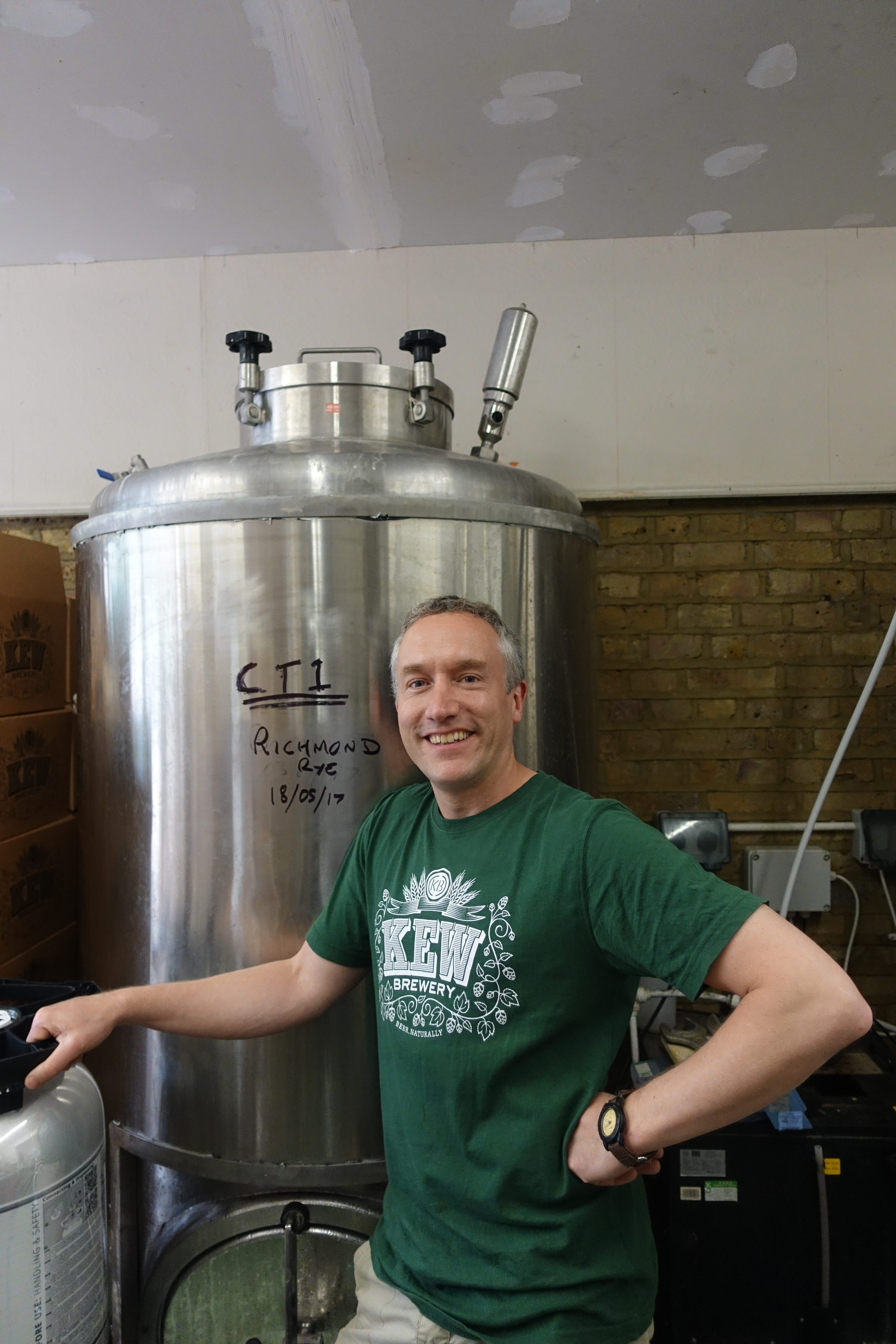 Its beer is unfiltered and unfined, keeping it natural and flavoursome. All are vegan too, bar its chocolate stout. In addition, the brewery donates 5p from every pint sold to the World Land Trust, which helps save threatened habitats worldwide.
Scott, like many brewers running their own breweries today, started at home. Originally from Kent, he is now a long-time resident of Kew, a district in the London Borough of Richmond upon Thames.
While breweries such as Shepherd Neame played a part in shaping his beer journey in Kent, Scott says he was always eager to try new beers where possible, sampling new brews and new breweries where he could find them. But it was a somewhat logical dabbling in homebrew that really lit the touchpaper for a future in brewing.
"There wasn't a garage to use so I ended up monopolising the bathroom while a disused fridge in the cellar was adapted to become a fermentation fridge. The more I experimented, the more time I knew I wanted to spend on recipe formulation and all aspects of brewing," says Scott.
A longstanding career in management at the London School of Economics offered him that flexibility with the chance to take 12 months off to pursue such goals. Scott was already active on social media pushing the Kew Brewery name at the point, even by his own admission not knowing if this goal of brewery ownership was truly achievable. But more importantly, it didn't prevent him from trying and stints at West London's Weird Beard, the Foundry Brew Pub in Canterbury and also at Old Dairy in Tenterden gave Scott a broad remit of experience.
"These different experiences gave me different outlooks and helped shape my own. Old Dairy was more cask while Weird Beard more on the keg side. It was all really useful and I appreciate that. Once I had spent time at these breweries, it was at that point I really knew I wanted to make a go of things.
But I had to go back to work."
Not one to give in, Scott continued brewing at home at pursued options for a formal home for Kew Brewery, a facility that would materialise in the form of his Upper Richmond Road site when planing permission was passed in January 2015.
"I had held off ordering the kit until that point but when I was given that planning permission, the order for equipment went in straightaway," he recalls enthusiastically.
Scott specified a six-barrel kit from Oban Ales and three months later brewing commenced on it. In-line with his brewing outlook, Scott's beers are unfined. Using dish bottom fermenters rather than conical fermenters, he gets around 850 litres in a batch after 1000 litres are used in the kettle.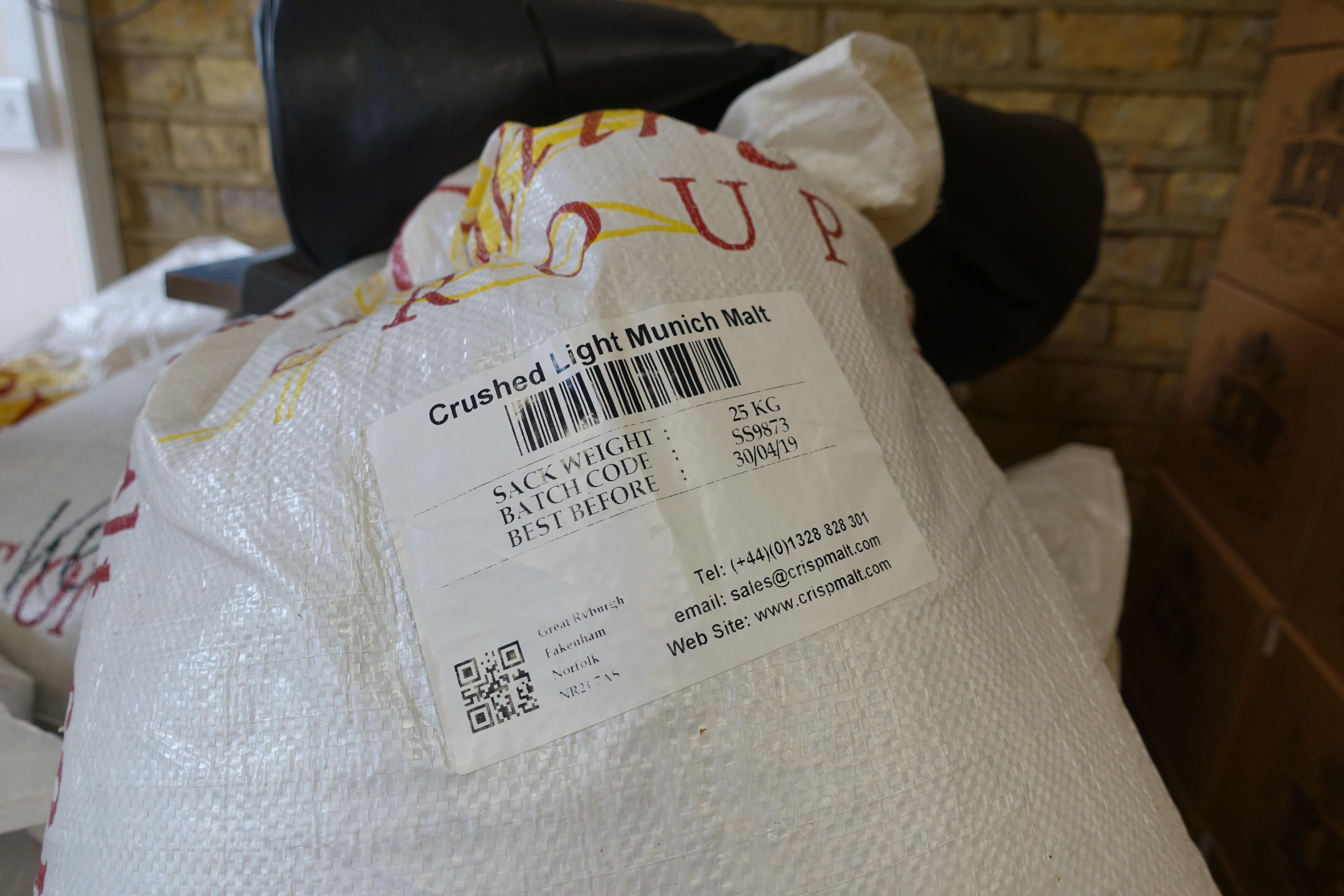 These fermenters are dotted around the brewery's warm room, which also houses malt and a wealth of bottled beer ready for dispatch. While the brewhouse is located at the back room of the site, these operations are front facing onto a main road where a Waitrose, Barclay's bank and WHSmith are but minutes away. Somewhat unusual for a London-based brewery.
"Being in this position should be something I should take a massive advantage of but at the same time, I would lose so much of the space we are currently using as necessary storage. It's a great location but with the cold store being a mile away as it is, there is very little room for manoeuvre," he says.
Scott has investigated options for other sites in and around the local area but like many of his peers, growing pains are something that come to many businesses on an upward trajectory.
"It would be a beautiful thing to be in place that is as close as this site is but property prices continue to be prohibitive. And warehouses don't come up, they get knocked down. It doesn't mean that there isn't anything around but there just needs a bit of luck to find the right size place at the right price at the right time," says Scott.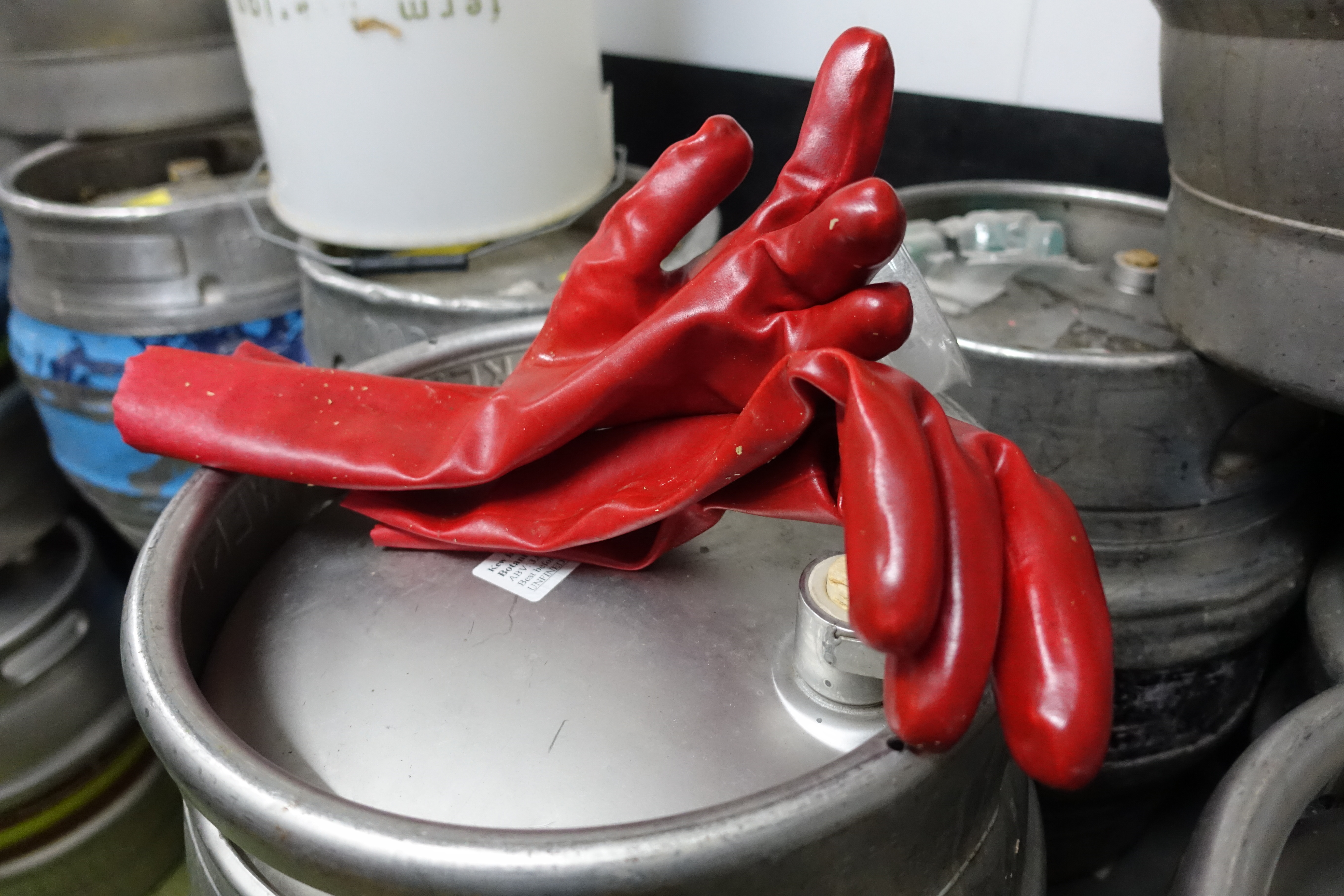 He muses: "There's also the possibility that if the right place came up that was well beyond my reach, then I could I look at giving crowdfunding a go. It would help me take a massive step to get to that next level. We will see."
Until that point, Scott continues to enjoy steady success with his considered range of beers. Kew Brewery became the first brewery to win back-to-back 'Best in Show' awards at the Ealing Beer Festival, fending off around 300 competitor beers in the process. In its range, the biggest seller is Pagoda, a numbered series of pale ales celebrating different English hops each time. Brewed using broadly the same full-bodied pale malt base, Pagoda Pale series aims to show what English hops can really do. Recent iterations used UK Chinook and Olicana.
"That beer in all its formats is our biggest seller. Some like it because it's a changing beer each time but I think it resonates with people as pale ale is a style that is understood the by drinkers and by pubs. Our Botanic ale brewed with Challenger, UK Cascade and First Gold, also continues to prove popular. There is a little bit of juniper in what I feel is a deliciously sessionable amber ale. The biscuity, caramel malt body is complemented by a weighty UK Cascade dry-hop, and that subtle citrus tang of the juniper."
Scott says his range of beers is informed by flavours he appreciates, beers he enjoys drinking, and styles he feels would sell and prove popular with drinkers. But he is keen to point out that he'll never brew a beer blinded by his tastes and his tastes only.
"It's important to take everything into consideration," he says.
Use of UK hops and malt is important to Scott, and he hopes we will start to see more breweries follow suit, and more drinkers appreciate the qualities such ingredients offer.
"I'd like to see more UK breweries use UK hops from an environmental perspective. But from the sounds of it all of the hops being grown are being sold, which is positive. It's fantastic to see Chinook, Bullion and Cascade grown here, while I'd argue varieties such as Oilcana are not at all English in the qualities they offer. I want people to look more at UK hops and I want people drinking a beer for that reason. I want to challenge their preconceptions," Scott stresses.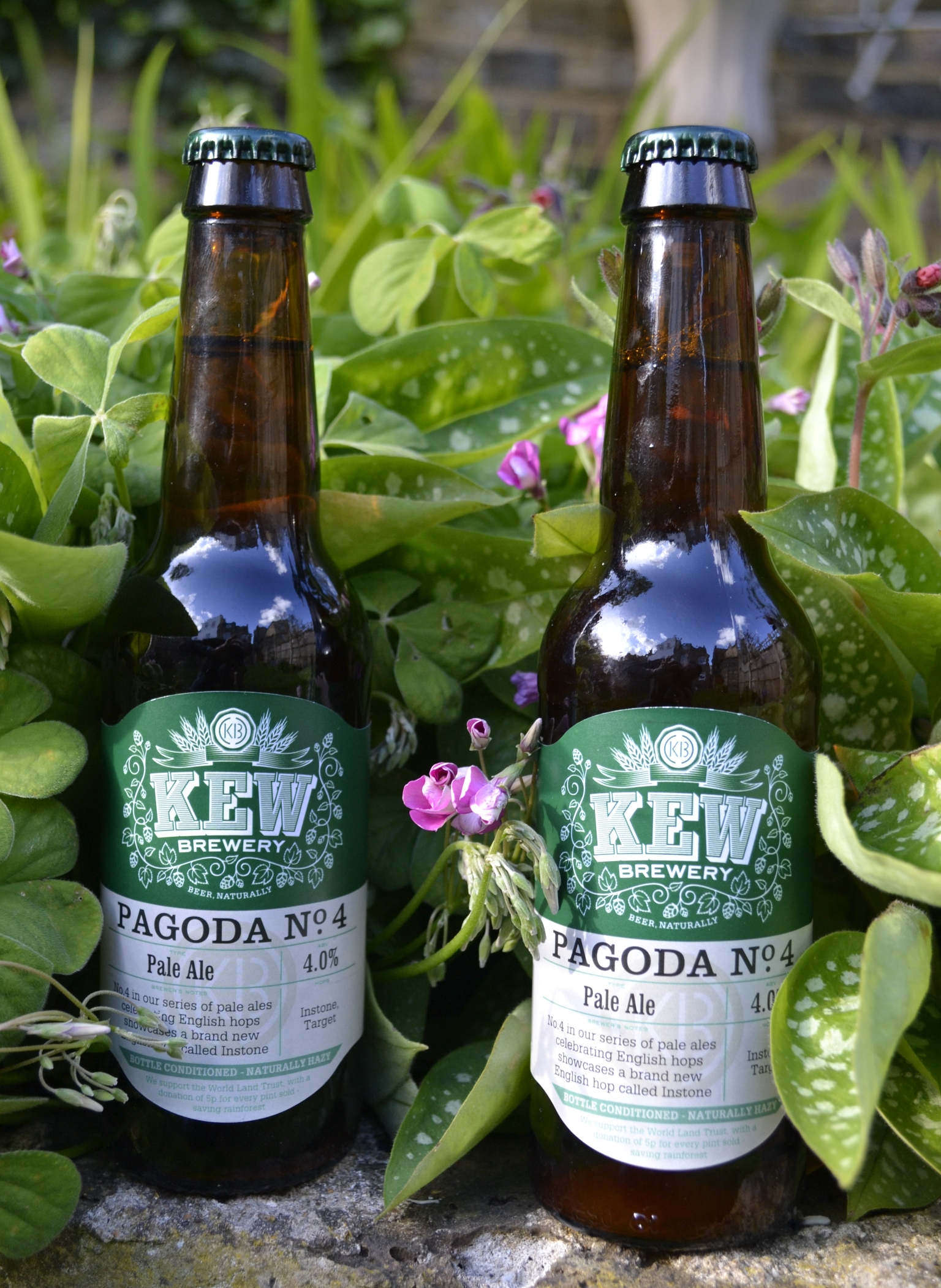 Around two thirds of what Kew Brewery produce goes in cask, while the remaining third is split between keg and bottle formats. Scott would like to do more in keg, but also appreciates the way cask beer, especially in and around the local area, has helped build the Kew Brewery brand. He also indicates that future keg beers may allow him to experiment with other styles, opening the door to distribution into a wider on-trade presence.
Despite steady growth, Scott however is aware that taking the next step in the journey of Kew Brewery will come sooner, rather than later.
"Like any business there is going to have to be an element or do or die at some point. It's about recruiting the right people, finding the right space, and continuing to make good beer," he says. "Any brewer that says they might perfectly happy with their beers might be lying. There is always room for improvement and you should be always be striving for that."