On one of Garrett Oilver's earlier visits to Thornbridge back in 2007 he was, well, nowhere to be seen. At this point, the brewery existed in the confines of the grounds of the ethereal Thornbridge Hall near Bakewell, Derbyshire.
As Alex Buchanan, the brewery's marketing manager recollects, the team were meeting early to brew their first collaboration 'Alliance' alongside then Thornbridge brewer and latterly BrewDog co-founder Martin Dickie.
"We came in but Garrett was nowhere, I was baffled," explains Buchanan. "But then, out of nowhere, there he was, armed with dozens of freshly- laid eggs laid by chickens from the nearby farm. He made us the most amazing salmon omelette and off we went for the day. That's just how he is."
It's early November, and while Thornbridge Brewery, steered by head brewer Rob Lovatt, is now a far bigger and modern operation than it was back then, the infectious Oliver is back in town surveying his kingdom as if it's a home from home for the illustrious brewmaster from New York.
Oliver is in town for a collaboration between Thornbridge and Brooklyn Brewery, where he has spent the last 21 years of his brewing career. The beer is currently known as 'Project Serpent', a 10% Belgian beer aged in Four Roses Bourbon casks and fermented with cider lees.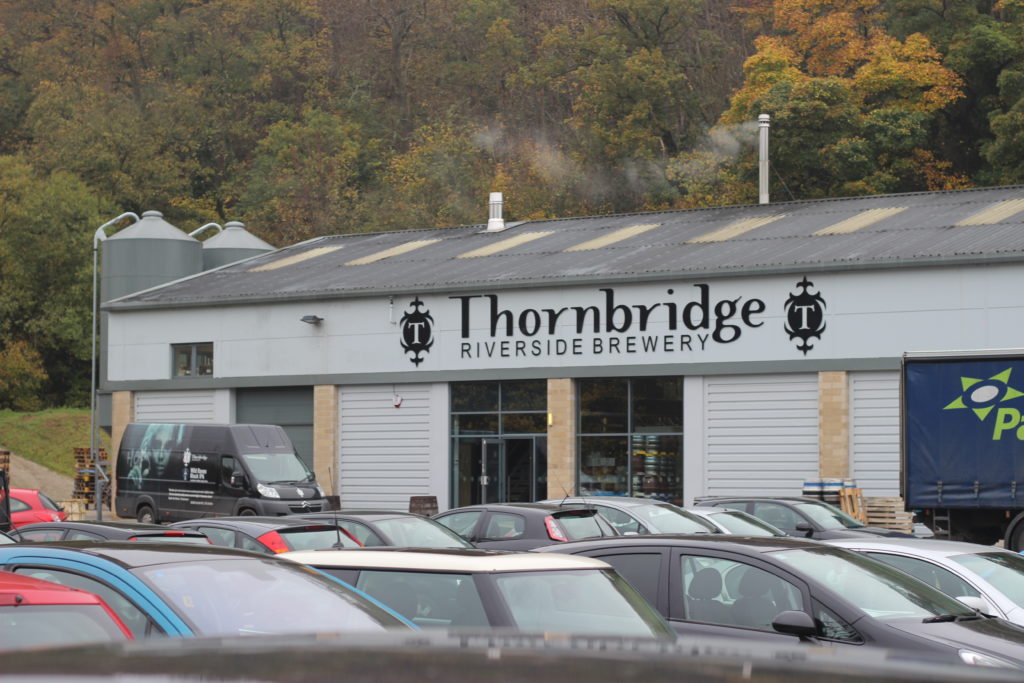 The Serpent story started nearly two years ago when Oliver and Lovatt were put in touch with Tom Oliver at Oliver's Cider and Perry, who produces some of the most complex ciders and perries in England, which rely on natural yeast and bacteria present on the fruit for fermentation.
"This type of project is based on some of the stuff we have been doing at Brooklyn in a whole range of beers where we've done secondary ageing in barrels on sets of yeasts from other wild fermentations," explains Oliver. "Through natural lees, it is possible to take the fermentative "terroir" of a piece of countryside and concentrate it into a relatively small amount of liquid, and then have that terroir proliferate through a beer.
If someone didn't tell you that Serpent was a beer, you might at first think that it was a cider, or perhaps an Arbois wine. The apple-like aromatics are apparent, along with a hint of oak, expansive fruit and a long bone-dry finish."
Oliver, who has Molly Browning, Brooklyn's Barrel Program Manager with him, started this type of brewing process initially on a very small scale in the US, owing to the fact that there were very few producers that were doing the purely natural fermentation that he required. "We were looking at five or six barrels at a time, nothing more."
"So that's why I turned to scrumpy and to England. I'm into natural fermentation in wines, and cider. But at first, when I was offered cider lees, I must admit I wondered what on earth I was expected to be doing with those!" he explains. But after conversations with Lovatt and his team who, according to Oliver were probably the only ones crazy enough to want to do this too, they went ahead with it.
"In order to do it, we all had to learn a lot of new things to ensure that our collaboration with cider producer Tom Oliver would enable all the elements we want to come together. I hope when people taste it, they'll agree that it's on the edge of a beer and a cider, despite only have a small cider element in it."
Oliver is a renowned orator, travelling the world exalting the virtues of the marriage of good food and good beer with unnerving ease. While Lovatt leans on the more introverted side, they share, among other things, a perfectionist attitude to their brewing craft. A considerable space in Thornbridge HQ has been turned into the barrel store and bottling plant for Project Serpent, with more than a hundred barrels lining the wall.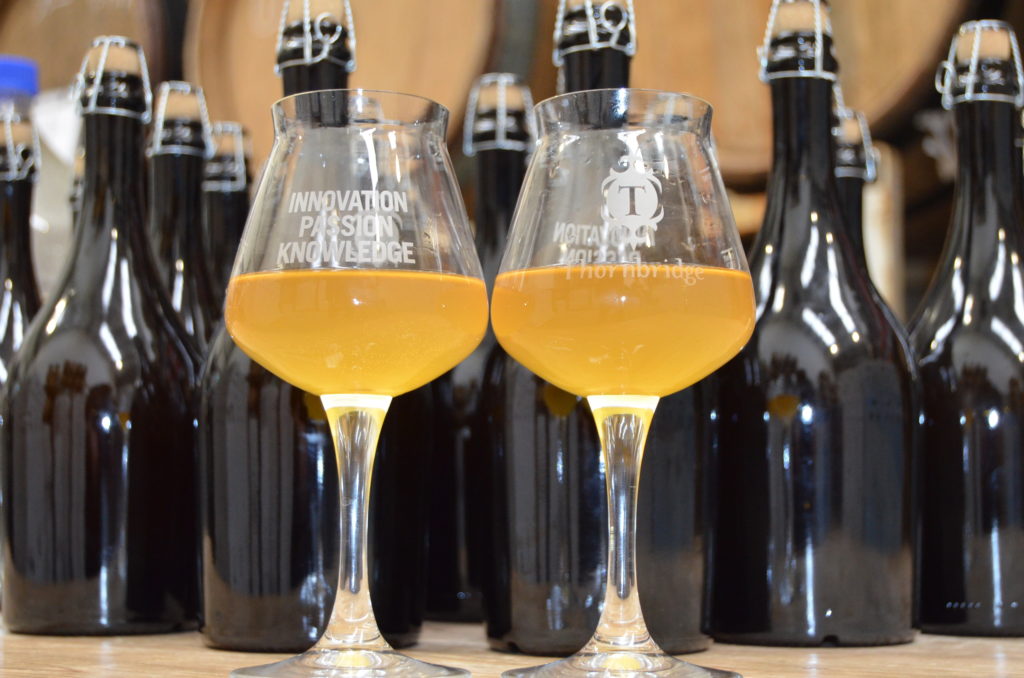 "We looked at all the gravities of each barrel, we tasted every one and mapped out the gravity of them, so we could put together blends, exactly the same as you would have with a cuvee with wine," explains Oliver. He points to a map of the barrels, which have a small range of around one plato.
"We set ranges, and by doing that we look at the size of the tank and set a cuvee. The flavours are pretty even across all, but we want the blend to be set across them so we can randomise them rather than having to go and taste each individually and mentally put together the flavour notes to ensure they work with each other."
He adds: "You are setting a blend and want consistency across all bottles. Lots of people are into brett, they are into sours but bringing these things into a nice balance, and also a natural thing that springs out of the environment for me is more interesting. What I love here is the balance of a little acidity, ripe freshness, the barrel comes together and a nice pop of fruit.
"You can just imagine a nice piece of pork in front of you with a glass of this, some gorgonzola sauce and boom, you would lose your mind!".
Pointing to one barrel that has a heart next to me, I ask of its significance. "Well, that one had a 'Boy that is really nice' effect on me, maybe that will make it as some director's cut!" he enthuses.
Oliver is keen to point out that this beer is a true collaboration.
"It is a perfect blend as neither Brooklyn or Thornbridge could have done this without the other. Many collaborations are something of a photo opportunity, but Rob and I have known each other for years, and I know the family, so we are really part of each other's families in that sense," he explains.
"For me, we were the first brewery in the world to do collaborations, back in 1996 with Brakespear. Brooklyn Bridge Bitter and from there, we had done around eight before another brewery had done one. And what's my favourite? So far, this one!"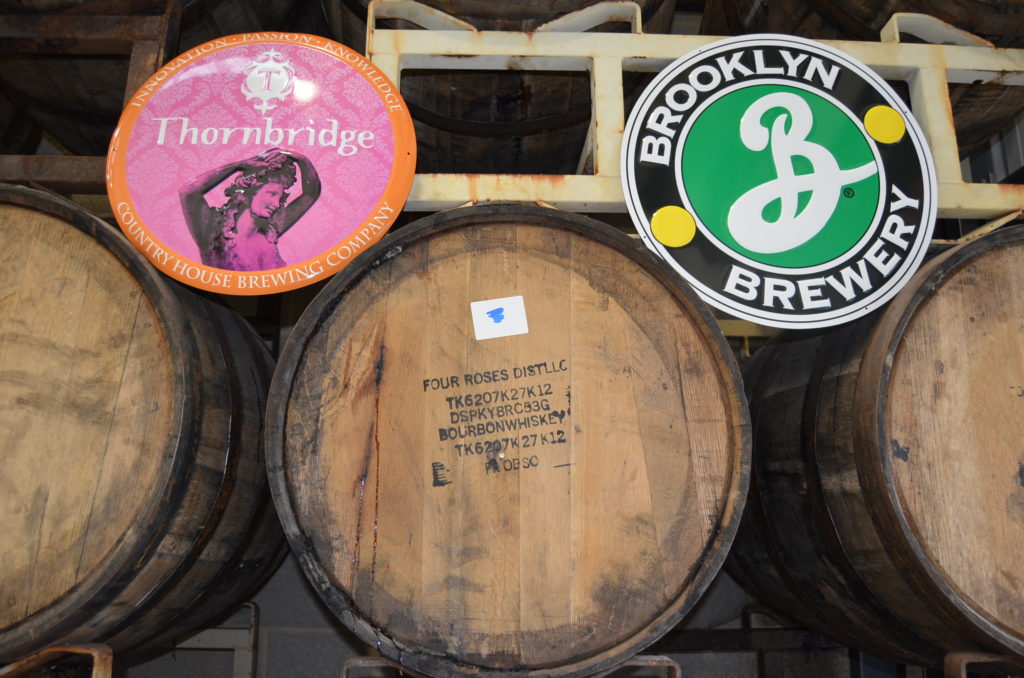 He adds: "Probably the most well-known one we have done was with Schneider, which was called 'Schneider & Brooklyner Hopfen-Weisse' in the US but in the UK and elsewhere but in the US was called Brooklyner-Schneider Hopfen-Weisse, where both breweries chose hops for each version so again, it was a true collaboration. We don't just do them with anybody, but with our friends.
"Yes this collaboration is a risk and it could have turned out like vinegar but I'm liking the balance we are getting, and when this lands on the table with food, it will be able to do stuff that no other beer that I've had anyway, has done before. The food pairing was one of those things that always sticks in my mind, and it's the same with here, and it's the same with our Ghost bottles in the US. It's a special occasion beer, it's handled with care and it's something truly special."
Lovatt agrees, who believes that collaborations are often an exercise in marketing, whereby one party is "standing on the shoulder of giants".
"For us it is a discussion and a relationship. Look at our barrel ageing setup, it's something we want to grow. We want to grow that and do it the right way. Too many people are doing it cynically and doing it to sell their beer for more money, the beer needs to be better than when it went in but so many actually taste worse," he says.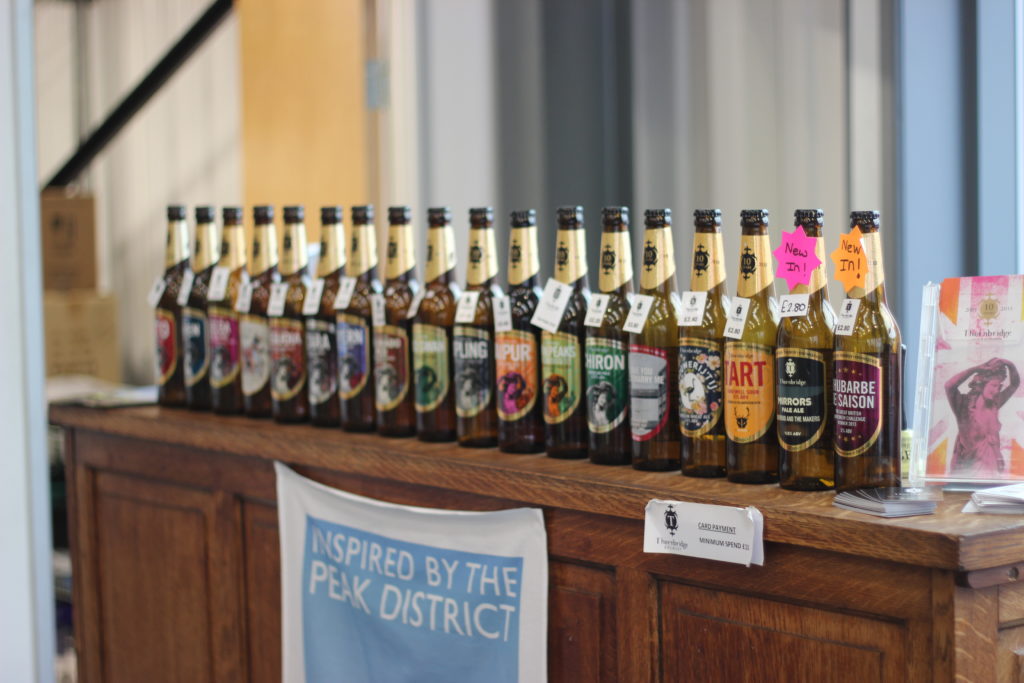 "It is labour intensive and should be that way. Too many are not doing that, and of course, storage is important too. It is justified that you charge more but many others are doing that and the product is far from special and can frankly taste awful, woody and sour, which is not good at all."
Though Lovatt is a man of few words in public, his brewing career, the beers he has helped create, brew, and develop have reached drinkers far and wide. Starting his career at London's Meantime back in 2001, Lovatt found himself brewing predominantly Germanic beers, popular with the company's founder Alastair Hook.
"But the conversations we had early on were that people were ready for big US beers. At first I thought maybe that some of those flavours from the States were maybe a bit too much, too over the top, but I found myself wanting more."
Lovatt played an important role in the creation of some of Meantime's core beers, though he be loathed to take credit, such is his humble nature. But his career eventually saw him commissioned by the Camden Town team to put together their brewery, a project that has elevated that particular concern to a near £100m business in a few years.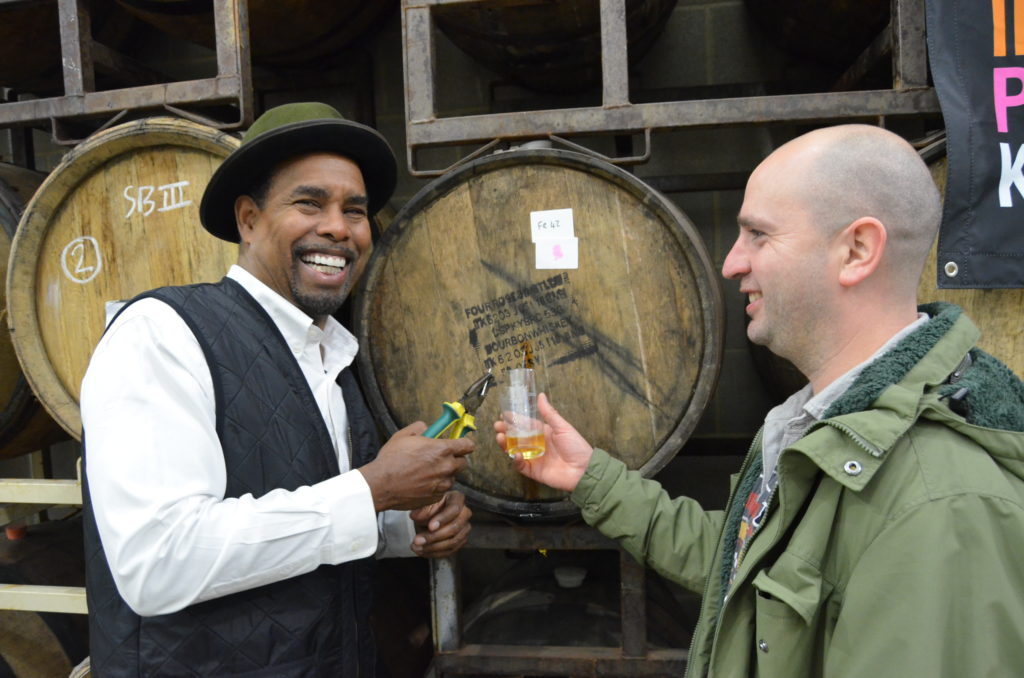 However, like many others, he found that London life was no longer for him, and when the Thornbridge opportunity came calling, it was hard to turn down.
"I had a relationship with Thornbridge and respected them. I knew they were well capitalised and so I moved there five years ago. I went back to basics, reviewed brew dates, ingredients, the tea and the setup. You have to be thorough and as a result, you can't always be everyone's friend. But we want to do things properly here, that's what we are respected for," he says.
And the Thornbridge operation has changed and developed greatly in those years. The brewery outputs around 15,000 litres a week. Between 20-30% of this goes into cask, while the rest is an even split between keg and its bottle output. 30% of what Thornbridge produce is exported across the globe.
Going forward, Lovatt is happy with the team he has in place, and expects and new bottling line and centrifuge to come in this year. He's a firm believer in quality equipment and doing things the right way.
"You can't let the bean counters get in the way of quality. All we have is our reputation," he says.
It's that positive reputation that has helped drive Brooklyn Brewery's growth in recent decades. And while Oliver is well versed with the US scene that Brooklyn has long been part of, he has a great deal of interest in the "chaotic" UK brewing sector, too.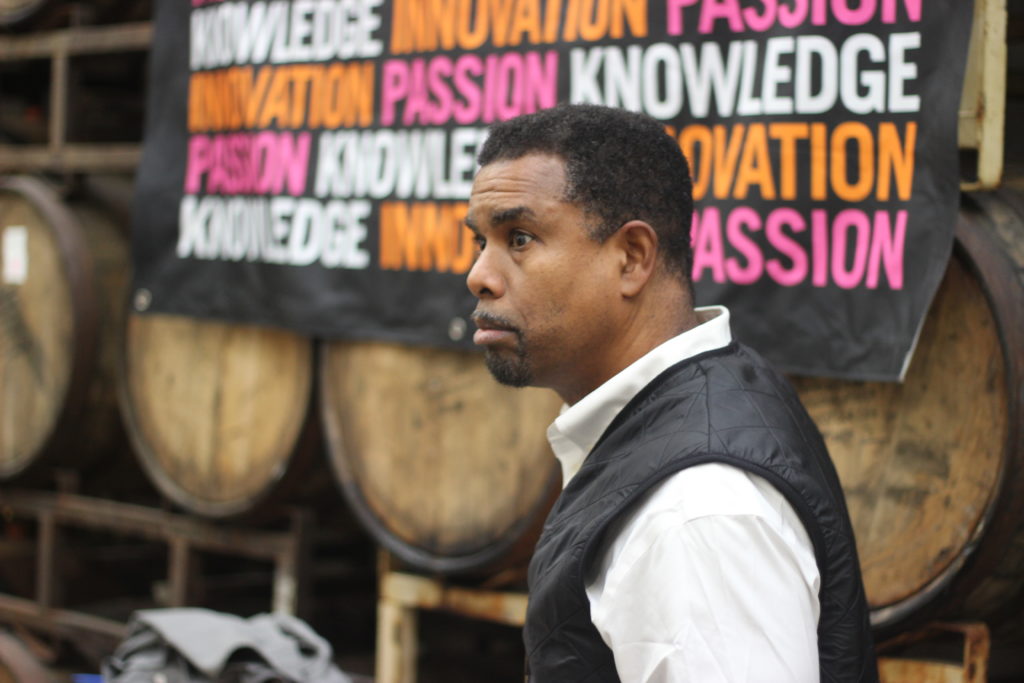 "There are some great beers being made, and there are some bad beers being made. I remember speaking alongside beer writer Michael Jackson at the CAMRA AGM in 1998, telling the brewers to do something new. Don't get me wrong, I love cask beer and it's what made me fall in love with beer in the first place but please, when judging competitions, I was seeing something like six varieties in the UK, when we had around 90 in the US," he laments.
"You would go down the pub and see people at the time selling beer like Hoegaarden for around three or four quid and your pint is two quid. What is wrong with this equation…. It's like 'why is this guy coming across the water and selling their beer for more than yours?'. And their beer isn't even better than yours, you could do that.
"We've done that!
"We've beaten Hoegaarden in the World Beer Cup in the Witbier category, you can brew those beers if you want to. You have to think of it more like food, take in ideas from everywhere. Look at 'Project Serpent' for instance. This has inspiration from everywhere.
"From wine, from spirits, barrels. I love ciders and this ties those in together with friends. As I said, this is a true collaboration. It shouldn't be something you can do by yourself, it should need the other person otherwise it is pointless."
The UK, says Oliver, had much better beer in its supermarkets long before the US, with Chimay and Dupont propping up shop shelves. "These are fantastic beers that we didn't have in ours but the difference was we were making those types of beers, and you guys were not. Now, we have almost no British beers in the States and that's a shame."
For the chaotic UK scene to continue its upwards trajectory, Oliver believes that to do new things, you need the science and you need the creativity. You need something to say, and the ability to say it. And if you only have one side of that, then you can't do it well.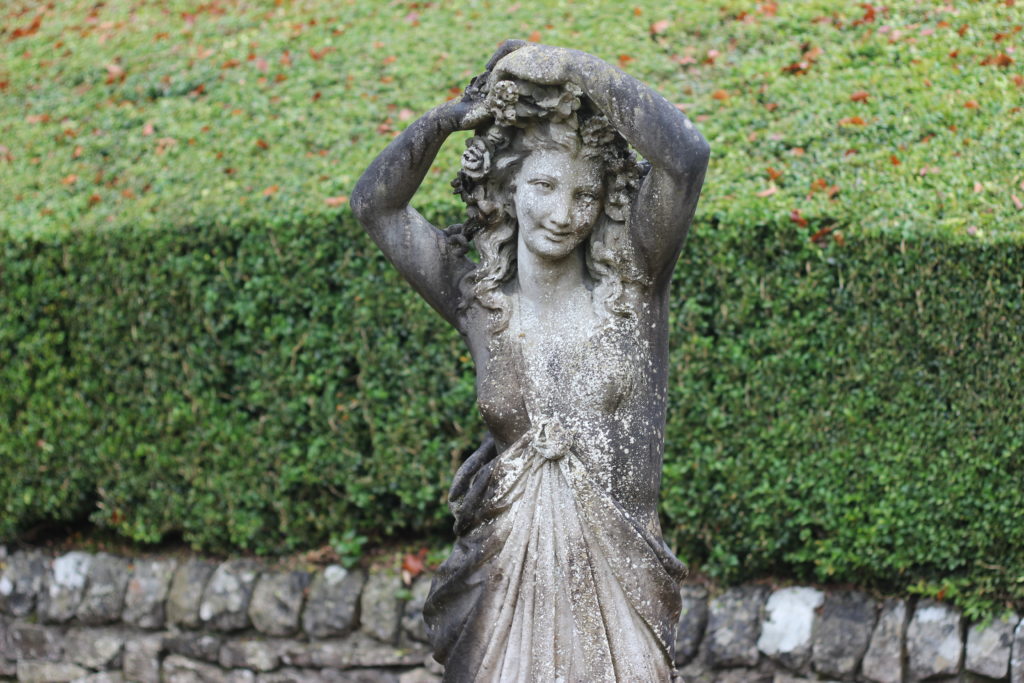 "But that's business, and it's natural, but some of these breweries opening aren't going to make it if what they're producing just doesn't cut it as people wise up. You have this movement, where local is everything, the same as in the US, but you need to get out there and get inspiration and influence from the world, not just what's down the road from you," he says.
"You should be brewing a good Pilsner or a Pale Ale consistently before you start putting stuff in wine barrels. Our name and that of Thornbridge is a promise that the beer is worth the money you spent and time spent drinking it. A good pint of Timothy Taylor's is pretty much as good as anything you'll find on earth, and that's because they have perfected their art."
And his advice to new breweries?
"People are not going to like this but piece of advice number one is go work for somebody else first. Why should you make all of your mistakes, which you will make, on the back of paying customers at your own brewery, go learn under somebody that knows what they are doing, soak up that knowledge and then go out on your own once you actually know something," says Oliver.
"People want to be cool right now, but if you can't put the beer in the bottle tasting brilliant every time then well, there is something very uncool about that in my opinion. I've done it myself, for five years and I am so glad I did that. I learned professional brewing before moving to Brooklyn Brewery. Yes you may know about things such as mash chemistry but I'm afraid that a professional brewery runs nothing like a home brewery and for a home brew setup there are no consequences, and if something goes wrong then so what, hopefully you had fun anyway."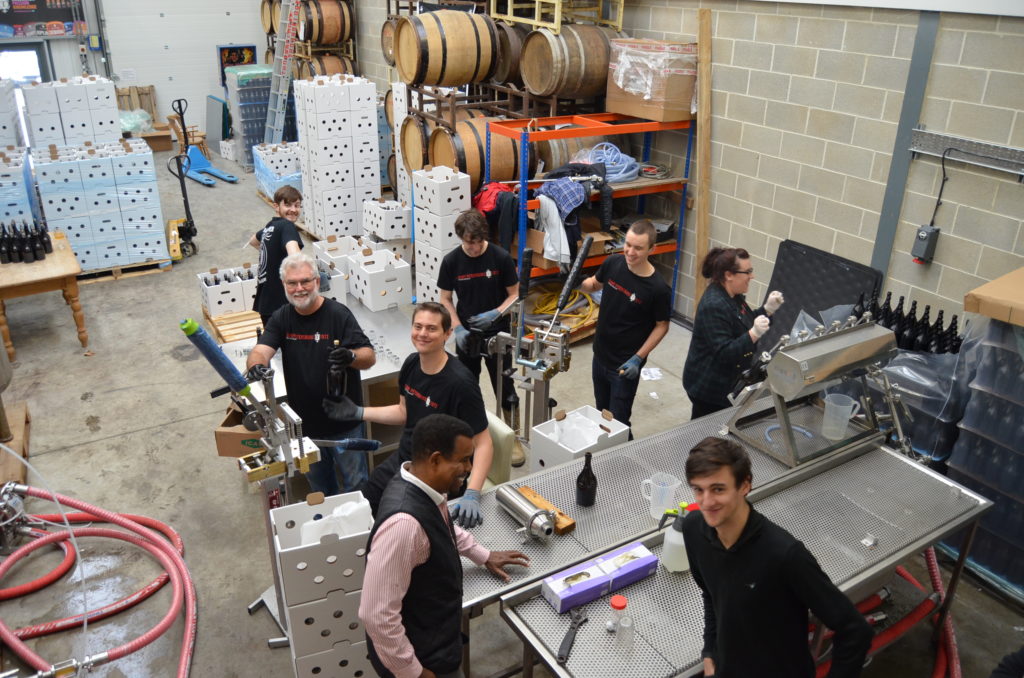 Oliver likens it to being a chef, or a musician. If you are a great one of those, you will bring it every night. It doesn't matter if you are in a bad mood, or you have a cold, you will still perform and nail that.
"Look, I'm not saying it's not fun, but it's really hard work too. To stay relevant, you need to stay fresh, and keep up with those new ideas, and to do it for the right reasons. and I believe people will continue to do that."