The UK beer landscape is changing. Consumption levels in the off-trade last year, once again, overtook the amount of beer being drunk in pubs and bars. We are in a transitory drinking landscape, one of changing habits and developing tastebuds. It's one where people increasingly choose to drink their beer away from the confines of the UK's 145,000 traditional on-trade establishments.
And while the appetite for quality beer continues on an upward trajectory, it's unsurprising that supermarkets want a piece of the action. Tesco and Marks and Spencer continue to furnish their shelves with additions from breweries such as Fourpure, Stone Brewing Berlin, Thornbridge and Adnams. While Waitrose recently responded to a 33% jump in speciality beer sales with the introduction of 25 new beers from names including Redchurch, Five Points Brewing Company, Alchemy and Wild Beer Co.
Elsewhere, Leeds-based Northern Monk broadened its presence in UK retail with the move to sell multipacks of its New World & Eternal beers in Morrisons. But the brewery was quick to allay fears that it was turning its back on independent retailers that have helped build the brewery's name in recent years.
They explained: "Beer shouldn't be for an elite or a chosen few. Beer should be accessible for people from all walks of life. As beer drinkers we believe in the option to buy good beer at an affordable price point from a convenient location (while you're doing your weekly shop?!) which you can then supplement with more limited release beers.
"Independent bottle shops and bars have been crucial to us and our growth and we remain committed to working with and developing products exclusively for them. We believe the more exposure progressive beer gets, the more everyone in our industry benefits, with craft beer in the UK currently far behind the US in terms of market share.
"We hope a four pack of Eternal and/or New World will be a gateway to a world of new beer styles available at independent bottle shops and bars across the country."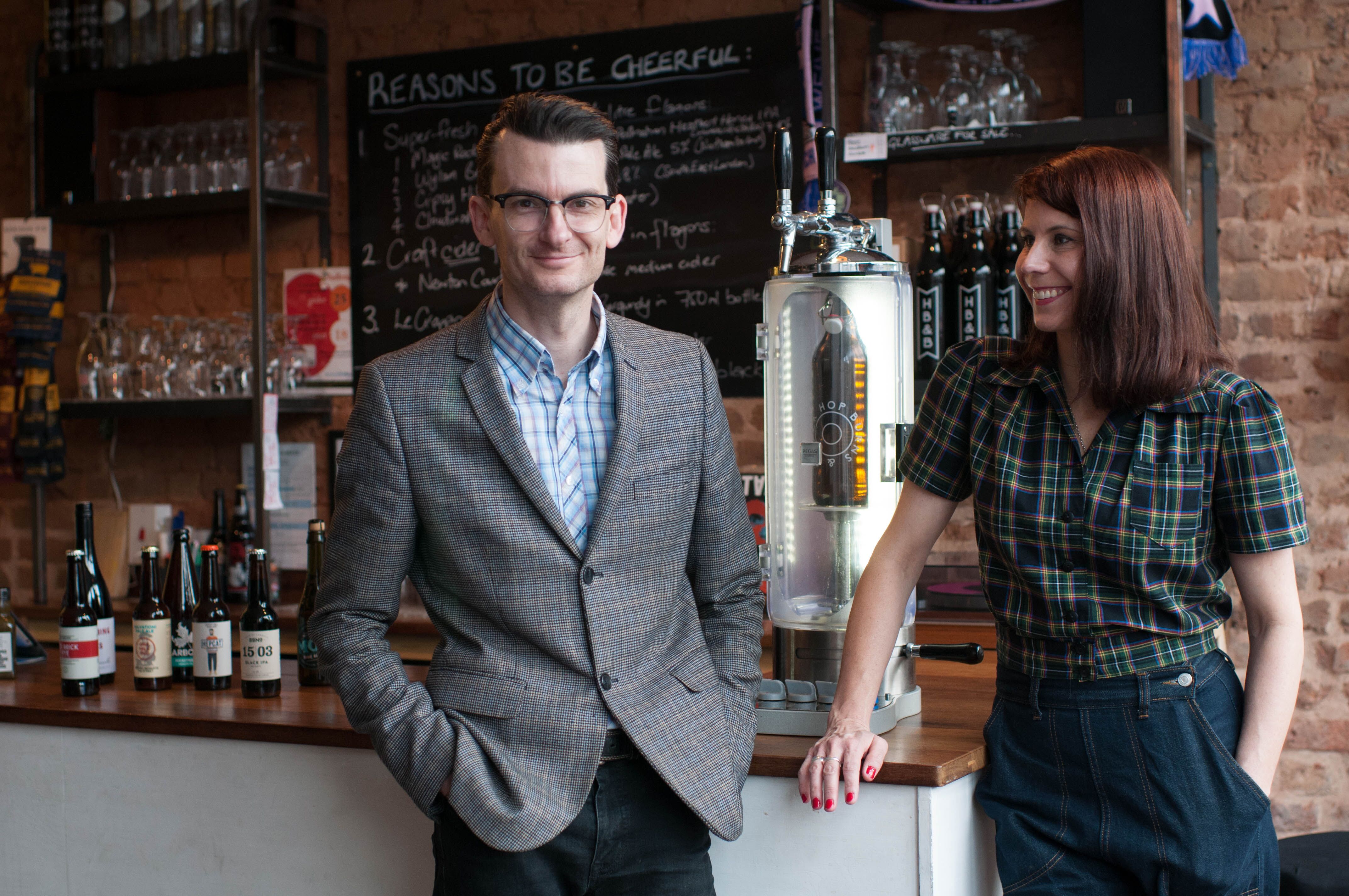 They added that the new deal meant they Northern Monk was not compromising on its selling price, while the creation a whole different product category in the multipack helped ensure that its products in Morrisons do not compete with our products in independent bottle shops.
The growing beer sector is one of challenge and opportunity for independent retailers and suppliers, so with that in mind we spoke to some popular UK businesses in this space to get their thoughts on the supermarket challenge, and a whole host of other issues impacting beer in 2017.
Jen Ferguson and Glenn Ferguson are the co-founders of Hop Burns and Black, a shop and tasting room in London.  Offering more than 350 beers, they also hot sauces, ciders, meads and and wines.
The UK brewing sector is more buoyant, but also more competitive, than ever before. How do you decide what new breweries to stock? And what advice would you give to new breweries looking for space on your shelves?
J Ferguson – "We try to get out there and sample as often as we can and also use Twitter, Instagram and Untappd to see what's getting all the hype as well as recommendations from people whose tastes we trust. We love championing new and unknown breweries but they have to pass the taste test first! Our advice to newcomers: Be good. Be consistent. Learn your craft before putting your beer out there."
Beer Merchants was one of the UK's first online beer retailers. The company is part of the Cave Direct family that imports and distributes speciality beers to the on trade and has been in the industry since 1979. Jonny Garrett explains that it's actually getting easier to decide what beers they sell on their site.
J Garrett – "Five years ago coming across reliable, quality, flavour forward beer was considerably harder and we had to be pretty strict on our tasting policies. Our focus has never been marketing or reputation, it's literally the liquid that matters. Now we have some breweries we can trust implicitly to make great beer, and we take samples from unheard of breweries a lot more seriously as some have been brilliant. As quality has increased in general, so has the quality of what we've been able to stock," he explains.
"For brewers who want to be stocked on Beer Merchants (or any good online retailer) there are some key things to know. First, take a look around you and make sure the beer you're selling is up to scratch – there is no room for mediocre beer any more. Second, traditional British ale does't sell well online because the market is younger and more experimental in their tastes. Third, 500ml bottles sell very poorly. Fourth, get your pricing right because if it's overpriced, even if we buy the beer it might not do your sales or branding much good."
Andrew Reeve is the founder of Honest Brew, a craft beer club company which delivers subscription boxes across the UK. He believes the market is still very much in its early stages.
A Reeve – "If you draw parallels to the US market, there are lots of opportunities for existing brewers to grow, and new breweries to enter the market. We're always on the lookout for new breweries who want to work with us. First and foremost we're looking at quality and how well the beers are produced.
"Therefore, we have to taste them. Our cicerone trained taster leads the tasting panel, with as many of the team involved as possible. The next big factor for us is the "brand". What is the story behind the brewery, how does their brand reflect this, who are the people that have created this beer? We want to work with individuals who genuinely care about beer. We're also looking for a point of difference and how they might stand out from the crowd.
"Verdant are a great example of a brewery that blew us away. We met them in Cornwall when they were brewing 50l pilot batches. They were making NE DIPAs before most UK beer lovers were aware of the style. These three guys were brewing some of the best beers we'd tasted, on a tiny little kit miles away from a major city. There's always going to be room for new brewers but the focus has to be on quality. The bar is continually being raised in the UK, if you want to be successful you need to have an intense passion for making the best beer you possibly can."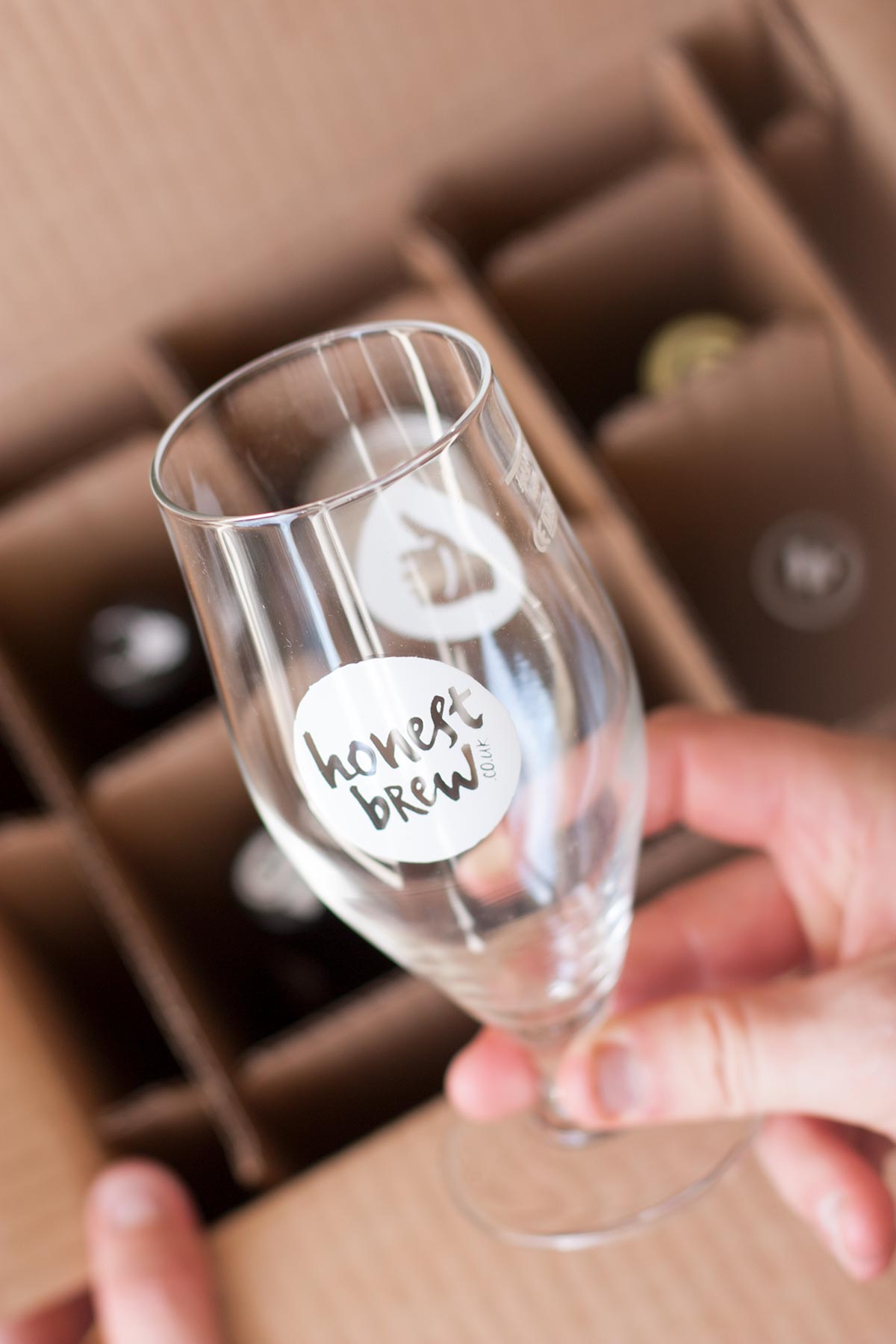 Nick Boor is the manager of Putney's The Beer Boutique, which also has branches in Wandsworth and Tunbridge Wells, Kent.
N Boor – "With such an abundance of breweries in the UK, it is sometimes hard to choose new breweries to put on the shelves. Unfortunately we have seen social media and hype start to influence certain buying habits and consumer trends. But I still like to visit a brewery, have a chat and try a few beers. Working relationships are an important thing, and often forgotten. For a new brewery who would like to work with us, or any bottle shop really, they need to have three things in place. A great product, mediocrity isn't an option anymore. They need reliable logistics as no one likes to wait and no one likes damaged goods. Also, build a relationship that lasts… look after the guy that helped you from the start."
Jules Gray is the co-founder of Sheffield's Hop Hideout, a specialist beer and cider shop that was established in 2013. She says buying decisions primarily come down to one thing, taste.
J Gray – "It's all about the taste of the beer, as the number one priority for me. I usually try new breweries at pubs or beer festivals. There's a combination of being approached direct and going out researching really. Social media is a good way to initially make contact too and for new discoveries. I often find out about new breweries through collaboration beers in addition; so I'd say this is a great way for a brewery to be discovered, by partnering with other breweries in this way. After flavour, it's packaging and online presence.
"But really this area is so open to interpretation – just as long as it's a professional standard really. If the beer inside doesn't taste great though,there's no repeat purchase! Advice to breweries – have a good representation of yourself online and on your packaging, collaborate with other breweries on beers, it delivers excitement and will help spread your brewery name further plus above all else – quality, great tasting beer. It's positive to promote your stockists and running events out in the trade are very beneficial – I always welcome it when we're approached to host events or be part of a launch by breweries."
For Phill Palgrave-Elliott, co-founder of Caps and Taps with Stephanie Palgrave-Elliott, the key is quality.
P Palgrave-Elliott – "It's a mixture of different things but the most important thing is that the beer has to be good. There are breweries we didn't stock two years ago that we do now because they've improved in quality and consistency," he explains. "Also as a bottle shop branding becomes incredibly important, it both has to be visually interesting and explain what the beer is. Your beer is probably Vegan, why not advertise that on the label? You also have to be making an interesting core line up, and a mixture of specials. Your rye beer might be a good beer but it's not going to get many people excited."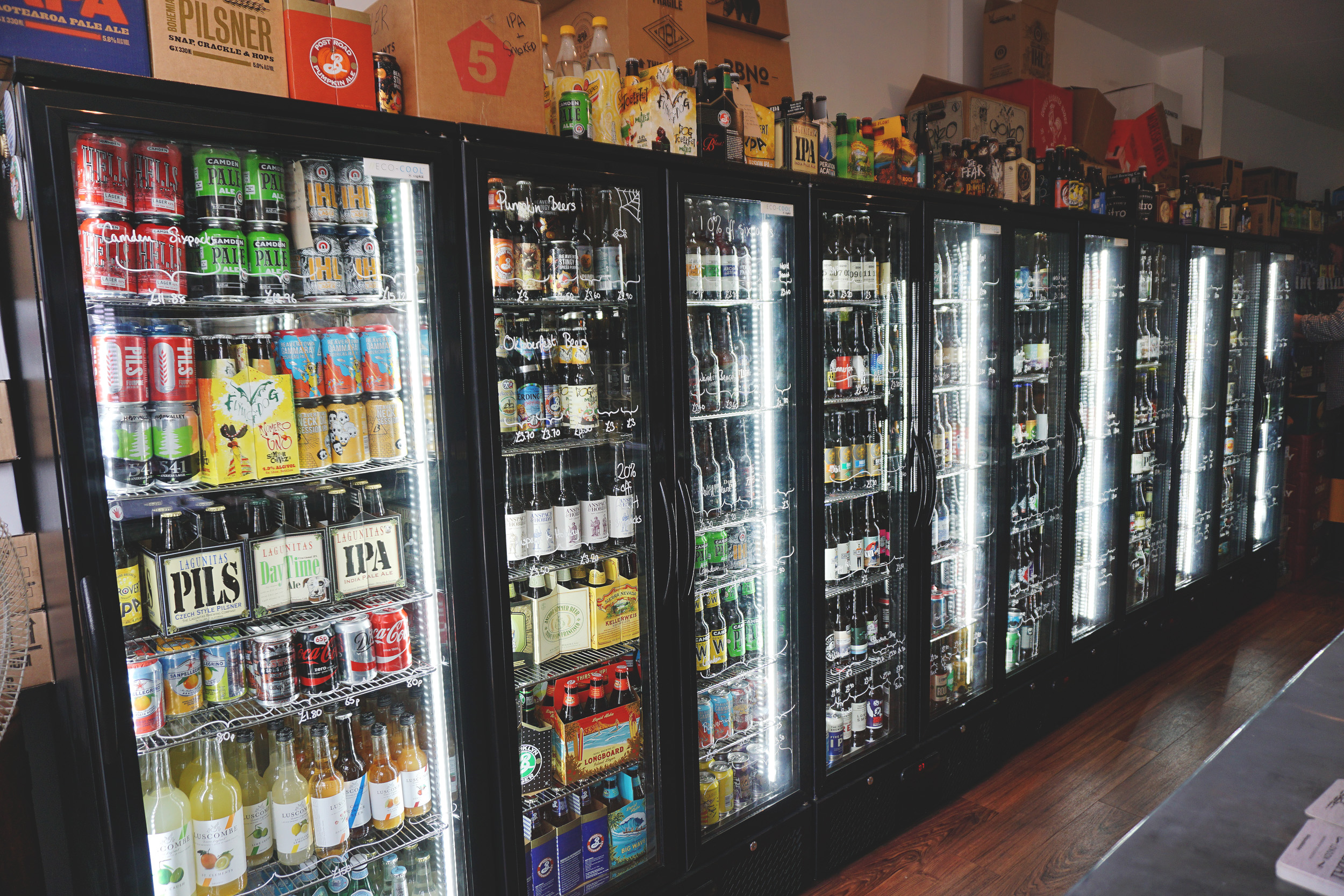 What have your customers been drinking in 2017? Have there been standout sellers and are there any styles that are really proving popular with drinkers?
J Garrett – "In terms of styles, IPA is always going to be king, and represents a huge, stable proportion of what we sell. German lagers are on the rise as people realise that is where the best Helles and Pilsners come from and tastes are swinging back that way to some extent as a reset from the bolder styles. We also sell a lot of sour beer – both the sweeter fruited ones from Lindemans and the more complex, artisan ones from them and the other lambic breweries.
"I think this sector is going to grow among British breweries but they will really struggle to compete on sales and indeed taste compared to the Belgian classics. Some are making great attempts though – Little Earth, Wild and Burning Sky are making very exciting things. In terms of breweries, Beavertown Gamma and Neck Oil are our two biggest sellers, but we also sell everything we buy of Cloudwater in a few days, and Tiny Rebel are climbing up the ranks. In particular, the incredible fruit IPA Clwb Tropicana has hit the top 10."
A Reeve – "2017 is the year of the murk. People are embracing the concept of heavily hopped, hazy beers. New England DIPA has been one of the fastest growing styles. There's a focus on balance, with bitterness being dialled back and softened, whilst increasing the flavour and juiciness with massive amounts of dry hopping."
P Palgrave-Elliott – "IPA, IPA, IPA. Occasionally an imperial stout. Cloudwater's DIPA series continues to sell quickly and is the beer that gets the most tweets and emails asking after it. Magic Rock Big Lad cans have also done very well. Outside of specials, Beavertown's Neck Oil and Gamma Ray continues to sell well."
J Ferguson – "The growth of our online shop in addition to our bricks and mortar store means that we sell huge amounts of so-called "fuss beers" such as Cloudwater DIPAs, Omnipollo stouts and new releases from in-demand breweries such as Verdant and DEYA, which we send all over the country. 2017 has definitely been the year of the DIPA and we're seeing sours move much more into the mainstream, but the biggest trend has been for New England or Vermont style beers. Hazy and juicy with low bitterness, these are very accessible and are winning fans all over the spectrum, from hardcore beer geeks to craft newcomers."
J Gray – "The US inspired 'New England style' – super hazy, super juicy, low bitterness IPA boat seemed to sail in pretty quick from the end of 2016 to take the first quarter of 2017. With Cloudwater and Magic Rock leading the charge over here in the UK with new up and coming breweries Deya and Verdant bubbling under (and the full international brewery line up at Hop City festival back in April).
"I can see it becoming a core beer for a number of breweries. We ran a home brew competition with Twisted Barrel and the winning beer was a NE IPA (commercially recreated and released in May), when home brewers are having a go, you know a style has struck a chord. There's definitely been an extension of the fruited beer also – fruit pales, IPAs and sour/wild styles.
"They've both been styles which have opened up the traditional view of what beer can be and in many ways have opened up new drinkers to the beer category. It's also interesting to see new technologies inspire brewing with the development of lupulin powder driving an area of the IPA category for example."
N Boor – "I think 2017 has been the year of big ABVs. We have seen big flavours, big cans and a lot of collaborations. Whether it be an imperial stout with maple, a double IPA with an insane amount of hops, or a special release in a 500ml can. People love them and they are often sold before they even hit the shelves."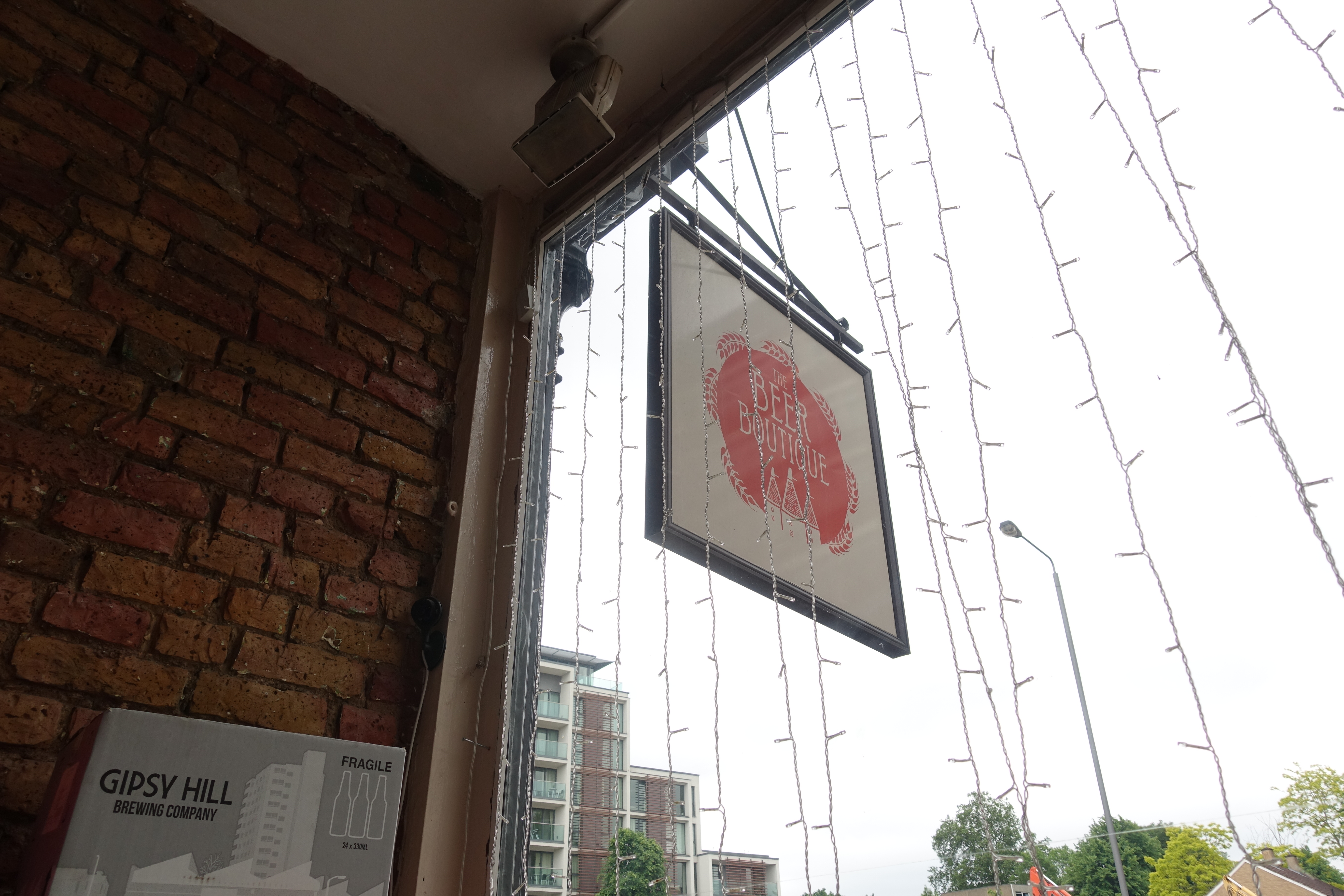 With that in mind, what do you expect to be the next big style to pique drinkers' palettes?
J Ferguson – "We're always hoping for the big lager resurgence and I think IPLs (India Pale Lagers – hopped up beers brewed in the style of a lager) might be the gateway to help get us there.
J Garrett – "This is such a hard question because, to be honest, the answer is always going to be IPA. Every time. As we saw last year, the stand out style was a New England IPA, and that's the closest we'll get to a big change in drinking habits. Having lowered the IBU and decided haze is a good thing, I think the next trend will be to make soft, full-bodied APAs with some yeasty inflections and lots of hops. It will be the new kind of session IPA that ups the body and reduces the powdery bitterness so many have."
J Gray – "I'm interested to see where the 'blended' beer direction heads in. Buxton and Still Water collaborated on an imperial stout (Subluminal) and a sour IPA (Superluminal) and consumers were blending the two for a take on a black'n'tan. Petrus have embraced this and actually released 'Sour Power' packs to instigate consumers to have fun with the experience of blending their beers (as it highlights how they produce a number of their beers such as Oud Bruin).
"Wild Weather and Weird Beard Co released a blended kaffir lime saison and coconut stout called 'Such a Bohr' in addition to the saison on its own, so in theory you could adjust the blending further. I've just seen Northern Monk Brew Co and North Brewing Co have released collaborative coffee IPAs where the beer drinker can enjoy individually or blend like a black'n'tan called 'Hit the North'. It'll be interesting to see if this trend is explored by more. It's an intriguing development as it's beer + action =sensory experience."
N Boor – "Maybe we will see an increase in the lower ABV beers, with breweries such as Gipsy Hill and Villages are already dedicating their core range to it. Cloudwater has made some great Berliners also. I don't think it would be overly presumptuous to think big flavour and lower alcohol could see an increase in popularity."
A Reeve – "New England Table Beer. I get a lot of stick from the team as I'm always raving about sub 3.5% beers. I love the concept of getting all the flavour and body of a DIPA in a lower alcohol, sessionable beer. Low ABV beers are actually really difficult to get right as the alcohol contributes a huge amount to the body and balance. I have a lot of respect for brewers who can nail these beers, and I'm bullish on the style this summer."
P Palgrave-Elliott – "I think sours will continue to grow this summer, more drinkers are becoming aware of them and low abv and fruited Berliner Weisses are perfect hot weather beer."
What is the UK brewing sector doing well at the moment. Are there areas we are breaking new ground in and also, what do you feel the sector can learn from other geographies?
A Reeve – "The UK brewing sector is excelling when it comes to innovation. I believe the quality of the beer being made in the UK has stepped up significantly in the last 12 months. We're starting to see more and more UK brewers featured in RateBeer's top beer lists. Beers being made here are some of the best in the world. I think we've still got a way to go when it comes to our understanding of freshness. We need to move to bottled/canned on dates. Brewers are reducing the best before dates from 12 to 3 months on hop forward beers, but this is creating confusion. A customer of ours might receive a can of beer that is a week old with three months left on the date. They often think we've sent them a 9 months old beer when it's actually just come off the canning line. We're trying to help educate, but we should follow the US and move to bottled/canned on dates."
N Boor – "I think someone has definitely created beers that seem new and exciting now, before. They just weren't accepted. We have seen the rules change over the last couple of years. And the line between styles is as hazy as a New England IPA. I think with social media, everyone can see what you are up to. In terms of styles and adding ingredients. So original ideas are hard to come by. Social is almost making geography redundant. We can see what they are doing in Denmark. We can see what they are doing in Oregon. It's almost instantaneous."
J Garrett – "Quality has really improved of late but that is the only place where the UK is lacking. We now have some of the best and most diverse beer in the world, but our strength in depth isn't great and our consistency could definitely be improved. The next phase of craft beer is going to be to iron out the kinks, and you can see some of the amazing beers and dedication to quality in the new guys coming through like DEYA and Verdant. It's also pretty telling that the UK breweries growing fast and getting great reputations are the ones who put the most effort into quality assurance."
J Ferguson – "There's a lot of creativity in the UK scene and it's cool to see breweries such as Wild Beer getting major investment to allow them to continue to push boundaries. The impact of other geographies is plain to see with the likes of Verdant and Cloudwater who have seen how well the direct to consumer sales model works with US breweries like Other Half and Treehouse, and are looking to move towards this way of working here. I think we'll see more of this in 2017."
What has been your favourite beer of 2017 to date?
J Garrett – "Oh god – there have already been way to many to mention. I was over in California in January and my favourite beer while over there was a black raspberry saison called Lost Cat from Monkish – like liquid jam. Back here I loved Verdant Putty and DEYA Into the Haze, but my IPA of the year so far has to be Lervig Perler for Svin – tropical, soft, clean but still very bitter. Strange that my favourite IPAs were from Europe and my favourite sour from America. Actually that said, I had 3 Fonteinen Robijn – 50% young lambic and 50% sour cherries aged in toasted oak – and it was like rioja. A truly spellbinding beer."
J Ferguson – "Far too many to pick just one! I had a moment with Cloudwater's DDH Southern Passion Pale when I first had it at Bundobust in Manchester recently. I also loved Kernel's Double India Porter Citra – a complex beer that just kept on giving, delivering something new with every sip. Redchurch's Urban Farmhouse has really hit its stride – On Skins: Plums has to be one of the best UK sours I've ever tasted."
P Palgrave-Elliott – "I found the Northern Monk/Cloudwater Hop City IPA a great IPA, it was nice to drink something that wasn't too crazy strong. That said Half Cut DIPA by Magic Rock & Other Half was absolutely stunning."
A Reeve – "Kernel – Table Beer Enigma. This is still one of the best beers in the UK and I've found a rekindled love for it in 2017. The batch with Enigma was the best version I've ever had."
J Gray – "As it was such a superb beer delivering layers and layers of flavour – the Fyne Ales x De Molen 'Mills & Hills' imperial stout aged in Grappa barrels. It's a beer I'll remember for a long time, it's etched a memory on my brain – like that hit record where you just know all the words and take joy in singing along."
N Boor – "That was so much easy to answer last year. I feel like this year is only just beginning and I'm kind of reserved to answer. But if you twist my arm, I have drank a ton of raspberry Berliner collab from Gipsy Hill and North. It was so refreshing, lightly tart. I just loved it."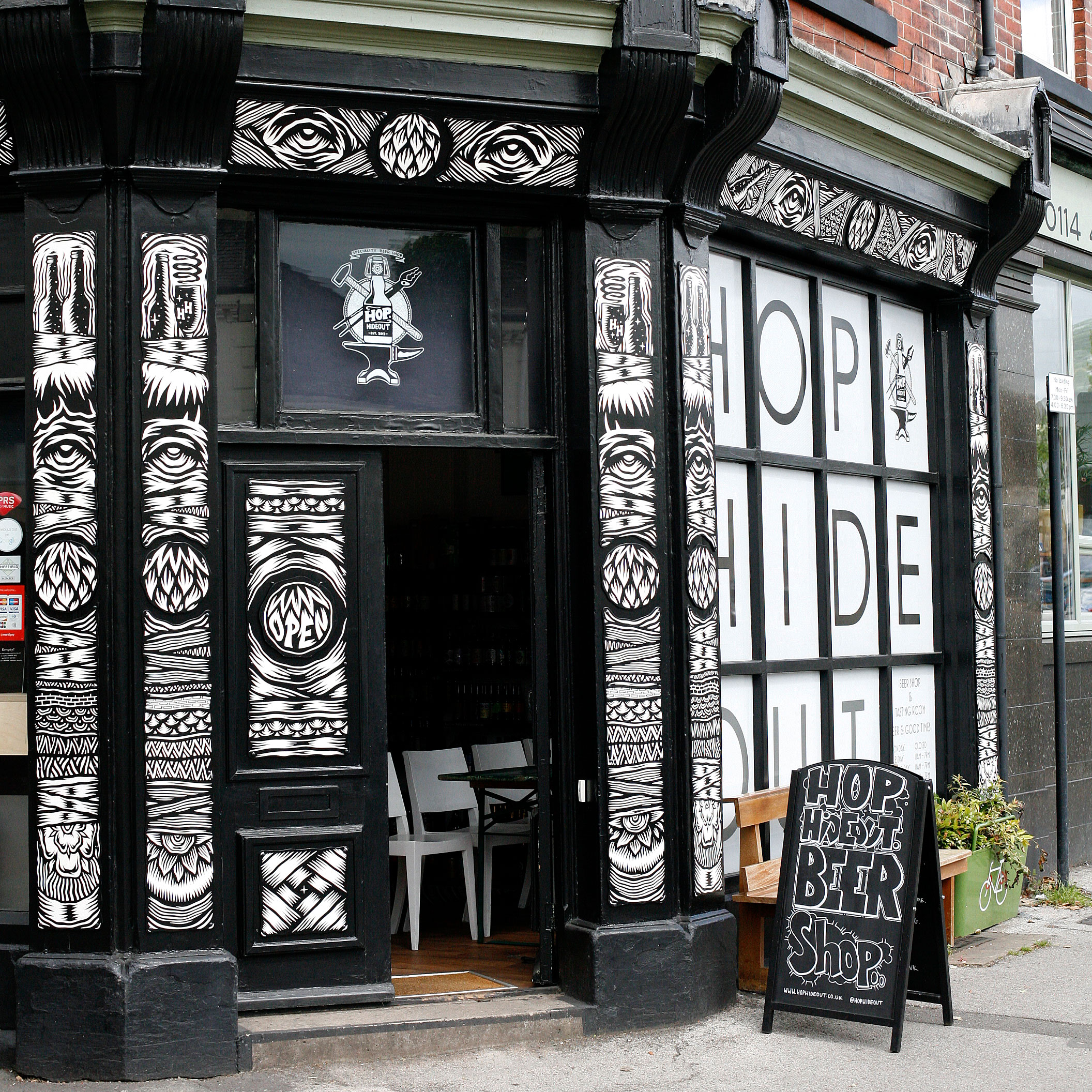 Supermarkets continue to broaden their beer portfolios. It is a debate to continues rage on, but what are your views? Can a supermarket open drinkers' eyes to good beer, which leads them to buying from independents?
J Ferguson – "The ideal scenario is that supermarkets turn a new audience on to the joys of craft beer who then go on to seek out the superior knowledge, range and expertise of a specialist retailer, but in reality it often just makes independent retailers look over-priced.
"Our general policy is that when a beer hits supermarkets, we drop it as we just can't compete with supermarket prices, which are based on volume discounts and insanely low, often loss-leading, margins. It's always a sad day when we have to do this because in most cases we – along with our fellow indie beer retailers – have helped make the beer the success it is by championing it to our customers.
"I don't think cheap craft in supermarkets will sound the death knell for the entire UK indie beer retail industry – independent wine shops, for example, have been holding their own for a while now. But I think we'll see a shakedown.
"At the moment it can feel like there's a new specialist beer shop popping up once a week, some really pushing the boundaries, a few clearly just jumping on the bandwagon. However, as supermarkets increase their craft offering, retailers are going to have to bring their A-game to survive and remind consumers of all those reasons to shop indie – service, selection, range, expertise.
"It has been interesting to watch how supermarkets are treating craft. We've seen prices getting cheaper and cheaper, with craft beers being heavily discounted, whether as loss leaders or just to try to shift excess stock. For instance, I'd love to know how the Vocation team felt when they saw their Heart & Soul APA being flogged for 90p "reduced to clear" at Tesco.
"This sort of thing makes it feel like a race to the bottom, which has a big impact on brand perception. Craft breweries should be wary."
A Reeve – "Supermarkets carrying a range craft beer definitely has benefits. The more accessible craft beer becomes, the better we're doing as an industry. If people are trading out Budweiser to pick something more interesting from their local Tesco, then that should be celebrated. We see the supermarkets acting as gateways to the world of the craft. At HonestBrew we've stocked over 1,600 different beers from around the world, we get access to seasonal and limited edition beers that you're never going to see in a supermarket. The biggest threat I see from supermarkets is if they start using craft beer as a product category to compete with one another.
"If they're bringing in BOGOF offers and deep discounting, it can start a race to the bottom. By lowering the customer's expectation of what craft beer costs, it could force down margins making it nearly impossible for small breweries and independent retailers to complete. The cask market is an example of how customer price expectations have created unsustainable margins for the brewers."
J Garrett – "I think that people who moan about seeing good beer in the supermarket are mad – it's in their interest! It's also the inevitable end journey for a craft beer and it's needed to spread the word and build a business beyond the local. That said it is a huge future issue for us. Quite a few beers we stock have recently gone into supermarkets and while the drop isn't huge, it is noticeable when it happens.
"Our reaction has been to protect and focus on the brands we can, make sure we by the more specialist beers, offer good pricing on the core products, and make sure we look after the beer as best we can to show that a premium store offers a premium product in its best condition. In the meantime, we're growing, improving and buying better beer so the impact hasn't hit us too hard yet."
N Boor – "I believe it's a great move. It helps making good beer the norm and also starts to change people's buying habits. If that goes some way to someone swapping from a six pack of chemicals to couple of good pale ales. What's wrong with that? But, what I will say. Is that there will always be a division between bottle shops and supermarkets, and a brewery needs to way up the pros and cons before deciding what to do.
"I won't stock beers that are in supermarkets. It's as simple as that. If a brewery I stock decides to go into a supermarket, I usually will only stock their specials, if at all. Even if a beer isn't put into a 3 for £5 deal, usually supermarkets are priced way low, as we have seen with Stone. It's impossible to compete with  that. But as a consumer, it's great that it's so accessible. It's great beer.
"The UK craft beer scene has had a strange turn of events of late. We have seen craft beers become way more accessible to the consumer. Over the last couple of years, we have seen supermarkets, wine shops and the local off-licence all stock a large range of local craft beers.
"I think we can all co exist. It just depends on what meets the needs of the brewery and the consumer. Exciting, uncertain, unpredictable… this is craft beer."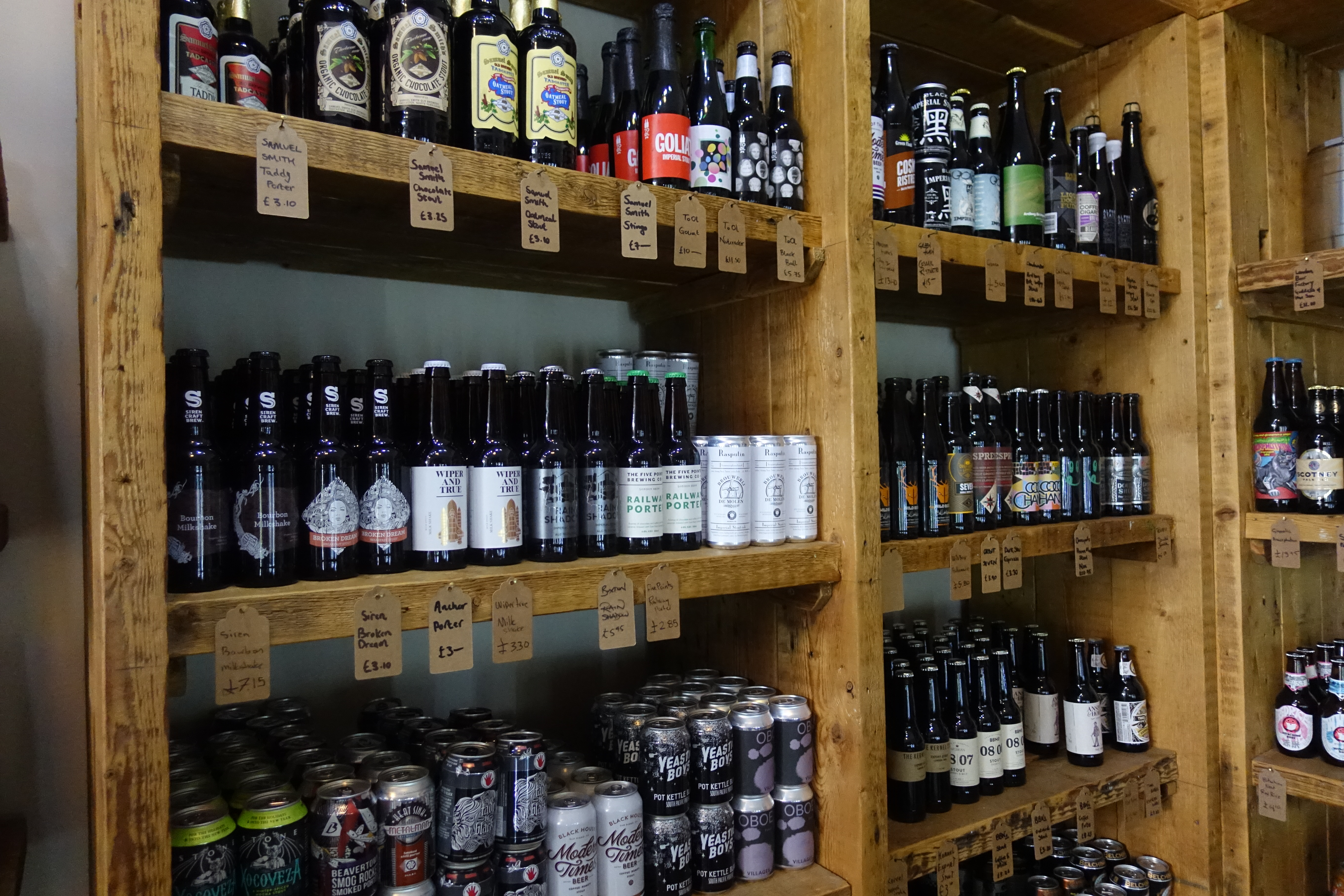 P Palgrave-Elliott – "A Supermarket can open drinkers' eyes to good beer, however they introduce some beers at an unreasonable price, some new drinkers are then surprised at the price of the beer we sell compared to what they can get in a supermarket. If a brewery is stocked in a supermarket we tend to not stock that beer, however we will happily sell other beers that brewery produces.
"Northern Monk is a good example of a brewery that is available in supermarkets but that produce different an interesting beers that bottleshops can then stock and sell. Our one exception is Camden Brewery who we stock as they are our local brewery, we do however have to price it at a lower margin than any of our other products."
J Gray – "It's a difficult topic for an independent like myself. I think there's some good elements to supermarkets widening their beer portfolio – I do often get customers walking in saying I bought this IPA at the supermarket what can you suggest that's like that. I guess it's the initial entry point then as supermarkets don't offer that guided in-depth personal approach, or specialist offering, consumers then head to somewhere like Hop Hideout. Having said that – I do struggle to sell beers listed at supermarkets, there has been a noticeable decline on certain lines and breweries.
"It all comes down to price and convenience. I can't get my head round some of the pricing supermarkets can offer, it's either deep-discounting or the brewery is getting such a squeeze as they're promised the big volume, they're making pennies. Some pricing in supermarkets for US brewery Oskar Blues for example was the same price I was being offered at trade.
"I think it would be worth breweries that do want to head in that direction to really think long and hard how they satisfy both sectors of the trade. If you head to the supermarkets you also need a coherent plan to support the independent sector alongside. Without the independents I don't think a number of breweries would have got to their current stand point.
"Honestly though with the +1700 UK breweries alone out there, there's only going to be a certain number that can supply that level of volume and demand to the supermarkets. There's also plenty who have no interest at all in their beers being in the supermarket. My concern about buying beer in a supermarket is if it has been handled and looked after properly. You've got to ensure you engage with your customers and create a community ethos, the personal experience and approach is what really chimes and of course a well curated beer selection."
Gray concludes: "We also host a monthly running club (Mikkeller Sheffield chapter) and home brew club, in addition to all our tasting events – you won't find that at the supermarket!"