We continue to see a rise in the brewing industry with growth and investment made within established companies and with new ones as well," explains Faye Healy, director at Spectac International. Spectac is a stainless steel vessel and tank manufacturing company in Ireland supplying the brewing, distilling, drinks, pharma and dairy industries.
According to Healy, its customers generally seek its advice on breweries and what they would suggest to them, but generally its clients have a very good understanding of how breweries work and how they want them to operate.
She adds: "So we really just need to know the level of automation, the number of brews they want to get out of their plant per day/week/annum and we then calculate the best system for them. We always provide the most innovative and cutting edge technologies to our clients at an affordable price tag, which generates multiple positive possibilities for their brewing needs and also generates a cost effective and environmentally friendly plant by our smart engineering solutions that we tailor make for every client.
"We recognise that every client we deal with is different, has different needs and wants things done slightly differently to the next client, so it's about attention to every aspect of the detail for us and it really is paramount for us to understand our clients goals and needs really clearly which we do well."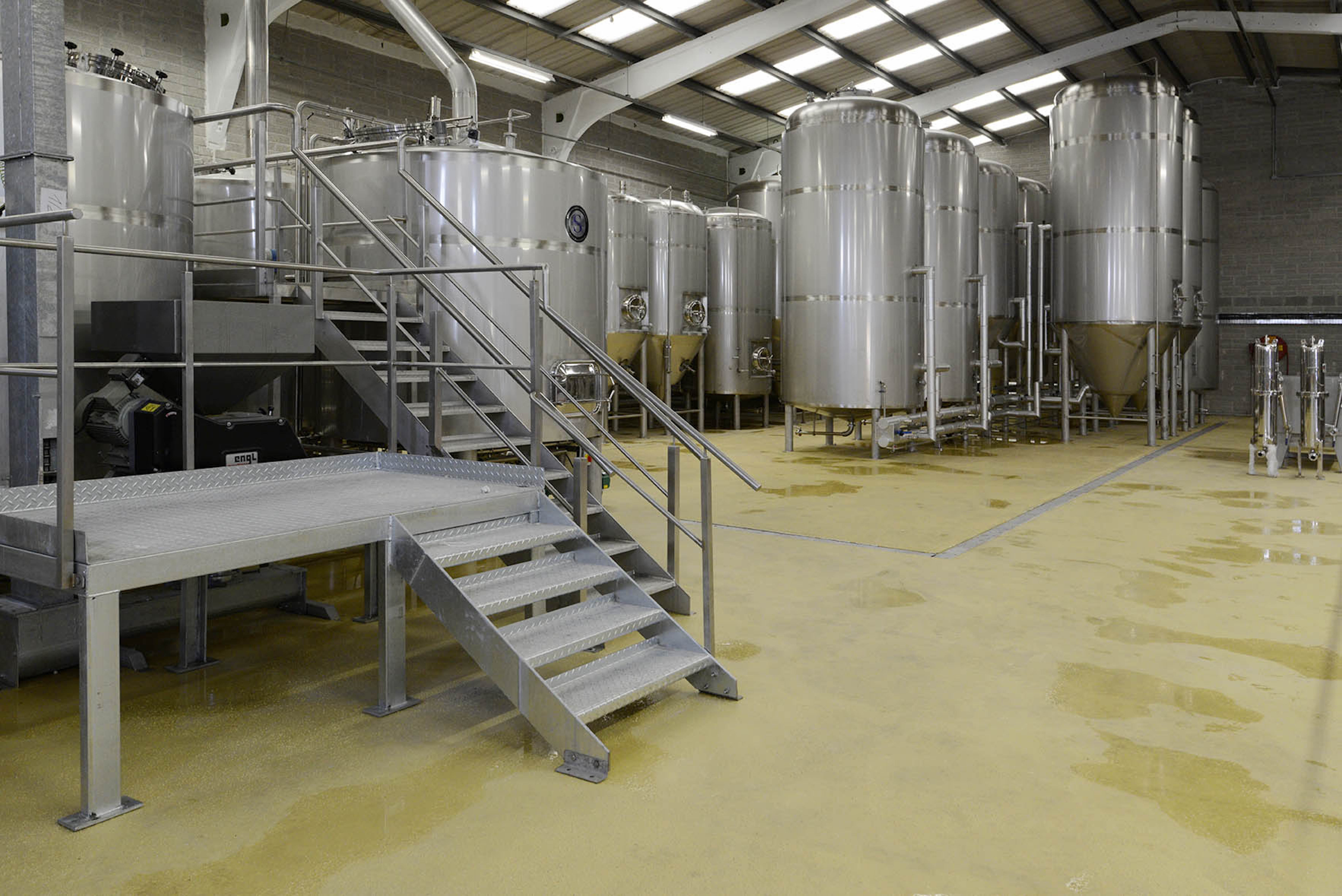 For Vincent Johnson, from Johnson Brewing Design, he and the company make single fusion breweries typically from 5 brl up to 50 brl (8 HL – 80 HL). He notes that smaller ones tend to be electric heated or internal helical coil gas fired while medium sized usually are usually gas fired. Most above 20 brl are steam heated.
The company continues to enjoy success across the UK, including projects such as a 30 brl (50 HL) install at Tiny Rebel and a 10 brl pilot plant at Timothy Taylor's, used to develop its 1st new core beer for more than 60 years.
Having a dialogue with breweries of all sizes, Johnson has seen come common threads across the industry when it comes to investing. "Probably what everybody wants first and foremost is their kit to be cost effective, user friendly, efficient and, of course, robust. And then on top of this you get into the 'nice to haves' which tend to be CIP equipment, automation of CIP, and a focus on kegging," he adds.
David Porter, director at PBC, takes the conversation in a different direction and is increasingly fielding work from outside of the UK.
"There is less work in the UK, there are more people selling up therefore there is more second-hand equipment on the market therefore there is less demand for new kit. In addition, the market for cask is really difficult while 60% of my work is now abroad. In fact is likely we will put more new breweries in in France this year than in the UK," he states.
And from another perspective, Miroslav Gerši, marketing manager at Processing System Solutions observed at the recent Craft Brewers Conference and BrewExpo that customer amends where changing.
"We saw on CBC Washington D.C. that turnkey systems are highly demanded. Many customers want customisation. It was a surprise for us that many US customers want simple manual control system of brewhouse despite European customers who tend to look for more automatic systems," he explains.
The company was showcasing the newest device in its brewing equipment and brewing solutions portfolio, which is Hop Tang.
"The name of this device was derived from the word 'tang', which means taste or smell that is pleasantly strong or sharp. And a Hop Tang is a device made exactly for this purpose, to give a special taste and aroma to finalised beer," Geršil says. "Hop Tang is an equipment for dry hopping of beer – adding of hop extract to finalise beer after brewing and fermentation process. Dry hopping does not increase the bitterness of beer, while supporting hop aroma. Effective extraction of hops reduce the consumption of hops. This device is very simple to use and can be easily integrated into existing beer fermentation and bottling compartment."
Changing Markets
Porter goes on to explain that there have been some significant changes in last 18 months, with the business being asked more and more frequent for kit to handle carbonated product either as keg, bottle or can, where it is unfiltered, course filtered or fully filtered.
At Johnson Brewing Design, they are typically making more and more cylindroconical fermentation vessels (60 – 70 degree included angle cones for bottom yeast cropping) rather than traditional shallow conicals for top cropping yeast. And as more breweries want to keg their beer, the company is being asked to make more vessels suitable for this output, which involves  providing training and equipment for filtration, carbonation, nitrogenation, glycol cooling upgrades and grain handling.
"We are also tasked with doing jobs that are a bit more complex, more bespoke and less 'out of the box'. For instance, the project at Timothy Taylor's saw them request we replicate as closely as possible their existing set up, which I would describe as 'old school'. This involved specifying a minimum of 15% evaporation during the 60 min boil time and rectangular 'square' FV's," he says.
Johnson adds: "We are currently looking at a proposal for a client who wants to do double decoction, virtually every other supplier is telling them they are mad, but why not ? It would be a different gig for us."
At Advanced Brewing UK, director Peter Kerr, says the company has started to see small breweries that have only been going a year or two closing and second hand equipment is coming on to the market for the first time in a long time.
"I don't think this is necessarily a bad sign for the industry – they're either people moving to having their beer contract brewed, freeing up their own time to focus on sales, or people who jumped onto the bandwagon and opened a craft brewery without really doing any homework or knowing what they were getting into," he explains.
For Faye Healy, the most popular set ups they create for its clients currently would be its turnkey solution based products such as breweries, distilleries and then they also get a large amount of enquiries and projects for associated vessels in these industries.
"Our average sized brewery is probably around the 40-50HL mark. We work with smaller operations also especially with the rise in the craft brewing market, and larger operations for example we have worked closely with the likes of Diageo in the recent past," she explains.
Healy has also noticed a change in the beer styles her clients want to brew.
"We have noticed through our many beer loving clients that styles of beer are becoming more experimental as the years go on and the "craft" side of brewing is certainly here to stay as there is a major following and it has sparked a renaissance in the beer industry," says Healy.
"In my opinion, it's a fantastic explosion of choice for the consumer and I suppose in this day and age we prefer to have more variety and choice when it comes to food and drink. Now you are seeing styles that you never thought would merge together so well, such as coffees being introduced to stouts and passionfruit flavours being introduced to your typical IPA and we are now even collaborating our food menus to suit our beers – it really has become that popular."
ABUK's Kerr adds to this, observing that dry and hoppy pale ales seem to have dominated the on-trade for the last decade or more but that finally seems to be changing.
"Many different types of people are drinking beer these days, and there's a high demand for a range of styles to suit everyone. ABV's seem to be creeping back up, too. It used to be all about easy drinking session beers – in many parts of the UK that is still the case, but there's now also a demand for special beers that pack a punch in terms of flavour, ABV, unique one-off brews, barrel-aged beers and the like," he says.
Kerr adds: "The trend with many start-ups is that people have little or no training / brewing experience when starting their own brewery except making a couple of batches of homebrew. There's nothing wrong with this in itself, but at the same time, new brewers are often inspired by experimental & hybrid beer styles being made by well established craft brewers. This leads to a lot of novice commercial brewers who seem to throw away the rule book before they've read it and skip straight to producing off the wall experimental stuff – there's a lot of rubbish beer available as a result.
"There's still a lot of mileage in brewing a top quality version of a classic style. Our opinion is that you should learn the rules before you break them – and the classic styles before you deviate from them. After that you can move on to the wacky experimental brewing techniques & recipes. And then, when something doesn't work out or something goes wrong with a beer, you will have a much better understanding of what happened and how to fix it."
Case Study: Birra Salento
With an area of 1,600 square meters Birra Salento is the largest craft brewery in Puglia and also one of the largest in Italy.
The brewery produces a range of beers including the flagship Pizzica which has hot chilli peppers in the recipe. This beer is inspired by the local Pizzica music typical of the region and part of the Tarantella family of music.
Other brews include Taranta, Beggia, TIPA, Fresca and Nuda &Cruda which include a Belgian style fruit beer, Hellas, Pils and a blanche IPA. With such a broad range of beer styles beer being produced it was imperative to have a very flexible and modular brew house. This would allow shorter runs but on a regular basis so the beer is always fresh.
A "Top modular" 48 hectolitre Simatec brewhouse was installed which as has can produce 12 brews per day using a unique five vessel system that transfer the wort only twice thus reducing hot oxidation. Simatec work with Enterprise Tondelli in supplying brew houses / breweries in the UK markets as well as some international markets where they are active. Already Enterprise Tondelli have a number of Simatec brew houses in the UK market ranging from 12 hl to 24 hl.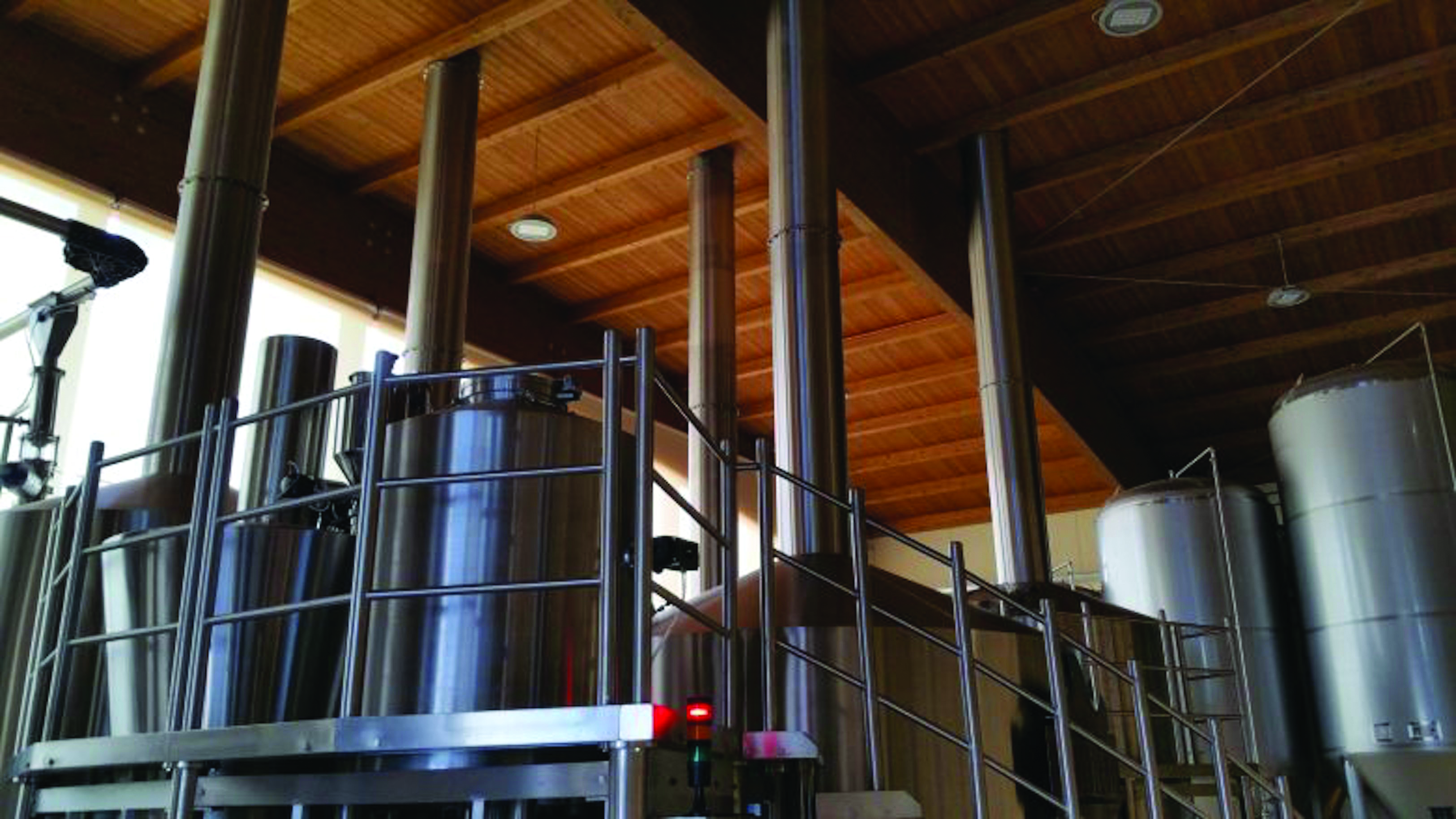 The patented system which is common to all Simatec brew houses feature a multifunction vessel that acts as the mash vessel/copper and whirlpool with a special lauter tun. The Simatec "Top modular" range is aimed at the 48 – 96 HL brewhouse market for large flexible volume production.
The modularity comes from the fact you can start with one multifunction vessel and one lauter tun and then as the volumes grow additional multifunction vessels can be added up to a total of four – always using the one lauter.
The pipework is pre-engineered for minimum disruption when adding a further module so that very little down time is experienced. This modular system can also be applied to the craft range of brew houses from 3HL – 36HL to rationalise capital investment and maximising future proofing. The Birrasalento brewhouse is arranged with four 48 hectolitre multifunction vessels with one 48 hectolitre lauter tun for maximum optimisation.
Extract efficiency and speed is critical for all brewers and our control system maintains a constant flow through the Lauter Tun. Using a pump to positively draw down the filtered wort through the grain results in keeping a fixed head of wort above the grain. This combined with the large surface area results in a yield of up to 85% with very low heat oxidation.
Another benefit is that the filtration is rapid, normally taking less than 75mins even when using other cereals. High gravity brewing is also possible with the system where we employ a larger diameter lauter.
The complete system if fully automated and PLC controlled from grain feeding to discharge and everting in between. Particular attention was taken for the hopping events with the hot wort being taken from the coper during the boil cycle and sent to a special hop injection tank which has three hop dosing units on it.
The timing and dosing of these is fully automatic and the cone shaped unit also feature a very special patented mixing system and nitrogen environment to control hot oxidation.  A further hop back with automatic dosing and removal gives maximum flexibility for flavours. All of these items are located on the same level as the brew house for ease of operation and also for health and safety considerations. Cooling of the wort is with a tubular heat exchanger which much more flexibility in the types of ingredients that can be used in the brew without blocking plates.
The grain handling system was supplied by Simatec including bulk silo, 1 tonne bag feed, special ingredient feeding and milling equipment along with feed conveyor to the brew house. The hot and cold liquor tanks from Simatec also controlled by the central PLC to give maximum energy recovery and reduction of energy costs.
With the system configured with four mfv's these are sized at 3 times the brew length to ensure liquor is available at all times. Spent grain is automatically discharged outside to a line of waiting specially constructed carts arranged in a train.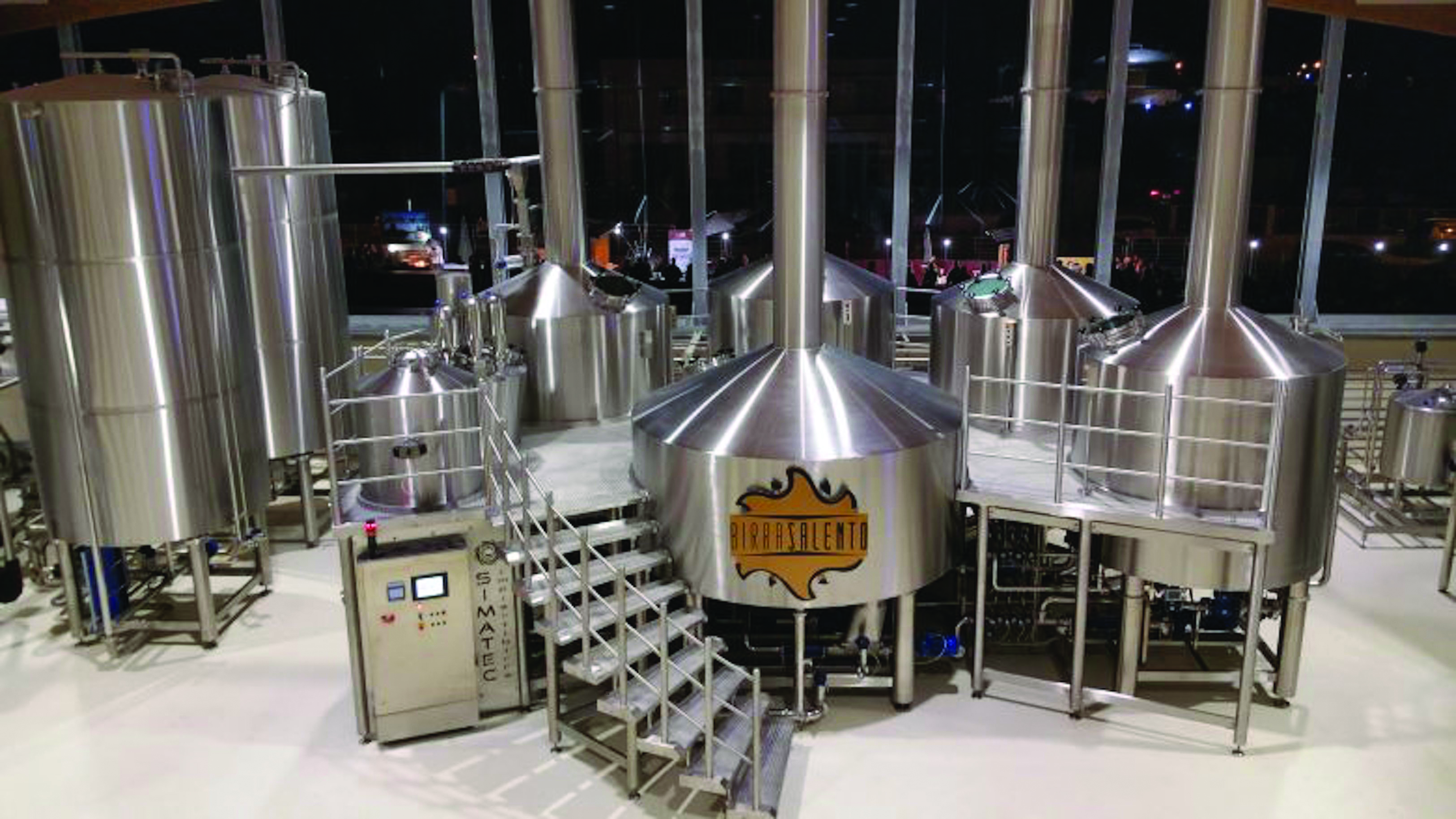 With a fully automatic brew house cleaning is a key consideration and Simatec supplied a three tank automatic CIP set adjacent to the plant. As well as CIP spray balls for instance in the lauter there are also CIP spray nozzles below the lauter plates as well as a special cleaning cycle for the spent grain removal arm using a high pressure water curtain.
Simatec Srl themselves started some years ago as an aspiring brewer. They recently developed the "isobaric hop injector" or IHI for short. This unit utilised with the conditioning vessel reduces hop consumption by around 50-60%, can reduce tank time by 2 days and results in a conditioning tank easier to clean. It can also be used for special ingredients addition such as spices, peppers, sugars, raisins and oxidation too.
Craig Wilson, managing director of Enterprise Tondelli, explained: " This is truly a very impressive brewery. The building and the finish of the public and process areas has been carried out to a very high standard. It demonstrates the owners confidence in the region and it's future potential. Additionally the brewhouse from Simatec has some unique features that will solve some of the problems experienced by brewers".