Track Brewing Co drew upon global influences and in doing so, created a modern classic in the form of Sonoma. And with the imminent arrival of a canning line, it's about to take the next step in its journey.
The world of beer is one that refuses to be restrained by geographical boundaries. It's a rich tapestry of inspiration, influence and imagination that's as likely to bear witness to a US brewer looking lovingly at well- conditioned cask from the UK as it is a Northerner putting their own stamp on traditional German styles.
It's improbable though that a North American expat brewing hoppy pales on a makeshift kit just outside San Carlos de Bariloche, a town in Argentina's Patagonia region, is aware they played their own small part in inspiring a visiting Brit to return home and start their own brewery. But here we are, and such life experiences would end up motivating Sam Dyson to throw himself into the brewing industry and found his own outfit, Track Brewing Co, in 2014.
"When I was growing up, and through my time at university, I can't say the drinking culture really sat well with me. The homogeneity of the beer available, and the way people would consume it, didn't really appeal," explains Dyson.
But the combination of leaving a job that didn't interest him, coupled with the ability to visit an uncle living on the West Coast of North America, would end up being the catalyst that changed Dyson's outlook on beer. He just didn't know it yet.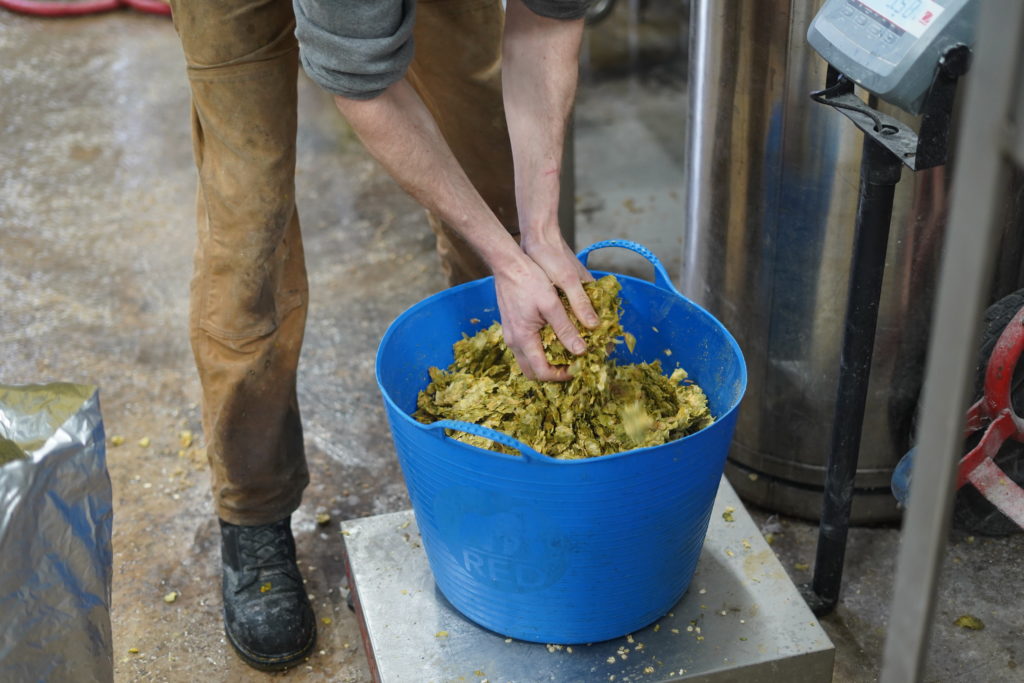 Dyson opted to traverse North America not by car or motorbike, but by cycling. 4,700 miles from the coast of Virginia through Washington state then eventually the Rockies and the coast down to San Francisco. A fairly circuitous route, as he recalls.
"In every state there were breweries in cities, towns," he explains. "You'd be camping at the side of the road, or be staying in a little motel, after a day's cycling and travel into town looking for something to eat and a cold beer. Trust me, you really want a cold beer after all that cycling."
He adds: "Each and every time you'd encounter a brewery. Some small, some not so small. Once I started seeing these places, I found myself actively seeking them out at each stage of my trip. There would be beer styles I have never seen or drank before, breweries that were new to me such as New Belgium and Russian River.
"But what was also just as engaging was the type of people you'd find in these places. There were people from all across the spectrum drinking together. It inspired me and made me question why more places like this didn't exist back home in the UK."
A friend's wedding drew him back to the UK but instead of stopping there, Dyson was unable to shake the cycling bug.
"I should have thrown my bike into the sea at that point and started brewing. But with none of my friends or family involved in that industry, I parked the idea and ended up spending another two and a half years cycling around the world. New Zealand, Australia, Turkey, South America, the lot," he recalls.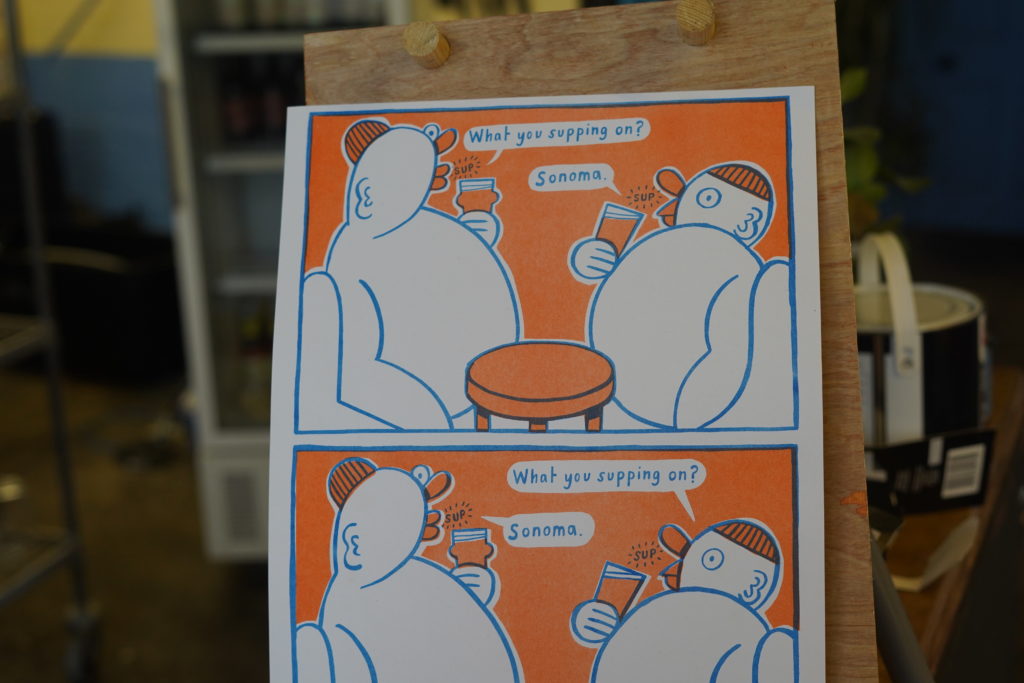 Just as breweries across North America captured his imagination, Dyson found inspiration in places he didn't expect. Peru and Bolivia were home to microbreweries producing a number of styles. As was the aforementioned town outside Bariloche.
But eventually, it was time for Dyson to return to the UK. His passion for beer remained but the landscape had started to change. BrewDog had since started business as did Evin at The Kernel in London. Potential sites for what would become Track Brewing Co fell through while the cost of starting a brewing business in London continued to escalate. So Dyson ended up joining Camden Town Brewery, becoming one of the first members of the brewing team in the process.
However, he just couldn't shake the desire to have his own operation.
"It became obvious quite early on that London wasn't going to be a viable location for the brewery. I'm from Chester originally and was up visiting my sister when it dawned on me. Manchester is such a big city.
"It's a cultural centre and somewhere I'm familiar with. So I made the decision to start Track there," he remembers.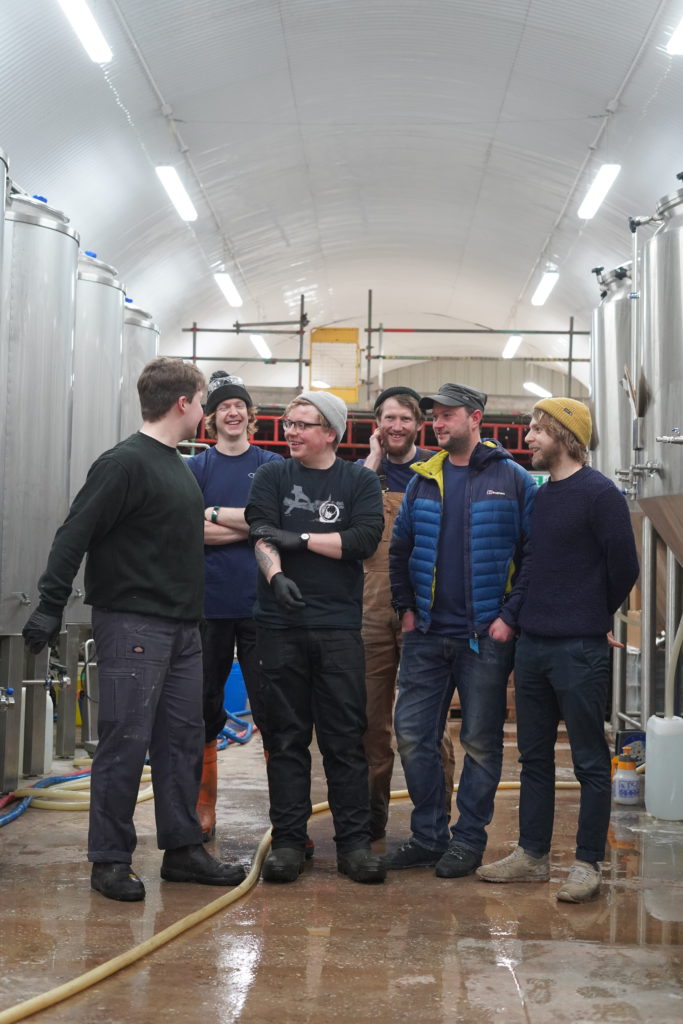 A year was spent putting together a business plan, raising finance and securing the property in an area that would become synoymous with brewing in Manchester. Brewing started on a Pureweld brewhouse, two 1,200 litre fermenters and a firm focus on cask beers.
"Operating in the North West, I believed that the best way to get into bars and pubs was through cask beer," says Dyson. "In my opinion, if you could make really good cask beer that would get you listed and then eventually, people would allow you to make whatever you like because you've proven that you can make good beer. So that's what I set out to do."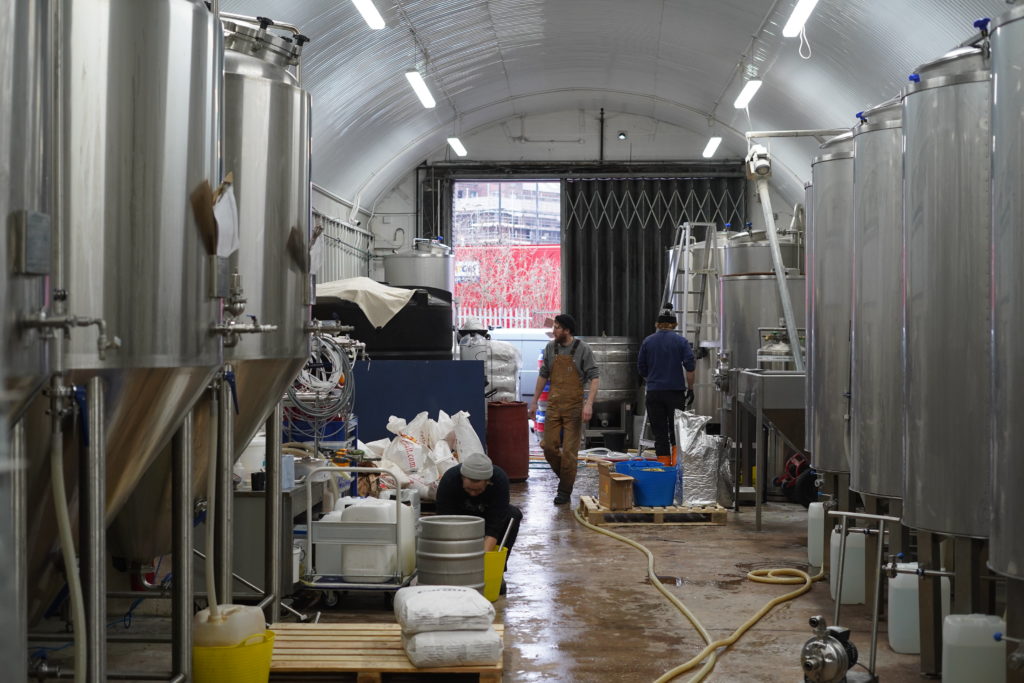 Setting up in December 2014 saw Dyson visited by the team at Cloudwater who were busy setting up their own operation just around the corner.
"I'll be honest, I wasn't familiar with anyone apart from James Campbell (formerly of Marble, Cloudwater and now SSV Limited)," he says. "But before I knew it, they were helping me build the cold store!"
With that done and dusted, the first beer to emerge from Track arrived in the February of 2015. Ozark, named after the Ozark Mountains that span a good 47,000 square miles across Arkansas and Missouri, offered up a blueprint and direction of where Dyson wanted his beers to take.
"I wanted a beer to replicate some of my experiences in the States. Something that was light, drinkable but with an eye on UK ABV sensibilities. At 4.4% it would be an easy drinking pale ale and a good starting point for Track Brewing Co," he explains.
Ozark was well received by local drinkers and Dyson was happy with the outcome but he already knew he wanted a beer that the brewery could "hang its hat on". This beer would come in at 3.8%, it would be a super drinkable, zesty pale that could work on cask as well as keg. That beer would become known as Sonoma.
"I'm grateful that we could produce a beer that resonated with drinkers, especially locally. And to this day that beer accounts for around 50% of our production. We sell it in cask, keg and also in bottle," says Dyson. "But if you look at rating sites it's probably one of our worst performing beers on those platforms. It's a crossover beer. It's something appreciated by brewers and also an older drinker that has spent their life drinking cask."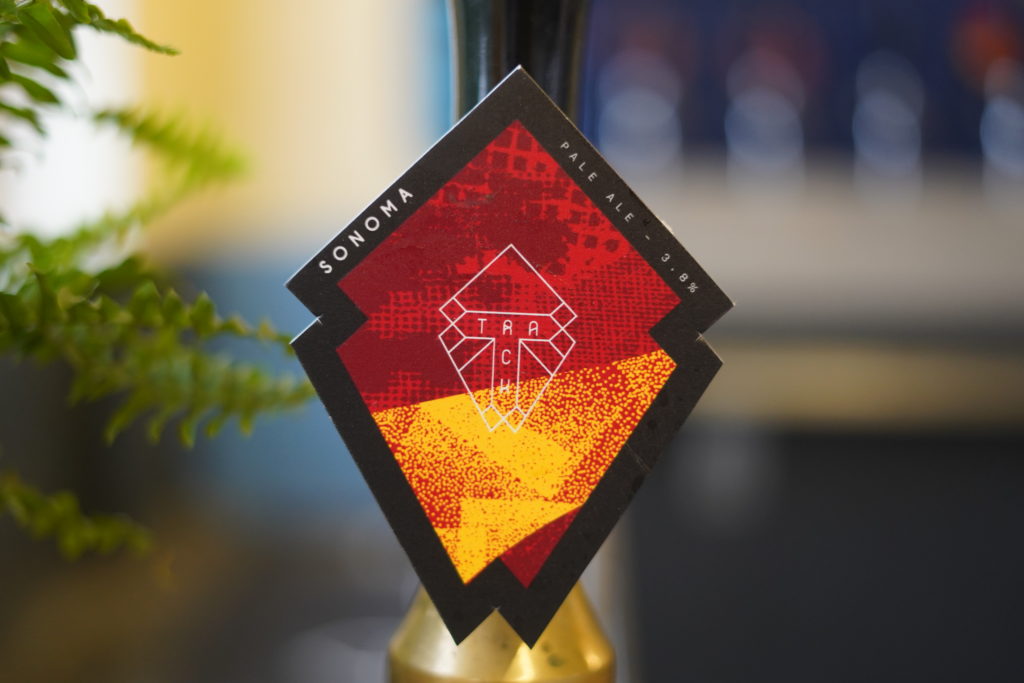 Dyson says Sonoma has allowed Track Brewing Co to grow as a business. What started out as an operation with two FVs is now one with 16. And yet, they still can't make enough beer. But they're doing their level best to do so.
Team Track in 2019 includes Dyson who says his role is "Chief panicker, painter, driller and everything in-between". Head brewer Matt Dutton has just celebrated his second year at the brewery while Will Harris joined in 2018, leading the brewery's sour and barrel-aged output.
Lewis Horne joined from Northern Monk and heads up the cellaring side of the brewery while Harry Clouston recently graduated from Heriot-Watt University handling packaging and a myriad of other roles. The team is completed by Stefan Melbourne, who heads up sales and marketing.
While cask and keg continue to play an integral role for the brewery, it's small pack where Dyson and the team see the major growth opportunity.
"For a brewery like Track, and the wide variety of beers that we make, small pack is very important to us. It's the reason we bought a Meheen bottling line from Cloudwater 18 months ago. Something that has been very good for us," says Dyson. "But going forward, canning will play a much larger part of what we do here."
Dyson highlights his observations and experiences working with breweries such as Deya, Left Handed Giant, North Brewing Co, Verdant, Cloudwater and Wylam.
"You speak amongst yourselves and learn from others. We've not seen a drop off of bottle sales as we never produced that many to begin with. But we know we can do far more by canning our beer," he explains. "As a brewery we like keeping things in-house. We like the control that gives. In my opinion, you can't run the risk of the potential problems and issues that can arise when you're allowing others to do it for you. If you can shout about your successes, then you should be able to pinpoint your problems, too."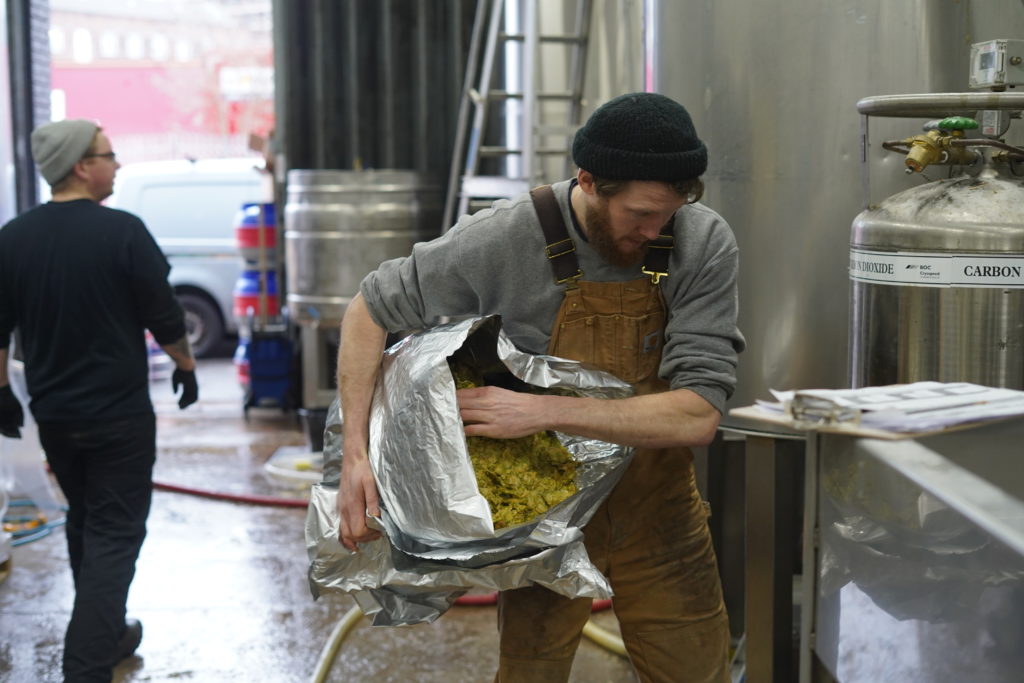 Before settling on the upcoming canning line investment, Dyson did his due diligence on what would work best for Track. And he identified some parallels in the brewing world that also exist in his other passion, the world of cycling.
"There are a lot of strange and interesting people in beer. I see that in cycling, too. For a long time in cycling, you'd also have entry level bikes and the stupidly expensive ones," he says. "There was a floating middle that was under-serviced and suddenly manufacturers saw the opportunity and started building and selling bikes with components and specifications that came from the much higher-end models to that middle ground. Bikes that are incredibly popular."
It's something he also sees in the world of canning lines. Dyson feels that the cheapest available were often not worth the investment while the top end ones were in-line with buying a house.
"Manufacturers started to see that breweries frequently reinvested into the business and that there was an appetite for canning lines in that mid-range, much like in cycling," he explains.
Track opted for a machine from Micro Can in Bolton. It has a rated speed of 1,500 cans an hour but Dyson anticipates the brewery will run it closer to the 1,000 mark.
"We are sensitive and cautious like that. That's just how we are," he laughs.
Once the line is up and running, the business expects to sell much more of its beer directly. From the brewery itself and through its online shop. Either way, it's fresh beer into more people's hands and increased revenues directly back into the brewery.
Dyson adds: "Track was built on local distribution and we have a loyal following. So if we can serve the local market with fresh beer then we're doing what we set out to do. Using distribution has many purposes but I feel that you get to the point where you realise that there are better margins and levels of control through doing things yourself.
"Even if it doesn't strike you when you first start out, driving around with those few casks hoping someone will support you and take your beer, sooner or later you'll come back around, square the circle, and realise self distribution is the way to go."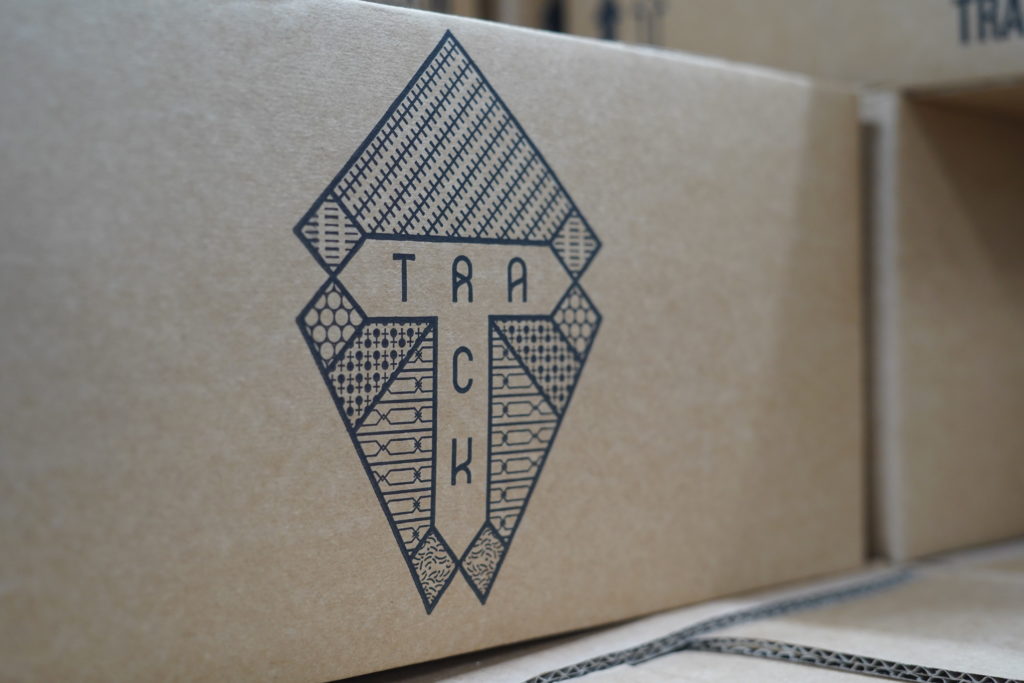 The investment in a canning line is arguably one of, if not the biggest, step change in Track's four years in business. What is currently a split of 30% cask production and 70% keg is expected to transit to 50% canned output and a 25/25 split between cask and keg.
Cans will become the new go-to for many of Track's beers, which include the burgeoning number of collaborations it takes part in.
"It's important to learn from those you admire, those around you. It's understandable to have a sense of beer fatigue every so often, but what reassures me is that at the heart of it all, there is a lot of very, very good beer out there. There are breweries across the UK producing genuinely excellent beer."
And many of those beers are collaborations. Collaborations between UK breweries and also those further beyond. Long may it continue, according to Dyson, but only if they're done for the right reasons.
He explains: "There's no point putting out one of your normal beers with a new label on. I've learnt untold amount of things. You don't work with breweries such as Wylam, Garage Beer Co, Deya, Cloudwater, Admundsen or Verdant and not learn something. And hopefully they've learnt something from us, too.
"It might not be something regarding hops, malt and yeast, but instead water chemistry and other process expertise. For a lot of breweries it's about making new friends and contacts, drilling down to ask what you get from each project and challenging yourself to create the types of beer that people will enjoy.
"And if you're a brewery that's making beer people enjoy, then you're doing something right in my opinion."